Millstone: American Farmhouse Cidery
by
Kathy Sullivan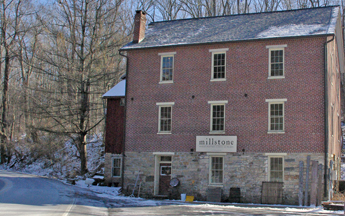 Summary: Millstone: American Farmhouse Cidery is located in an old 1800s grist mill a short distance outside of Baltimore. Artisanal ciders and meads produced here are aged for months and up to two years. The old mill includes production areas, tasting counter and event areas.
We had a delightful visit to Millstone where we met Curt Sherrer, owner and producer of old-style ciders and meads. Curt has extensive knowledge of viticulture and winemaking but now is focusing on traditional ciders and meads. Curt and his son Kyle have worked together on this unique venture.
Currently the cidery is open on weekends and provides cider and mead tastings and tours. The tour covers three floors. Visitors will see vintage items including an old potbelly stove and a printing press. Kyle has taken an interest in setting up the printing press to create Millstone bottle labels. Below a large heavy trapdoor there is a stairway leading to the lower level. Several rooms with stone walls are in this area. One room use to be used as a tasting room. The water to run the grist mill flows through channels on this below ground level. Curt and Kyle also discovered a hidden section where a still was setup during Prohibition.
Background
Curt studied at UC Davis and during the 1980s he worked at wineries in Virginia and Maryland. He also obtained degrees in biology and chemical engineering. In 2003 Curt acquired the building and eventually decided to begin using the building to produce hard ciders and meads. Curt and Kyle have worked hard to restore parts of the mill and set it up as a cidery and a tasting room.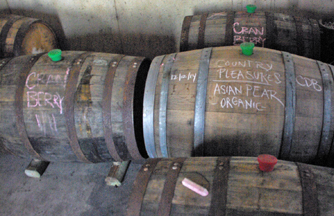 Curt puts an emphasis on doing things the way they were done a hundred years ago in keeping with the history of the mill. Years ago wine was produced in a sweet style. He decided that rather than producing sweet wines, he would rather produce hard ciders and meads that were prevalent years ago. Curt noted that he likes cider because it is between beer and wine. It is food friendly and lower alcohol than wine. He also likes producing meads.
While restoring parts of the mill, Curt discovered a variety of old nails, some of which were handmade. He was able to date the nails and determine that the mill was built in the 1840s.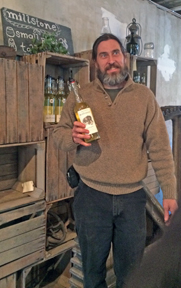 Cider and Mead Production
The first fermentation at Millstone was in January 2012. Curt allows the apples to age in a cold room. A cider maker does not need to make the cider as soon as the apples are harvested. At Millstone, Curt presses apples from January to March. Fermentation takes place in aged neutral oak barrels. At Millstone, hard ciders may be aged as long as two years.
Curt buys local (within 150 miles) ingredients for producing ciders and meads. Currently he buys hops, baby ginger, and fish peppers. While crafting traditional ciders and meads, he enjoys experimenting with smaller amounts. He found that lemon grass imparts an aroma and taste of roses and that lavender imparts a cinnamon aroma and taste.
When crafting the hard cider, no sugar is used at Millstone. Commenting that apples are like grapes regarding sugar levels, Curt said, "the longer you can leave it hang they are just like grapes."
In addition to leasing a three-acre orchard, Curt also sources apples, honey and other items from within 150 miles. Apple varieties include the traditional: Rome Beauty, Stayman Winesap, Northern Spy, Orleans Reinette, Black Twig, York Imperial, Smokehouse and Jonathan. Each apple variety is kept separate during pressing. Eventually after aging the cider may be blended.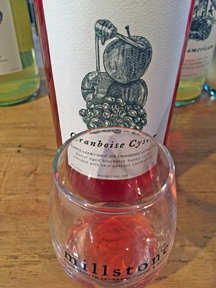 Artisanal Ciders
Ciderberry 2013 with 8% alcohol was produced with raspberries and York apples. The color was a red/pink and the cider offered floral and apple notes with a hint of raspberries. Pearry 2013 had 7.5% alcohol. This crisp pearry was produced with mostly pears and some apple. The light yellow pearry offered pear notes with a hint of citrus. Hopvine 2013 was produced by adding fresh hops prior to fermentation. It was a light yellow and crisp offering floral notes and some effervesence. The aftertaste had floral notes. Heirloom X was a blend of six apples including Northern Spy, Orleans Reinette, Black Twig, Jonathan, Stayman Winesap and York Imperial. The light yellow cider offered aromas and a taste of apples.
Debauched cider was a light yellow produced with apples, hops, juniper and apple wood. The the result was a floral cider with a smokey influence. Try pairing this cider with a barbecue. Sidra Americana is produced with apples that have fallen to the ground. The cider is produced with heirloom apples. The cider offered floral notes and had a long aftertaste. Stonewall had 9% alcohol. Curt produced this cider with apples, raisins and maple syrup. This orange-pink cider offered aroma notes of apple. The taste was reminiscent of raisins and maple syrup.
Artisanal Meads
Cranboise with 10% alcohol was a blend of apple, honey and cranberries. The light red mead offered notes of floral, apple, honey and cranberry. Spicebush with 12% alcohol was light yellow. It was produced with spicebush berries and honey. The mead offered floral and spicy notes. It was slightly carbonated. Hopbrosia was a blend of honey and hops. The mead offered notes of honeysuckle and roses. It was creamy with a lot of floral notes and carbonation.
If you are looking for a unique and enjoyable experience, visit Millstone in Monkton, Maryland.
Millstone American Farmhouse Cidery
2029 Monkton Rd.
Monkton, Maryland 21111
Article written February, 2015
---
Visit these wineries that partners with Wine Trail Traveler.