Red Heifer Winery
by
Kathy Sullivan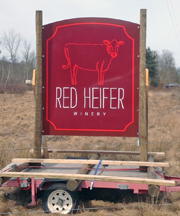 Summary: Discover this boutique winery located in Smithsburg, Maryland between Frederick and Hagerstown. When visiting Red Heifer Winery plan to take a picnic lunch to enjoy with Red Heifer wines.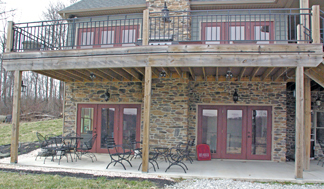 Our drive to Red Heifer Winery was easy with well-marked roads and our GPS knew the way. Seeing the large sign for Red Heifer we pulled into a long and winding gravel driveway that wound its way down and around a brick home and up a hill. After passing a lone large rooster, goats, pigs and a horse we reached the end of the driveway at a home with a winery and a nearby vineyard.
Located in the area surrounding Smithsburg, Maryland, Red Heifer Winery is one of Maryland's most recently opened wineries. The winery was opened in November 2012. The owners, Kevin and Yvonne Ford, are an enthusiastic couple looking forward to increasing their wine production. They want people to come visit, taste wines and stay awhile. Picnic baskets are encouraged.
History
In 1942, Kevin's Grandfather Clyde purchased the farm property. On the property there was a red heifer that he bought with the land. Originally a peach orchard, the property turned to dairy farming. Kevin and Yvonne have a portion of the farm on which they built a house while planting a vineyard. Kevin had started talking about a vineyard in 2003. He joined a grape growing association and researched viticulture. Kevin and Yvonne also made several kit wines. As a surveyor, Kevin was aware of the agricultural aspects of the region. He noted that the Smithsburg area where he was located is a "dream spot." Eventually "Everything clicked into place."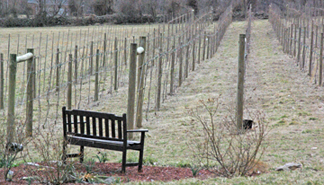 Vineyards
Red Heifer's vineyards are located within sight of the tasting room and patio. The vineyards slope southward. Yvonne commented that the frost settles downward where the road passes by. The vineyards currently have three acres of vines with Chambourcin, and Chardonnay as well as some experimental grapevines from the University of Maryland. In the future, Kevin and Yvonne hope to plant more vines. They have 16 acres of land that are prime for grapevines.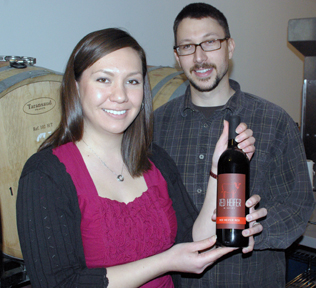 Winery
The winery is located on the subfloor of their home. Kevin uses French oak to age his red wines. A patio with wrought iron tables and chairs provides a welcome spot to enjoy a glass of Red Heifer wine and views of the vineyards. Yvonne noted the beauty of the sunsets to be seen, a sight we missed because of the cloudy day. While the grapevines grow and mature, Red Heifer is sourcing grapes from Maryland, New York, and Chile.
Wines
Vidal Blanc was produced with grapes from New York. The straw colored wine was crisp with floral notes on the aroma and taste. Red Heifer Red, a Cabernet Franc wine was produced with grapes from Chile. This red wine offered notes of dark fruits and spice especially cinnamon. The finish was crisp with mild tannins. Red Heifer White was a Vidal with 30g/l of sugar.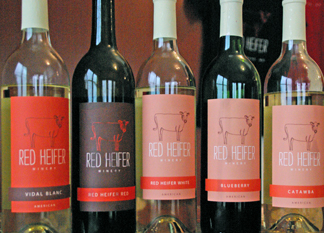 Fermentation was stopped at this point. The wine had floral, peach, and orange blossom notes. There was a touch of sweetness that accented the fruit. Blueberry wine made with blueberries from New York offered intense blueberry notes. Produced with 100 percent blueberries the wine had 40 g/l of sugar. The wine also had a very blueberry aftertaste. Catawba made with grapes from New York had a floral aroma. The taste was reminiscent of yellow stone fruit. The finish was crisp and slightly sweet. The wine had 60g/l of sugar but was not overly sweet.
While visiting with Kevin and Yvonne, they noted that they send customers to Misty Meadow Creamery where sorbets are made with some of the Red Heifer wines. Misty Meadow creamery also suggests Red Heifer Winery as a destination to visit. When planning your visit to Red Heifer Winery include a picnic basket. Enjoy a visit to this up and coming winery.
Red Heifer Winery
24606 Raven Rock Road
Smithsburg, Maryland 21783
GPS: N39º 40.164' W77º 30.926'
Article written April 2013
---
Visit these wineries that partners with Wine Trail Traveler.