Charis Winery
by
Kathy Sullivan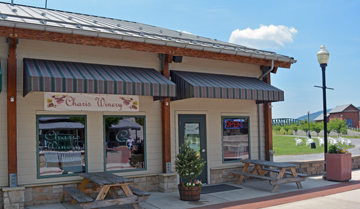 Summary: Charis Winery is a small but quickly growing Maryland winery in the historic town of Cumberland. The tasting room is located in Canal Place shops, a convenient location right off Interstate 68 exit 43B.
Charis Winery is located near the old C&O railroad and the Canal Place Heritage Area, also known as Maryland's First Certified Heritage Area. At one time the town of Cumberland was the end of the canal. Many years later the area was filled in and became a baseball field for a semi-professional team. Today Charis Winery is adjacent to the remaining section of the field and is part of the Heritage area.
The winery is set next to other small shops and visitors can walk down the Canal Place walkway, filled with outdoor tables and umbrellas, enjoying the ambiance of the historic town. If your timing is good, you may hear the strands of music playing in the adjacent park area. A sign near the shops notes the direction to proceed to discover: the C & O Canal Towpath, Great Allegheny Passage, W. MD. Railroad Station and the W. MD. Scenic Railroad.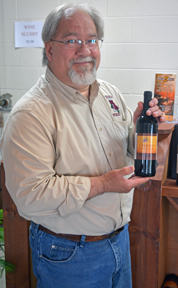 When we spoke with Chuck Park who co-owns Charis Winery with his wife Robin, Chuck quickly informed us that the name Charis is Greek for grace, hope and joy. Chuck and Robin had lived in Pennsylvania where he was a pastor. Since Chuck and Robin were close to the New York's Finger Lakes region, they would visit wineries in that area. Eventually they decided to return to the Cumberland region where they both had grown up. Chuck continued on to explain that he is fascinated with the art and science of winemaking. "It's fascinating to take a fruit and see what you can turn it into." Chuck likes the different processes on the different wines. "I'm a mad scientist when it comes to wine."
His first experiences with making wine was at home. Chuck kept a waiting list of people who wanted his wine. He began visiting and researching wineries especially on the East Coast. Chuck and Robin spent two years developing a viable business plan. They opened Charis Winery in 2013. In their first year they bottled 1,100 bottles. Three years later they are producing 10,000 bottles of wine and everything is done onsite. Chuck noted that he wants to keep the winery as a hands-on entity.
Charis Winery offers two wine brands. The Crazy Monkey brand, a name suggested by their son, is a fruit and wine blend. The wines are sweeter than the Charis brand. Chuck noted that before the winery opened, people were requesting a semi-sweet unoaked Chardonnay. He made it the first year and the wine was well received by the public.
Each year when making the wines, Chuck tweaks the winemaking process depending on the grapes he is working with. All of the Charis wines are made in small batches. Chuck sources his fruit, grapes and juice mostly from Maryland.
Charis Tasting Room
A small, decorative tasting counter of purple tinted cement is in one corner of the tasting room. The tasting room is a boutique size that holds six small tables. Visitors can enjoy tasting the wines while gazing at views of the historical B & O Railroad system. Chuck is friendly and quick to discover the type of wine that might appeal to visitors. He enjoys describing his wines and the different attributes they offer.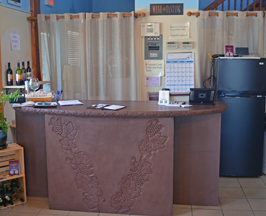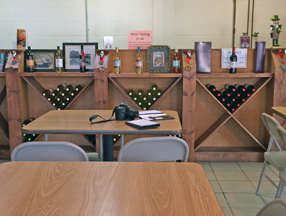 Charis Wines
Sunrise 2015 Vidal Blanc had 12% alcohol and 0.3% residual sugar. The wine was a light yellow color. The wine offered notes of pear, pineapple and citrus with a touch of vanilla. The finish was crisp with a long fruit aftertaste. For this wine, Chuck uses natural wild yeast to ferment the juice. Summer Breeze, a blend of Riesling and green apple, was 12% alcohol and had 0.5% residual sugar. The wine was a light straw color with notes of a fruit salad that included kiwi, mango and pineapple. The finish was long. This wine would make a great aperitif especially on a warm summer day. Pair it with a rocking chair on a shady porch.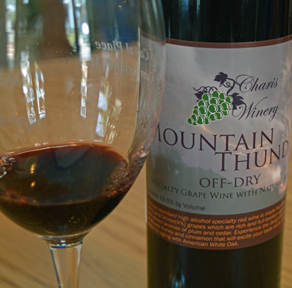 Barola 2015 with 12.5% alcohol had 0.4% residual sugar. The wine was a ruby color with a light ruby rim. The wine offered notes of cherries and red raspberries. The finish was crisp with a long raspberry aftertaste. The wine was medium/full-bodied and had mild tannins.
Just Teasin had 1.75% residual sugar. This light pink colored wine was crisp with sweetness. The wine offered notes of strawberry and a light, long finish. For a special treat, Chuck suggested pouring Just Teasin over frozen fruit. Triple Berry with 12% alcohol had 6% residual sugar. The aroma was of blackberry fruit. The wine offered notes of raspberries. The finish was crisp with a long fruity aftertaste. This is a great wine for anytime of the year especially during the cold winter months next to a roaring fireplace.
Mountain Thunder 2014 had 19.5% alcohol. This wine was produced with the Chancellor grape and aged in American oak. The wine was a dark, opaque ruby color. The taste had a bit of heat and was very jammy with dried fruit notes.
When planning to visit or pass near Cumberland, Maryland, be sure to stop by Charis Winery. Plan to spend a day in the area and take advantage of the Canal Place shops and the Chesapeake and Ohio Canal Towpath.
Charis Winery
17 Howard Street Unit C5
Cumberland, Maryland 21502
GPS: N39º 38.877' W78º 45.704'
Article written June, 2016

---
Visit these wineries that partners with Wine Trail Traveler.