Fruit Wines Produced by Maryland Wineries
by
Terry Sullivan
Although not as popular or as prevalent as wines produced from grapes, several Maryland wineries do make fruit wines. People often admit that they do not like fruit wines. However, take a hot summer day and add a frozen peach slice to a glass of chilled peach wine, and you are likely to see smiles on faces. It is definitely enjoyable. Or consider substituting cherry wine for water in a brownie mix recipe. Fruit wines do have their place among ardent fans and those who are indifferent.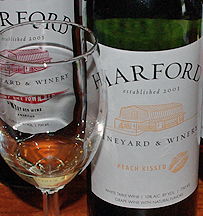 Peach wine and apple wine are the most common of the fruit wines crafted in Maryland, while blueberry and strawberry wines are the next in popularity. Several of the state's wineries make wines using apples, blackberries, plums or raspberries.
Production Methods
There are different winemaking styles for producing fruit wines. Some winemakers use 100% fruit to make the wine. So a peach wine will be made from 100% peaches. Another technique is to take a grape wine for the base and add fruit flavoring to the wine. Other winemakers blend a grape wine with a fruit wine. A few wineries make dessert wines where fruit juice is added to a grape wine. The fruit juice increases the sugar content of the wine and adds aroma and flavors. Fruit wines can range from dry to sweet. Often the sweeter fruit wines dry on the aftertaste.
There are advantages for wineries that wish to make fruit wines. A winery is not tied to a calendar when making fruit wines. A producer can store or freeze the fruit and make the wine when convenient. Fruit wines do not need a long time to settle and age. From fruit to bottle takes just a few months.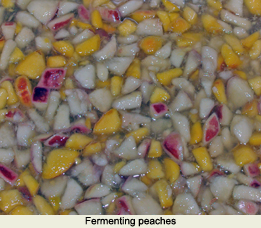 We made a peach fruit wine in 2011 with peaches we bought at Larriland Farm in Woodbine, Maryland. We sliced the peaches and removed some of the red that was next to the pit since the red could cause a bitter flavor. We placed the peaches in a fermentation bin and added water and sugar. Peaches are not as sweet as wine grapes, neither are table grapes. The sugar was added to bring the potential alcohol up to 11.5%. We also added five teaspoons of an acid blend. Fermentation began within two days and lasted for five days. Afterwards, we racked the wine into a carboy and let the sediment settle for several months. The following March, we racked the wine again and filtered and bottled the wine in June of 2012. We crafted a dry peach wine. During the hot summer months, we served it chilled with a frozen peach slice to keep the wine cool. It was very refreshing.
Wine or not Wine, Sweet or Dry
Fruit wines can be a conundrum for some wine drinkers. There are some governments that define wine as a beverage made from fermenting grapes. However fruit wines have a loyal following who refer to them as wine regardless what others may say.
A misconception is that fruit wines are sweet. Although many producers do make their fruit wines sweet, some also produce dry fruit wines. Our peach wine was dry. Regardless of the sugar level in a fruit wine, one can always pair the wine with a rocking chair on a porch.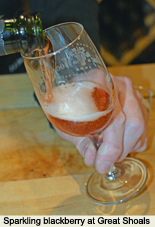 When traveling throughout Maryland one can taste fruit wines at:

Boordy Vineyards
Bordeleau Vineyards and Winery
Charis Winery
Cove Point Winery
Deep Creek Cellars
Dove Valley Winery
Fiore Winery
Great Shoals Winery
Harford Vineyard
Linganore Winecellars at Berrywine Plantations
Loew Vineyards
Mount Felix Vineyard and Winery
Olney Winery
Red Heifer Winery
Royal Rabbit Vineyards
St. Michaels Winery
The Urban Winery
Tilmon's Island Winery

While visiting Maryland wineries, take a moment to sample fruit wines.
Article rewritten in February 2016