Tasting Room Etiquette
by
Kathy and Terry Sullivan

Note: This article is the most frequently read article on the Wine Trail Traveler site. Month after month, year after year this article has more page views than any other article. It is also the most requested article by wineries to share with their customers and visitors. In 2013, we decided to expand the article. The expansion turned into a book. "A Wine Tourist's Guide: Visiting Tasting Rooms" helps remove the intimidation factor associated with visiting tasting rooms and tasting wines. Visit the book's website.
---
Many small, boutique wineries are family-run. When visiting a wine tasting room consider yourself a guest. The owners and staff are proud of their facility and want everyone to enjoy their visit. Expectations in wine tasting rooms are different than at wine festivals or in busy bars. After visiting 450 wineries in the last three years and talking with numerous wine hosts and visitors, we have created a selection of ideas to keep in mind when visiting a winery tasting room. Simple rules of etiquette can help to make the experience enjoyable for all.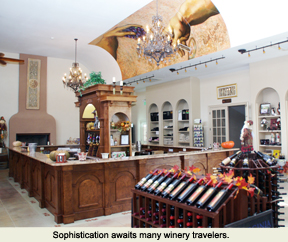 The atmosphere in a winery tasting room is one of a subtle sophistication. While shorts and athletic shoes are acceptable so are semi-dress clothes. Do not wear perfume or cologne the day you are visiting winery tasting rooms. The smell will interfere with a wine's aroma, not only for you, but also for those near you.
In the sophistication of a winery tasting room, loud outside voices are not appropriate. Conversational tones are perfect and fit in well with talking about the wines you taste and meeting other wine enthusiasts who have common interests. Do take the time to talk to other visitors. It is interesting to meet others with a passion for wine. Some visitors are new to wine. Never belittle someone for what they think about a wine. Don't act or sound like a wine snob. There are always those who know less and more about wine than you.
If you appear drunk, the tasting room attendant is not permitted, by law, to serve you even if it is a tasting. Drunken behavior has no place in the atmosphere of the tasting room. Wineries deal with this behavior in different ways, most often you will be asked to leave.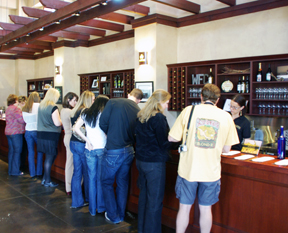 Tasting rooms can be crowded on weekends. Weekdays are generally slower and wine hosts have more time to talk about the wines you taste. In either case, if the tasting room is busy, do not elbow your way to the tasting bar. If the tasting room is busy, consider stepping back to discuss your wine and enjoy the tasting with other like-minded people. This gives others room to step up for a tasting. On busy days, some wineries will set up tasting tables or bars outside the tasting room. Give yourself plenty of time at a winery. Relax and enjoy the wine tasting and the ambiance of the tasting room. Many wineries have gift selections to browse while tasting wines. Take your time tasting and browse the shelves.

The wines for a tasting are presented in a particular order based upon the style of wine. If you choose not to drink a particular wine that's fine. Gently cover your wine glass with your fingers to indicate you do not want to taste a wine. It is so much more subtle than declaring, "I don't like that wine." Not all wine drinkers like all wines and wine hosts understand this. Visitors do not need to announce to everyone that they dislike a particular wine. Remember that it is perfectly acceptable for you to dislike a wine. However, keep in mind that the person next to you may very well enjoy it.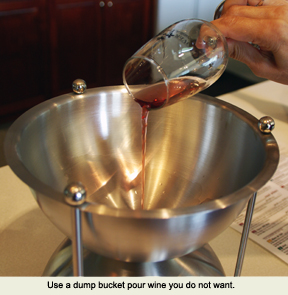 What should you do with the wine in your glass you have tasted? If you do not want the rest of the wine in your glass, you can pour it into a dump bucket. It is really okay. In addition, it is a good idea to spit your wine into the bucket. However it might be easier to spit into a cup. Ask if there is a cup that you can use. You can then dump the contents from the cup into the dump bucket. Even though tastings are small, they do add up after a number of tastings.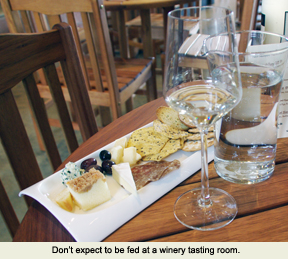 Do you think wineries are being stingy when they set out tiny crackers or tiny bites of cheese? Remember this is not your lunch. The purpose of the crackers, dips or cheese is to cleanse the palate and to help one decide how the wine pairs with food. Some wineries have restaurants, so if you want lunch check out the restaurant.
Picnic lunch? Many wineries encourage visitors to bring a picnic lunch. Frequently picnic tables or patio tables are available. Ask in advance if it is okay to bring a picnic lunch and where to picnic on the grounds. Do not bring wine from another winery or any other kind of alcohol. Laws restrict wineries and many are only allowed to have their own alcohol on their premises. Besides, if you were going to someone's home for dinner, it would be tasteless to bring your own entrée.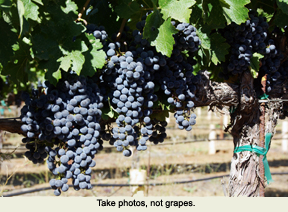 Staff and visitors always appreciate good manners. If you have the opportunity to visit a vineyard, do not pick the grapes. If you would like to taste a wine grape at harvest time, be sure to ask a staff member. One winery we visited mentioned how they don't mind visitors walking through the vineyards and taking pictures, but one day a visitor walked out of the vineyard with several bunches of grapes to ask what they were. It did not dawn on him until an owner reminded him that the grapes would have made wine. The visitor tried to give them to the owner who replied, "They aren't good now. They aren't ready for making wine." Another major faux pas is to pick up a bottle and pour your own tasting. Let the wine consultant pour the wine. We did visit a winery in Pennsylvania and one in Colorado that permitted people to pour their own tasting. Two wineries out of 450 isn't the norm however.
The best motto to follow in a winery or vineyard would be the National Parks motto, "Take only pictures and leave only footprints."
When you visit a winery, if you like the wine and want to buy it that is great, but you do not need to purchase a bottle of wine. Do not buy a bottle of wine unless you like it. Participating in a winery tasting room can be a delightful experience for everyone.
Advance planning is the key to a successful winery visit. The majority of wineries in the United States have websites. A google search by state makes it easy to locate the websites. Websites may include hours, types of wines, tour availability and directions.
Call in advance if your group will be larger than five. Some wineries do not have room for buses or limousines. Other wineries like to know in advance if large groups will be arriving so they can provide enough staff.
Tasting or drinking wine on an empty stomach is not a good idea. Eat well before you go to the winery. The more food in your stomach the less alcohol will affect you. Take bottled water and be sure to drink it especially if you will be visiting another winery. Plan on drinking as much water as you do wine. This is also vitally important when the weather is hot.
If a tour is available, go ahead and participate in it. Each winery tour focuses on what is important to their winery. However, most wineries include a visit to the press pad where the grapes arrive from the vineyard. Also included will be the tank room and barrel room. Most wineries like to include the history behind their winery. Some of these histories include winemakers who have come to the new world to start a winery and others are entrepreneurs who are fascinated with winemaking. Tours add to the experience and can provide great photo opportunities.
Ask questions. The winery staff is usually very knowledgeable about the wine, winery and vineyards. In some cases, the staff will have a notebook behind the counter where they can check for information. Remember not everyone knows everything about wine. The wine culture can be a fun learning experience for everyone.
Keep these tips in mind and more than likely you will have an experience you will remember for years to come.