Driving to Wineries Can Be Fun, Sort Of!
by
Terry Sullivan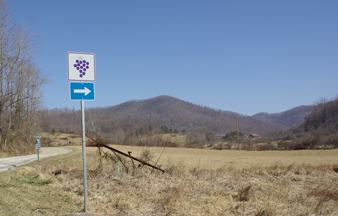 As of early 2016, travelers experienced less expensive prices for gasoline. This opens the possibility of more wine travel for less money. Traveling to wineries can be as smooth as new asphalt; however, some wine travel can try your patience and perseverance. Since winery tasting rooms are not located within walking distance to an airport, one needs to rent a car or use one's personal vehicle and drive the local roads. GPS systems work well most of the time. It's the few times these devices take you somewhere that doesn't exist or on a trek with road closures that can make traveling a challenge and at times amusing.
European Challenges and Amusements
You will be put to the test while traveling to wineries in towns south of London. It isn't the steering wheel on the right side of the car or traveling in the left lane that poses challenges. Just remember to keep the yellow lines next to the driver when you drive. There can be challenges especially on one or less than one-lane roads.
When traveling to Carr Taylor Vineyards and Winery in Hastings, I drove down a one-lane road and hoped that another vehicle wasn't traveling the same road in the opposite direction. Fortune shined that day and there were no other cars on the single lane road. However the road was only a single lane at times. The brush on both sides of the road had taken over and left you with a half lane for stretches. The GPS put me on this road and there wasn't an option to turn around and recalculate a different route.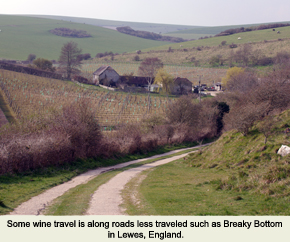 Mike Roberts, owner and winemaker at Ridgeview Wine Estate in Ditchling Common pointed out the need for persistence when traveling to the next stop Breaky Bottom in Lewes. After passing the sign, only seen from one direction, the opposite direction we were traveling, we became completely lost in Lewes. After backtracking, I finally found the driveway to the winery and began the descent to the bottom. After a few feet the cement road disappeared and a dirt road appeared. Then the dirt road disappeared. Thirty minutes later I had to stop the car and wait for the sheep to get up and move. Eventually I made it to the bottom, persistence paid off. We had a wonderful tour and wine tasting with an adventurous group from Ireland that also made it to the bottom.
The greatest problems driving to wineries in the United Kingdom arose when approaching a traffic circle. My GPS failed to say what lane to get into when approaching a circle. In England, your one-lane turns into multiple lanes before entering the traffic circle. You can't just keep going around in a circle until you figure it out. You have to make a choice and stick with it for better or worse. I did finally adjust my thinking to communicate with the GPS. If it said to enter the roundabout and take the first exit, then you need to be in the furthest left lane prior to entering the circle.
Traffic circles in the Tuscany region of Italy are much easier to navigate. Usually one lane enters the circle and if you're not sure where to go the first time just keep in the circle and figure it out. The challenge in Tuscany was the lack of addresses that lead to the exact location of the winery. Most wineries have a location near the closest town. You can find the town but then what to you do? I stopped at a winery to ask directions to another winery. Two workers tried to help me, but they got into an argument as to which way to go. Eventually I made it to the winery. Using a print map of Chianti wineries, I learned that I could enter a location on my GPS device that looked close to the location on the map, and then tell the GPS device to take me there. This worked well.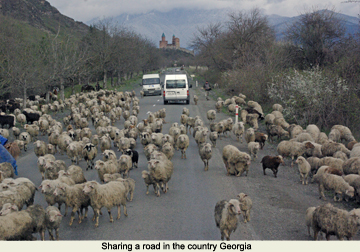 When visiting wineries in the country Georgia, it is a good idea to hire a driver. Once out of a city, the countryside roads are shared by carts, wagons, cattle, horses, pigs, chickens and sheep. We were surprised at how calm drivers are around animals using the roads.
United States Wine Travel
After driving to wineries in the United Kingdom and Italy, I really don't mind driving to wineries on dirt roads in the United States. One of the challenges in locating wineries in this country is the use of the winery name for the small stretch of road or driveway leading to the parking area. Often these roads are not recognized by GPS devices. Sometimes the dirt road leading to a winery can be adventuresome. Look for a sign that states, "Honk before proceeding." The sign is usually posted around blind curves.
We have experienced some wine travel in Virginia that was a bit nerve racking. We traveled on a dirt road in the mountains. The road was narrow and there was a several hundred foot drop just beyond the road on the passenger's side. We decided not to look down.
You should follow directions given on a winery website rather than a GPS device or app. While in the Finger Lakes in Up-state New York, the GPS directions placed us on a dirt road that ran past the winery. The only problem is that the dirt road had a locked gate across it. The winery directions had wine travelers come in from the opposite end of the road. While traveling in the Willamette Valley in Oregon, we discovered that GPS devices do not take in account washed out roads. This is another reason to always check a winery's website to see if they give directions. If a website warns about a GPS, heed it.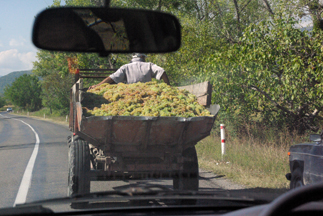 If traveling during harvest season, you may notice vehicles, of all sizes, carrying grapes to wineries. We have seen grapes transported from vineyards in Napa and Sonoma counties in California. We have also observed this scene thousands of miles away in Kakheti, Georgia.
You will not always notice grapes transported to wineries during harvest. Trucking agencies use refrigerated trucks to transport grapes over a large distance. You will not notice the contents of these vehicles, but they will share the roads during harvest.
Don't let a little tension or adventure deter you from traveling to wineries. Wine travel is usually simple and not very demanding. When it does try your patience, just enjoy the journey.
Article re-written February 2016