Where Are Maryland Wineries?
by
Terry Sullivan
Traveling throughout Maryland in search of wineries, we discovered that one does not have to travel far. Maryland has more than 50 wineries opened to the public at least some days. A wonderful resource is the Maryland Wine website. This site lists the wineries and gives opening times and contact information. The site also has a list of the six wine trails in Maryland.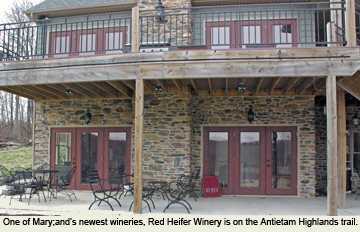 These six trails are divided geographically within the state. To the western part of the state, Maryland has one winery in Garrett County, Deep Creek Cellars. Antietam Highlands is the newest wine trail in the state and the most western wine trail in the state; however, it does not have the western most winery as a member. This four member trail is in Washington County. It is a trail to watch since there are new wineries in the area that are scheduled to open soon.
The five winery Carroll Wine Trail is northeast of Frederick in Carroll County. The five wineries surround Westminster. The three member Frederick Wine Trail lies northeast of Frederick in Frederick County. The three wineries that make up the Frederick Wine Trail are among the oldest wineries in the state.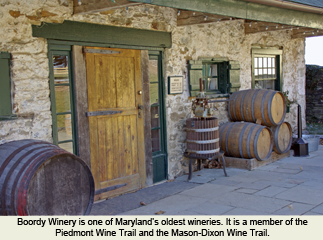 North of Baltimore to the Pennsylvania border is the Piedmont Wine Trail. There are nine member wineries of this trail. The largest geographical area wine trail in the state is the Chesapeake Wine Trail. It encompasses ten wineries on the Eastern Shore. Back on the Western Shore in Southern Maryland is the seven member Patuxent Wine Trail.
A trail of note is the Mason-Dixon Wine Trail. This trail includes both Maryland wineries and Pennsylvania wineries. It is a testament to the concept that terroir doesn't follow political boundaries. There are 26 wineries along this trail that is north of Baltimore to north of Harrisburg and west past Gettysburg. Seven of the member wineries are in Maryland. It is not unusual for a winery to be a member of two wine trails. The seven Maryland wineries are also members of a Maryland wine trail.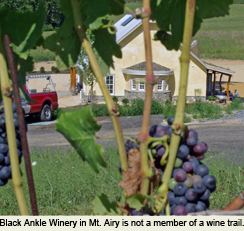 It is also not unusual for a winery not to be on a trail at all. This is also the case for wineries in Maryland. Some are not members of the trails mentioned above. Using a wine trail map is a good starting point for wine travelers, but it should only be one tool. Another tool is Google Maps. Search for a location such as Frederick, Maryland. Next, type "wineries" in the search box. After pressing return you will see markers for potential wineries in and around Frederick. You may have to zoom out. Note that not all the markers are wineries.
Wherever you are in Maryland there are wineries close to you. Use the MarylandWine website to keep up with events and the wineries in the state. Also keep an eye on the growing number of new wineries opening in Maryland.
Article written April 2013