Tasting Room Discoverings
by
Terry Sullivan
As one becomes more comfortable visiting winery and vineyard tasting rooms, their focus can change from "What do I do here?" to other wine learning opportunities. One discovery is to taste wines and decide if you personally have a preference for the wine. Do you have a preference for reds or whites, dry or sweet wines? Do your preferences change from a tasting room environment to a dinner table? Do your preferences change over time? Knowing what you prefer can help you navigate your wine journey. Keep an open mind and always try new wines.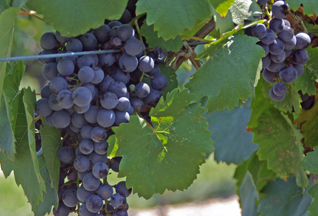 Discover Thousands of Varietal Grape Wines
Today's wine enthusiast can certainly taste grape varieties beyond the classic six. For years the white grapes Chardonnay, Riesling and Sauvignon Blanc along with the red varieties Pinot Noir, Merlot and Cabernet Sauvignon ruled the wine world. Many wine travelers are familiar with these varieties. When visiting tasting rooms begin to experience other varieties. What are the grape varieties that grow well in your state, country or region? When visiting wineries in Virginia try the white grapes Viognier and Petit Manseng and the red wines made from Petit Verdot and Tannat. Travel to Tennessee wineries and experience the Muscadine family of grapes including Carlos, Doreen, Magnolia, Sterling, Black Beauty, Fry, and Noble. Wherever your travels take you, discover the varietal grapes in that region. The photo shows Lemberger grapes prior to harvest. Lemberger is also known as Blaufränkisch.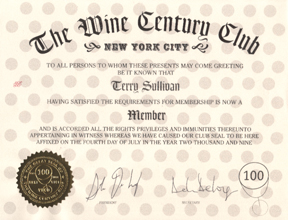 The Wine Century Club: An Exercise in Keeping Track of Varietal Grapes
The Wine Century Club application is a valuable tool for anyone visiting winery and vineyard tasting rooms. It offers a simple way to keep track of the varietal grapes that you tasted. Once your list reaches 100 varieties, you can send the application to the Wine Century Club. You will receive a certificate and become a member of the club. There is no cost associated with the Wine Century Club. Do note that tasting 100 different varietal grapes is easier said than done. Many wineries in a region will have wines made from the same grape varieties that are common in other regions. The first fifty varieties seem to be easy. Then the task of discovering new varieties for the taster becomes more challenging. However with travel, one can gain membership in the club. The Wine Century Club also offers advanced wine enthusiasts higher levels including 200 varieties, 300 varieties and 400 varieties. Tasting different grape varieties can become an enjoyable challenge for years as you progress on your wine journey.
Discover Terroir
Different varietal grapes is only one example that wine travelers can focus on. Another is terroir. Begin by paying attention to a single varietal grape as you travel from winery to winery. Note the differences in wine made from that grape. Cabernet Sauvignon and Chardonnay are two grapes grown in many wine regions. Is there a difference in Cabs produced with grapes grown along the east coast and west coast of the United States? What are Cabs like grown in Bordeaux, France and Tuscany, Italy? Start noting the differences from winery to winery within a region and then note differences between wines produced from a grape variety between different regions. Be aware that some wineries source grapes from outside their region. There are winemakers all over the United States that produce a Cabernet Sauvignon with grapes sourced from California. When tasting wines in a tasting room, ask where the grapes were sourced?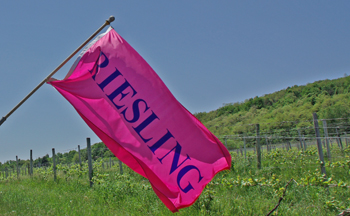 A wine region where one can really develop a concept for terroir is New York's Finger Lakes. This is one of the parts of the United States noted for growing Riesling. Taste Rieslings from the west side and east side of Cayuga Lake, Seneca Lake and Keuka Lake. Note the differences as well as the similarities.
The wine traveler can focus on different things while visiting winery and vineyard tasting rooms. Whether it is the styles of wines you prefer, locating new varieties or tasting the differences in terroir, the discovery of wines will continue to take the wine traveler on their journey.