Grape Varieties Grown in Maryland
by
Terry Sullivan
People attending the 2013 Drink Local Wine Conference held in Baltimore may notice some of the 86 varietal grapes grown in the state. Maryland has many diverse areas from the ocean to the mountains. and can grow many different vinifera, hybrids and indigenous grapes.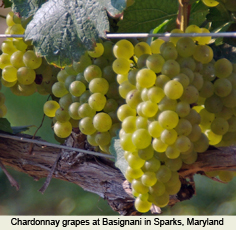 Traveling to the more than 50 Maryland wineries open to the public will afford visitors an opportunity to taste wines made from many grape varieties. Of the over 600 acres devoted to wine grapes the vinifera Cabernet Sauvignon 13%, Chardonnay 13%, Merlot 11% and Cabernet Franc 10% share the most acreage accounting for 47% of the varietal grapes planted. Add two hybrids to that mix Chambourcin 8% and Vidal Blanc 7% and over 60% of the grapes planted in Maryland vineyards are devoted to those six varieties.
Maryland also has its share of other varietal grapes. Rounding off the top ten is Pinot Gris, Syrah, Petit Verdot and Traminette. Of the top ten grape varieties planted in Maryland seven are vinifera international grapes and three are hybrids.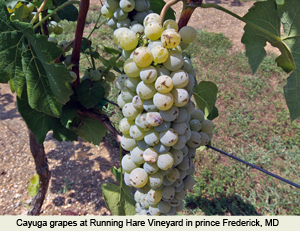 Don't be surprised to visit a winery that may have Maryland grown Barbera, Seyval, Blanc, Viognier, Cayuga, Pinot Noir, Gewürztraminer, Sangiovese, Albarino, Norton, or Malbec. The top twenty varietal grapes in the state offer quite an assortment of international vinifera, hybrids and native grapes.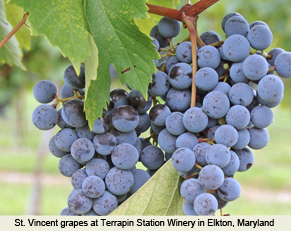 There are some unique varietal grapes to be discovered throughout the state. Some lesser-known grapes are used at several individual wineries. Wines made from grapes such as: Catawba, Grüner Veltliner, Leon Millot, Pinot Blanc, Roussanne, Reliance and St. Vincent are harder to find.
Of the 86 varieties planted in the state, the hardest to find would be Vernaccia, Primitivo, Malvasia Blanca, Canadice and Graciano.
When traveling to Maryland wineries search for wines made from varieties that you may not have tasted before. You may discover a new wine you like. Maryland wineries have a varied portfolio of wines. They range from dry to sweet and from still to sparkling. Visiting wineries provide opportunities to taste the wide range of wines produced in the state.
Article written April 2013.