Woodbury Vineyards
by
Kathy Sullivan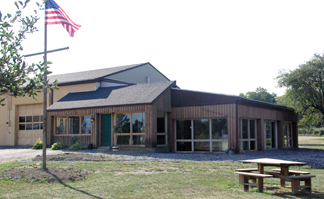 Summary: Woodbury Vineyards in Fredonia, New York is a warm and friendly winery to visit and is on the Lake Erie Wine Country wine trail. If you are visiting in the warmer months, you may want to cool off with a refreshing GranitaVino™ wine slushie and in the cooler months, warm up with a hot mulled wine. Woodbury Vineyards offers a Grand Cru Adopt-a-Barrel® program.
We discovered Woodbury Vineyards in the small town of Fredonia, and its friendly atmosphere. From the moment the door opens when visitors are greeted throughout the visit, the tasting staff is very friendly and eager to talk about Woodbury history and wines.
The tasting room area is sided with wood and has large windows. Near the winery there are several wood picnic tables, some under apple trees. Visitors may want to stop by and purchase a glass or bottle of Woodbury wine to enjoy at one of the picnic tables.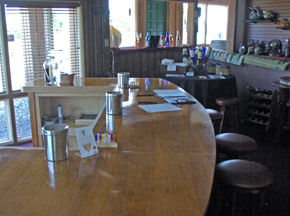 Inside the tasting room, a small ramp leads into a large tasting area with two tasting counters. Numerous wine-related gifts and accessories are available to browse and purchase. Handcrafted notecards and artwork by a local artist are also available.
Woodbury Vineyards was established in 1979 and today the winery has more than 1,000 shareholders. Woodbury Vineyards is one of the closest wineries to the New York State Thruway (I-90), less than 3 miles from Exit #59 (Route 60). Woodbury wines are produced with grapes from their own vineyards as well as grapes sourced from New York State.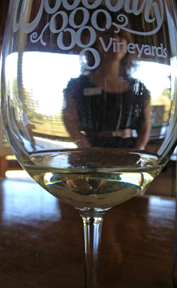 White Wines
We tasted several wines on the day of our visit. The barrel fermented Chardonnay 2011 was a straw color that offered an aroma with caramel notes and a taste of apple and pear. The finish was crisp with fruit and caramel nuances. Riesling 2011 was a "semi-dry dinner wine" with floral and citrus aroma notes and a taste of citrus. Consider this as a 3P wine, great for enjoying on a patio, porch or by a pool.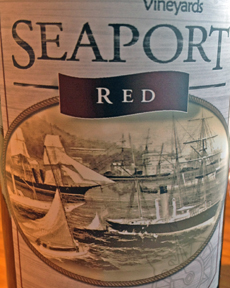 Red Wines
The 2010 Pinot Noir , aged in French oak, was a light ruby color. With cherry notes on the aroma and taste the wine was light bodied. The finish was crisp with soft tannins. The 2010 Seaport Red is one of a line of wines with a drawing of ships on the sea. This wine was a created with a blend of vinifera and French hybrids. The color was a dark ruby. The aroma and taste offered sweetness, dark fruit and a touch of earthiness. The finish was slightly sweet and drying on the aftertaste. Cabernet Franc 2010 was a blend of Cabernet Franc and Cabernet Sauvignon. It was a dark red/ruby wine. The wine was on the sweet side with red berry notes. The dry finish lingered with a little spice.
Peach wine was a light golden color. The aroma was very peachy with white peach hints. The taste was delicious and the finish was sweet and dry. On a warm day be sure to try the Peach slushy. This was a blend of Peach and Niagara wines. It was cold and refreshing. The peach was up front with Niagara notes on the finish.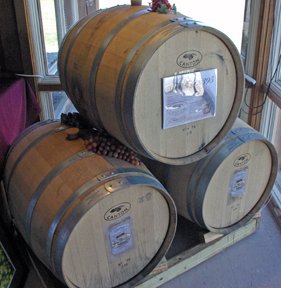 Adopt-a-Barrel Program
At Woodbury Vineyards, wine enthusiasts can adopt-a-barrel. According to a winery brochure, adopting a barrel at Woodbury gives participants:
• Two cases of your choice of wine (with retail price of up to $16.00/bottle), one case when you become a Barrel Parent, and one case when the winemaker retires the barrel (total retail value up to $384.00). Upgrades are available.
• A custom plaque mounted on your barrel in our cellar until your barrel is retired.
• An "Adoption Packet", which includes a certificate that identifies your barrel and program details.
• The opportunity to visit your barrel when the winery is open.
• A Canton Cooperage Grand Cru American Oak barrel when the barrel is retired (typically 12 - 14 months after the barrel is first used).
• A photo of you with your barrel posted on our Facebook page.
Enjoy a visit to Woodbury Vineyards, where you can discover a friendly tasting room staff, numerous wines and the opportunity to join their Grand Cru Adopt-a-Barrel® program.
Woodbury Vineyards, Inc.
3215 South Roberts Road 

Fredonia, New York 14063
GPS: N42º 27.314' W79º 16.196'
---