Jonathan Edwards Winery
by
Kathy Sullivan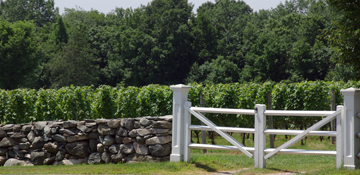 Summary: Jonathan Edwards Winery is a winery that offers a great experience. With carefully maintained vineyards accented with rose bushes, numerous stone walls, a viewing gallery of the barrel room to friendly staff members, this is a winery visitors will enjoy traveling to.
Approaching the Jonathan Edwards Winery from the parking area, visitors are greeted by a garden of summer flowers highlighting the white building. A patio in front of the entrance with tables and umbrellas adds to the inviting atmosphere.
A father and son team, Bob and Jonathan Edwards, operates the Jonathan Edwards Winery. Originally living in California, where Jonathan worked with a mentor winemaker and studied at UC Davis, Jonathan decided to move to the Northeast and bring a little bit of California with him. Currently the winery has several long-term leases with California vineyards. In addition, they have 20-acres of estate vineyards. The estate vineyards focus on varietals including Chardonnay, Pinot Gris, Gewürztraminer and Cabernet Franc. Jonathan travels to California each year to oversee the grapes, harvest and crush. All wines are made at the Connecticut facility.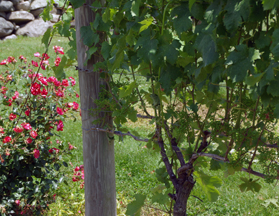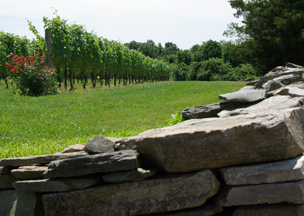 They purchased the property in 2000. The soil is rocky and mineral rich making it ideal for growing grapes. The 20-acres of vineyards are tiled providing excellent drainage. At the time the property was purchased, commercial vineyards had already been located here but were no longer maintained. These old vines were pulled out and replanted with Chardonnay in 2001. Other grapevines were added over the years. The winery opened in May 2002. The winery produces 10,000 cases and this allows the owners to be hands-on. Some wine is produced for private labels and for some New York City restaurants.
Jonathan is both the vineyard manager and the winemaker. According to Erica Cyr, "Jonathan is a purist." He believes in using real French oak barrels and real corks.
Jonathan Edwards Winery is a family centered winery. Employees are like family. In addition, visitors to the winery are encouraged to bring families. Events are family centered and include concerts and harvest festivals.
The winery and tasting room are located in a late 1800's barn. Windows are placed to allow plenty of light into the tasting area. A stone fireplace with a landscape painting adds a cheery note while a long vintage table displays wine accessories.
Nearby the tasting room, another room with a walkway and railing overlooks a barrel room also with cases of wine and a labeling machine. From the walkway, one can catch a glimpse at the stainless steel tank room. Another small room has numerous wine related items displayed. When visiting take time to meander throughout the facility and out on to the deck where you will discover views of the thriving vineyards.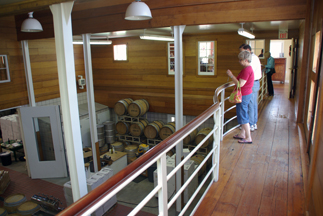 White Wine
Napa Valley Sauvignon Blanc 2007 was a very pale yellow with an aroma and taste of peach. The finish was very crisp. Estate Connecticut Pinot Gris 2008 offered a citrus aroma with a grapefruit taste. The finish was crisp with a long grapefruit aftertaste. Estate Connecticut Chardonnay 2008 was a pale yellow. Apple and vanilla nuances were on the nose. The taste offered citrus and apple notes. The finish was crisp with citrus notes.
Red Wine
Connecticut Cabernet Franc 2007 was a red translucent color with pepper notes on the nose. The taste was of dark fruit with spices. The crisp finish had notes of spice and fruit with tannins. Napa Cabernet Sauvignon 2006 was a dark red, sienna color. The aroma and taste had blackberry nuances. The wine finished with tannins and fruit.
Enjoy a visit to Jonathan Edwards Winery. Take a camera for pictures of the picturesque vineyards and stone fences. Visitors are welcome to bring picnic baskets with them.
Jonathan Edwards Winery
74 Chester Maine Rd.,
North Stonington, CT 06359

GPS: N41º 27.736' W71º 52.728'
---