Contents
Contact
Date Founded
Mission Statement
Owners
Books
Author Talks
Presentations
Winemaking
Images
Wine Trail Traveler Staff
Terry & Kathy Sullivan 

Wine Trail Traveler
6578 Dovecote Dr.

Columbia, Maryland 21044

410-402-0217
email

Wine Trail Traveler was established in January 2007. The tipping point for Terry and Kathy Sullivan came in 2006 when discussing winery visits with a professional. He mentioned that he would like to visit wineries but was intimidated by wine. This statement created the spark to design and develop the Wine Trail Traveler website.
The website began with articles about visiting wineries, a simple learning section and an opinion section on wine related topics. Later, a daily blog was created and a recipe section was added. The recipe section has grown to over 200 recipes that use wine as an ingredient. A travel section was added to the main website in 2013 .Three additional websites spun off the Wine Trail Traveler site. In 2008 the companion lodging website was established, in 2009 the companion winemaking website was launched and in 2012 the companion food website debuted.
The mission of Wine Trail Traveler is to be an advocate for the wine culture by inspiring others to develop an appreciation of wine including travel, history, learning and winemaking. The Wine Trail Traveler website is a winery/vineyard and wine virtual visitor center.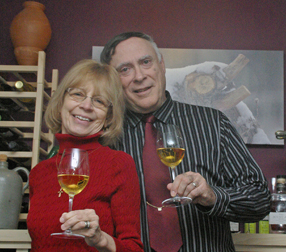 Owners
After a 34-year career in education teaching elementary school students to university graduate school students, Terry began a new career as a travel writer specializing in the wine industry. Taking thousands of photographs and writing articles, Terry and Kathy visited wineries and vineyards in Europe, North America and Oceania. Terry and Kathy have visited and written about more than 1,000 wineries and vineyards.
Formal wine education includes the Wine and Spirits Education Trust (WSET) Intermediate Certificate. In 2009, while taking online winemaking courses through Washington State University, Terry and Kathy crafted a barrel of Cabernet Sauvignon at Vint Hill Craft Winery in Virginia. In 2012, they made a barrel of Atlas Peak AVA Cabernet Sauvignon at Tin Lizzie Wineworks in Maryland. In 2013 they made a qvevri of Rkatsiteli at Twins Wine Cellar of Napareuli in the country Georgia.
Terry and Kathy have co-authored three books and are working on their fourth book. A Wine Journey was published in November 2012 and presents what any wine enthusiast can do to learn about wine, make wine and participate in wine travel. A Wine Tourist's Guide: Visiting Tasting Rooms, published in September 2013, focuses on what wine travelers can expect when visiting a tasting room. The book has chapters on tasting room etiquette, how to taste wines, international grapes, common wine myths and misconceptions. The third book Georgia, Sakartvelo: the Birthplace of Wine is about the country Georgia, its grapes varieties and winemaking that spans 8,000 years. The book was published in March 2014.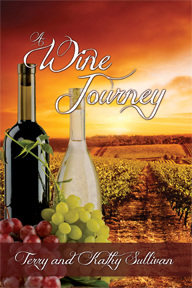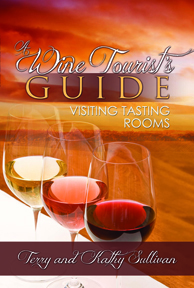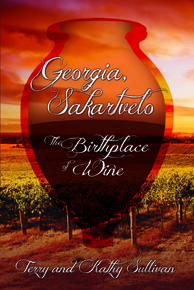 Terry and Kathy will be happy to present a book talk about each of their books. Talks last 30 - 45 minutes and a book signing can take place after the talk. There is an individual talk for each book. Contact terry at winetrailtraveler.com if you are interested in booking the Sullivans for an Author Talk.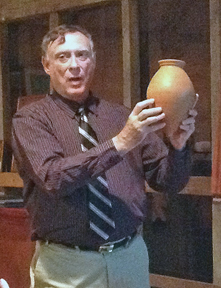 Georgia, Sakartvelo: the Birthplace of Wine
Author's Talk: Sakartvelo: the Birthplace of Wine
Many people believe that wine started in Greece or Italy. However the region south of the Caucasus Mountains, in what is now the country Georgia, is considered the birthplace of wine. Grapes have been cultivated and wine made in this region for 8,000 years. That is 4,000 years before Greece and Italy. Learn about the ancient winemaking process that is still practiced in Georgia today. This method of making wine in earthen vessels called qvevri is becoming popular throughout the world. There is now a qvevri maker in the United States. vevri winemaking is the only winemaking process on the UNESCO list of Intangible Cultural Heritage.
A Wine Tourist's Guide: Visiting Tasting Room
Author Talk: Myths and Misconceptions about Wine
Through our wine travels, we have heard of many misconceptions and myths about wine as reported by tasting room personal. Rarely we have also experienced misconceptions by tasting room personal. Learn about some of the common misconceptions and myths that people have about wine.
A Wine Journey
Author Talk: Many Roads Lead to Wine Knowledge
There are many ways people can learn about wine. This talk explores the many different avenues that you can take to learn about wine, make wine and become wine travelers.


Conference Presentations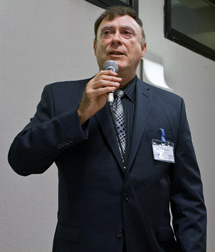 In 2012, the Sullivans started presenting at wine-related conferences. At the 2012 International Wine Tourism Conference in Perugia, Italy, Terry presented "Best practices for increasing traffic to wine regions."
During 2013, Terry presented at the Eastern Winery Exposition and a week later both Terry and Kathy presented at the International Wine Tourism Conference in Zagreb, Croatia. The title "Experiences that Cultivates Brand Ambassadors" was presented at both conferences.
Terry and Kathy attended and presented "Chicken Soup for the Wine Tourist's Soul" at the 2014 International Wine Tourism Conference in Tbilisi, Georgia.
Small Group Speaker Presentations
Wineries can entice more people to their winery with a wine presentation by Wine Trail Traveler, LLC. Each presentation is approximately two hours long and includes a visual presentation, participants' wine tastings and an opportunity to complete the Wine Century Club application. Give your customers another reason to return to your winery by offering these entertaining and informative presentations.
Additional locations for small group presentations include wine shops, olive oil stores, cheese shops and other boutique stores.
Previous Small Group Presentations

| | |
| --- | --- |
| The Art of Wine and Olive Oil Tasting | Secolari in Columbia, Maryland |
| Social Media as a Tool to Engage Customers and Potential Customers | Unionville Vineyards and Winery in Ringoes, New Jersey |
Terry and Kathy have been making wine since 2008, deciding that since we were writing about wine we should start making it. Over that time we have made wine at home (where we tend to be more experimental), at a Virginia winery and at a Maryland winery. In August 2014, we bottled a barrel of 2012 Stagecoach (Atlas Peak AVA, Napa Valley) Cabernet Sauvignon at Tin Lizzie Wineworks in Clarksville, Maryland. We plan to fill the barrel in the fall with a Bordeaux-style blend that we will craft.
With the 2013 harvest, we made a qvevri-wine in the country Georgia. We helped to harvest Rkatsiteli, a white grape, in September 2013 and destemmed the grapes and placed them in a small qvevri buried in the ground at Twins Wine Cellar of Napareuli. We opened the qvevri in April 2014 when we returned to Georgia for the International Wine Tourism Conference. We presented at the conference and were a part of a media group covering the conference and visiting wineries in Georgia. We brought home a small 24 liter qvevri from Georgia. We plan to bury the qvevri and make a qvevri wine with the 2014 harvest.
Wine Judging
Beginning in 2014, Kathy and I have been asked to judge wines. Our first judgement was in July 2014 at Clos Pepe Estate in Lompoc. We tasted 48 Santa Barbara County wines with wine noteable Steven Spurrier. We had only two hours to judge the wines so there was no time to discuss the wines.
In January of 2015, Frank Morgan of Drink What You Like invited us to judge ten Virginia sparkling winse at Wedmore Place at Wessex Hundred in Williamsburg, Virginia. There was a large group judging the wines. We scored the wines individually and then Frank tallied the total scores. We did not have time to discuss the wines.
In June 2015 we were asked to judge cavas in the Penedés region of Catalonia, Spain. The judging of over 100 cavas was organized by Anthony Swift of Wine Pleasures. The cavas were divided into categories and all the cavas in a category were tasted. There were a few judges and this afforded some discussion before the group decided on a final score.
---
| | |
| --- | --- |
| | |
| Kathy racking 2009 Cabernet Sauvignon to Barrel at Vint Hill Craft Winery in Virginia. | Kathy dumping a lug of grapes into destemmer at Tin Lizzie Wineworks in Maryland |
| | |
| Terry at home vineyard in Maryland. | Terry presenting at International Wine Tourism Conference in Perugia, Italy 2012. |
| | |
| Terry and Kathy at wine tasting at Teliani Valley in Telavi, Georgia | Terry at wine tasting at Chåteau Mukhrani |
| | |
| Terry & Kathy at Kobola Winery in Momjan Croatia | Terry & Kathy at Union Libre Cidre & Vin Quebec, Canada |
| | |
| Terry and Kathy harvesting grapes in Napareuli, Georgia | Kathy harvesting grapes in Napareuli, Georgia |
| | |
| Terry wine tasting at Badagoni in Kakheti, Georgia | Terry placing grapes in a qvevri at Twins Wine Cellar, Napareuli, Georgia |
| | |
| Terry and Kathy at home in wine room | |
---
Terry Sullivan

co-owner, writer, photographer, web page design
Kathy Sullivan

co-owner, writer, editor
Meghan Neumeier
writer
Meghan has an M.A. in theological studies from the University of Dayton and a B.A. in English from St. Mary's College of Maryland. Her column entitled " Wine and the Bible" discusses connections between wine, the Bible, and Christianity.
Guest Writers
Erin Sullivan
Erin K Sullivn is an actress and mixologist living in Ney York City. Her interest in wine dates to her college years when she spent a semester in Aix-en-Provence, France.