Amazing Grace Vineyards and Winery
by
Kathy Sullivan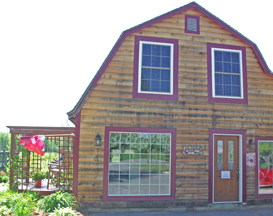 Summary: The Adirondack Coast is a growing wine region along the western coast of Lake Champlain. Amazing Grace Vineyard and Winery is located just minutes off Interstate 87. This boutique winery is family owned, friendly, and laid back. A visit is relaxing and one can receive a gentle wine education from the owners, a teacher and a principal.

Amazing Grace Vineyard & Winery is located in Chazy, New York. The winery is close to Interstate 87 and was established by Mary and Gilles Fortin. Mary has been making wine for years and eventually considered that the winery would be ideal for retirement.

They chose the name Amazing Grace for two reasons. First, their oldest grand daughter's name is Grace. Second, they knew it was only by God's grace that they could survive with a vineyard and winery.
Today, Mary who makes the wine also maintains the small vineyard while teaching in an elementary school. When summer comes, Mary spends her time at the winery and in the vineyard getting caught up with things. Gilles, an elementary school principal, provides the moral support. Most evenings he is required to attend meetings, he has little time to spare for the vineyard and the winery; however, when he can, he enjoys working in the vineyard.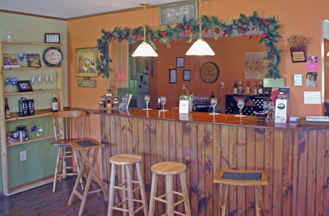 Tasting Room
The tasting room provides a warm and friendly wine tasting experience. Visitors can sit at the tasting counter. Other options include sitting at one of the round tables and enjoying a glass of Amazing Grace wine.
Vineyard
The vineyard occupies about one acre. Mary laughed and said this small acre had 12 different grape varieties. When choosing the varieties to plant she went through a catalogue and checked off the grapes that would grow in this zone and were also considered hardy. The grapes planted in 2008 include the varieties Frontenac, Frontenac Gris, GR7 (Geneva Red a Cornell University grape,) Kay Gray, Léon Millot, Concord, Prairie Star, Edelweiss, St. Croix, La Crescent, and Marquette. A gazebo in the vineyards offers a beautiful spot to capture photos of the vineyard.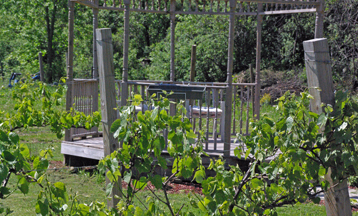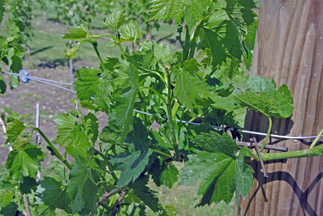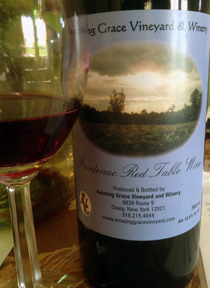 Wines
The wine blends are named for Mary and Gilles grandchildren. The majority of grapes and juice are sourced from the Lake Erie region in New York State. Wines are also crafted from the grapes on the property.
White Wines
Aiden's White Table Wine produced from the onsite vineyard was a light straw color. The wine was a blend of La Crescent, Kay Gray and Eidelweiss. The wine aroma was floral. The taste offered floral notes with some stone fruit hints. The finish was crisp.
Red Wines
Aaron's Red was a blend of Geneva Red (GR7), Frontenac, and Marquette. The fruit was from their onsite vineyard. The wine was red with a dark pink hue. The aroma was of red fruit while the taste was like a fruit salad with a hint of tobacco and licorice. The wine had mild tannins and a fruity finish. Frontenac Estate produced with onsite grapes was red with a pink hue. The aroma was of dark fruit and spice. The taste offered earthy and herbal notes. The wine finish had tannins with herbal nuances.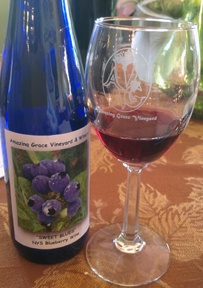 Fruit Wines
Adirondack Peach was made with peaches from the Adirondacks region. The wine offered a true peach taste. This wine would be delicious as a dessert wine.
Sweet Blues was produced with blueberries. The wine emphasizes blueberry notes throughout. This wine is delightful alone. Also it would make a great wine for use in baking.
Events
Amazing Grace Vineyard & Winery offers a variety of events. Summer Concerts hosted outside between the tasting room and the vineyards are popular in the area. Twenty-five people attended a recent poetry reading by an author. They were able to enjoy the poetry and the wines. Other events included Murder Mystery Theater Dinner and a Farmers and Crafters Market.
Private events can also be scheduled at the winery. Consider a wedding ceremony in the vineyards. Other private events at the winery include retirement parties, birthdays and anniversary celebrations.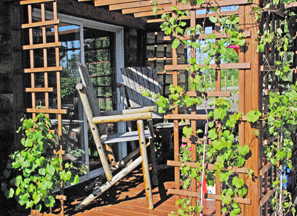 Enjoy a visit to Amazing Grace Vineyard & Winery where you will experience a warm and comfortable wine tasting experience. Consider a picnic lunch near the vineyards. There is also a nice niche for a couple to escape. Surrounded by grape leaves, it is a perfect spot to enjoy a glass of Amazing Grace wine.
Amazing Grace Vineyard & Winery
9839 Route 9
Chazy, New York 12921
GPS: N44º 54.075' W73º 26.209'
Article written May 2013.
---