Vesco Ridge Vineyards
by
Kathy Sullivan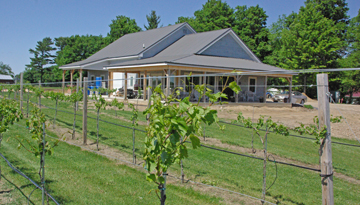 Summary: Vesco Ridge Vineyards is a boutique winery just north of Plattsburgh and only minutes from Interstate 87. Wine tourists will discover an array of wines produced from French hybrid grapes. Watch for the first Vesco Ridge estate wine in 2014.
It was a beautiful, sunny day to visit Vesco Ridge Vineyards located in the Adirondack Coast region. Approaching the winery along the driveway, a row of young vines lined the way. A light breeze frolicked among the vines while we observed them. The Vesco's vineyards escaped a recent frost.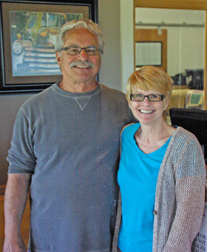 We met Dan and Nancy Vesco, the winery owners. Nancy handles the tasting room and Dan is the winemaker. They are a friendly, couple who willingly share their stories about their passion for the winery from the beginning. Immediately Dan noted that he spends three-fourths of his time cleaning, an important aspect in any winery.

Vineyards

The vineyard is small with less than an acre of grapes. They estimate the vineyard has 500 vines and they are planning to increase that number to 1,000. At one time the property had been a pasture. The soil is a combination of gravel and loam. The climate in this region is not conducive for growing vinifera grapes so vineyards are comprised of cold hardy hybrids. The Vesco vineyard was planted in 2009 and 2010. Varieties included Léon Millot, Marquette, St. Pepin, La Crescent, Frontenac and Marechal Foch.

Tasting Room

The tasting room is bright and cheerful. A tasting counter can accomodate several people. Numerous specially selected gift items are available. Look for Corkcicles, special dips, slushy mixes, a wine bread mix, wine bottle candelabra, and painted stemware.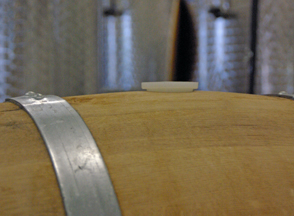 Winemaking

Dan was originally from San Diego before moving to New York. After building a home he realized that in a corner of the basement a wine rack would look nice. Thus he began making wine in the basement of his home. After outgrowing the space, he moved to the garage. Now a separate building has been built and houses the winery and tasting room. The winemaking area is behind the tasting counter. Numerous oak barrels and stainless steel tanks are used in the wine production.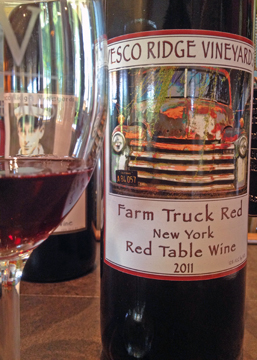 Vesco Wines

We tasted several wines produced by Dan with his own vineyard grapes and grapes from other areas of New York State. Dan noted that he wants visitors to know that he does not produce wines like Cabernet Sauvignon. This is not the region for growing Cabernet Sauvignon and most other vinifera grapes. In their first year they produced 800 bottles.
Diamond 2011 was produced with grapes from the Finger Lakes region of New York. This was a light yellow wine. The aroma and taste offered floral notes with a hint of citrus.

Red Wines
Poppy was named for Dan's father and a photo of his father as a young boy in the 1930s is on the label. The wine was produced with Marechal Foch grapes from the Lake Erie region in New York State. The ruby wine offered plum notes with a hint of tart cranberries. The wine had mild tannins. This is an easy drinking red wine.
Farm Truck Red was produced with grapes sourced only a few miles away in Plattsburgh. The aroma was earthy. The taste was of dark red fruit and spices especially pepper. The finish was spicy. Ridge Red was made with Syrah from Long Island's North Fork. The ruby wine offered plum, earthy notes with some oak influence. Tannins were on the finish. Cabernet Franc was a translucent red with an earthy aroma. The taste was dry with notes of pepper. Red Table Wine was a blend of Baco Noir and Corot Noir. This dark ruby wine was fruity with cherry notes. Suggested pairings included roasted poultry, sharp cheddar and feta.
Rosé was a beautiful dark pink/light red color. The light aroma had aspects of red fruits. The taste was light with red fruit nuances. This wine would pair with cheese and also be a good wine enjoy on the patio or porch.

Sweet Melody is a delightfully sweet dessert wine with raspberry notes. The wine can also be used with the wine slushy mix to make an ice cold treat.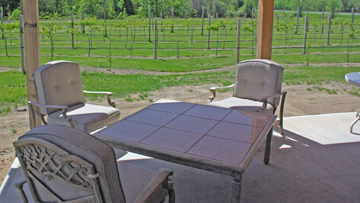 The winery is usually opened Wednesday, Friday, Saturday and Sunday. They are also open by appointment. When visiting Vesco Ridge winery you will most likely have the opportunity to talk with Dan and Nancy. Be sure to learn about some of the newer grape varieties. There is seating at tables outside. Spend some time relaxing while overlooking the vineyard with a glass of Vesco Ridge Vineyards wine.
Vesco Ridge Vineyards
167 Stratton Hill Rd
West Chazy, NY 12992
GPS: N44º 49.030' W73º 26.602'
Article written May 2013.
---