Demarest Hill Winery
by
K.L. Sullivan
Summary: Francesco Ciummo is owner and winemaker of Demarest Hill Winery located in the Hudson River Valley. He produces wine and spirits and replicates the wines that he remembers from his childhood in Molise, Italy. Francesco's favorite word regarding his wines is "smooth."
The approach to Demarest Hill Winery is a long and winding uphill, paved driveway. Before reaching the winery tasting room, visitors will see vineyards sloping down the hill on their right. Along the vineyards are arches for grapevines to climb when warm weather reaches the vines. Located in the Hudson Valley of New York State, Demarest Hill Winery is the result of Francesco Ciummo's dream of owning a winery and vineyard. Francesco is both owner and winemaker of Demarest Hill Winery. The winery is on the top of a hill with vineyards sloping down from it. In the distance, the high hills provide dramatic views. Originally, numerous trees surrounded the building. Francesco removed trees to plant the vineyards.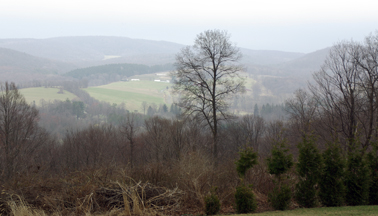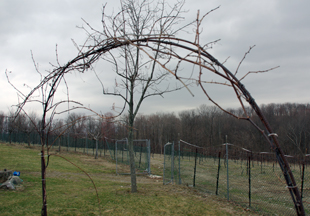 Demarest Hill Winery is a winery and a distillery with 12 acres of grapes including Marechal Foch, Alora, Baco Noir and Frandonnet. Inside the tasting room, a long wood table displays an assortment of wines and spirits. Some of these included: Dandelion Brandy, Applerum, Very Special Reserve Brandy, Anisette, Warwick Special Liquor, Applejack, Porto Fino, Warwick Ruby Red, Fine Peach Brandy, Fine Strawberry Brandy, Coco Brandy, Crème de Menthe and Vodka. Curtains at the windows add coziness to the room. Paintings decorate the walls and many of them are for sale.
Francesco is proud of his Italian style wines and the spirits he creates. He learned his winemaking skills from his father while growing up in Molise, Italy. His passion is evident in the painstaking manner he uses to provide the flavorings for his spirits. Francesco creates his own flavorings including anise by adding anise to grappa and letting it set for a time. Likewise he adds mint to grappa to add the flavor for Crème de Menthe.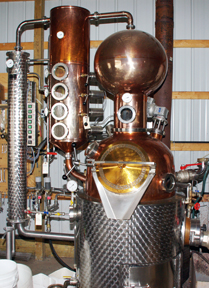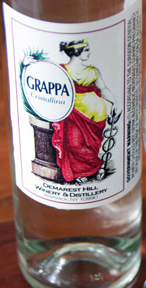 We tasted several wines and spirits while talking with Francesco in the tasting room. The winery is below the tasting room. The distillery is located a short walk away in a separate building. All together, he produces about 45 wines and spirits. Francesco believes that his success with spirits is the result of the type of distillery he owns. This particular distilling unit uses wood heat for processing.
Warwick Black Pearl was produced with Marechal Foch and offered an aroma of plum and dark fruit. The taste was smooth with some tannins and a long fruit aftertaste. Victoria Merlot was produced with 80 percent Merlot and 20 percent Cabernet Sauvignon. Francesco named the wine after his granddaughter. The Cristollina Grappa was extremely smooth and the aftertaste was sweet with some fruit. Coffee Liquor offered nuances of coffee on the nose and taste. The aftertaste was sweet and lingered.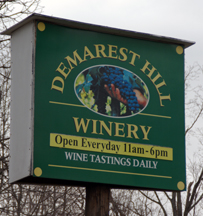 Consider a visit to Demarest Hill Winery where you will discover a wide range of wines, spirits and non-alcoholic drinks.

Demarest Hill Winery
81 Pine Island Turnpike
Warwick, New York 10990
GPS: N 41º 15.738' W 74º 22.373'
---