Warwick Valley Winery & Distillery
by
K.L. Sullivan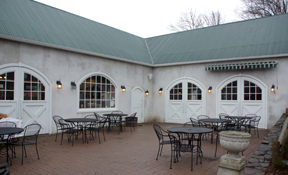 Summary: Warwick Valley Winery is one of the largest wineries in the Hudson River Valley. The Pané cafe is open for lunch on Fridays, Saturdays and Sundays. It focuses on using local produce when in season. The winery produces wines, hard ciders and has a distillery for spirits.
The winery started as a hobby 1994 by Joseph Grizzanti, a physician and his wife Katherine. Katherine currently runs the Pané Café. In 2002, Jeremy Kidde made an investment in the winery and moved back east to Warwick to work with Jason Grizzanti to develop the winery into a sustainable business. Jason is an owner and does the distilling. Jeremy, from San Francisco, is the business manager and an owner. Jeremy mentioned enjoying visiting wineries when he lived in California. Today the winery has 15 employees. Warwick produces 26,000 cases of wine and 1,500 cases of spirits.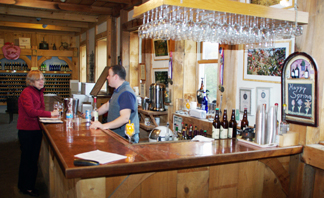 Warwick Valley Winery has a good size tasting room with a copper covered tasting counter. Several antique-style pieces of furniture display numerous gourmet food items and gift baskets. Food items included Garlic Sauce, Barbecue Sauce, Goot Essa Cheese, apple dips and dip mixes. Other interesting items available for purchase include olive oil bottles, handmade soaps and wine bottle stoppers.
An adjacent room has numerous tables where visitors can enjoy lunch purchased in the Pané cafe. The cafe specializes in soups, sandwiches, salads and pizza. From the dining area, a large window provides a view of the gleaming copper distillery.
Warwick Valley Winery has numerous events. Many of these events combine music, wine and food. On weekends, visitors will discover free performances between two and five. The facility and vineyards are also available for small or large private events including weddings.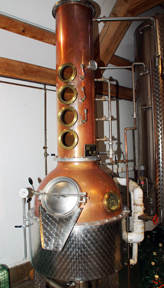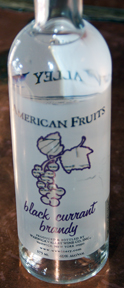 Warwick was the first winery to obtain a New York State fruit distillery license. They sell the majority of the wine in the tasting room and wholesale the majority of the hard cider. The number one seller is the hard cider. Visitors feel they can purchase wine in other places but not the hard cider. The hard ciders we tasted were delicious with a wonderful effervescence. In addition, the owners discovered that beer drinkers like the hard ciders.
At the copper covered counter, we tasted hard ciders, wines and spirits.
Spirits
Black Currant Cordial had 18 percent alcohol. The color was red-purple. The wine offered an aroma of currants. The taste was smooth and full of flavor. The finish was very fruit forward. Apple Liqueur was 19.5 percent alcohol. The aroma and taste were of apple and spice. There was some heat on the finish and it offered a long apple aftertaste. The Strawberry Liqueur had 20 percent alcohol. The aroma was like strawberry shortcake. The taste was intensely strawberry and it had a long strawberry aftertaste. The black currant brandy had 40 percent alcohol. There was alcohol on the nose, taste and finish. After cutting it with a bit of water, there were currant nuances on the nose, taste and finish but no heat from the alcohol. There was a long currant aftertaste. Pear Brandy was 40 percent alcohol. The aroma, taste and finish offered pear nuances. The taste reminded one of a juicy pear. Again, when cut with water there was no heat from the alcohol. It was very peary.
Hard Ciders
Jason uses champagne yeast for producing hard ciders. The results are hard ciders with a great effervescence. Dock's Draft Hard Apple Cider with five percent alcohol offered a sweet aroma with apple nuances. The taste was slightly sweet with effervescence and apple taste. This hard cider was labeled "gluten free." Hard Pear Cider had a 5.5 percent alcohol. It offered a pear taste with very light alcohol and had a nice pear aftertaste. Black Currant Hard Apple Cider was six percent alcohol. The aroma was of currants and the taste was of apple and currant flavors. There were apple and currant nuances on the aftertaste.
Wines
Riesling 2007 had a floral aroma with a peach taste. The finish was dry and fruity. Pinot Noir 2007 was translucent. The aroma offered some strawberry and earthiness.
Enjoy a visit to Warwick Valley Winery and while there be sure to taste some of their hard ciders.
Warwick Valley Winery & Distillery
114 Little York Road
Warwick, New York
10990
GPS: N41º 17.651' W74º 26.305'
---