Bookstore and More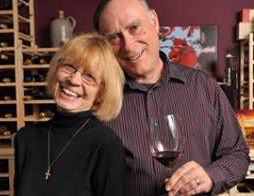 Welcome to the Wine Trail Traveler bookstore. You can purchase the following books by Terry & Kathy Sullivan. Each book purchased is personally signed and inscribed upon request. New for 2017 is our fourth book, A Wine Lexicon: Increasing Your Knowledge. This book explores the world of wine and includes stories and anecdotes about wine terms. New for 2016 was a line of kitchen towels with embroidered wine sayings. If interested in purchasing, click on the Buy Now button. This will take you to the secure PayPal site for our books. You do not have to have a PayPal account to purchase our books.
The advantage of ordering through our bookstore is that we can sign or inscribe the books. We will send you an email asking if you want us to sign or inscribe the books.
Our third book published in 2014 was Georgia, Sakartvelo: The Birthplace of Wine. The country of Georgia lays claim to being the oldest continuous winemaking region in the world. This book is based on the authors' travels to Georgia, talks with winemakers and qvevri makers and research. The reader will find the Georgian culture and winemaking traditions intriguing.
Our second book, A Wine Tourist's Guide: Visiting Tasting Rooms includes relevant wine information in addition to tips on visiting tasting rooms. The book also looks at common international grape varieties, wine myths and misconceptions, tips for planning a visit to a wine region, tasting room etiquette and more.
Our first book, A Wine Journey, takes a look at how anyone can learn about wine. In addition, to writing about our own wine journey, we provide glimpses into the wine journeys of professional winemakers and people who work in the wine industry. Perhaps our story and others stories will bring back a memory for you and will kindle the desire to start or continue your own wine journey.
Book
Details
Price
Tax
Maryland
Residents
Only
Shipping &
Handling
Charges

A Wine Lexicon: Increasing Your Knowledge




Paperback: 240 pages
Photos: color
Publisher: Wine Trail Traveler
Published:
January, 2017
Language: English
ISBN - 978-0-9983380-0-2
Product Dimensions: 8.8 x 6 x 0.5 inches

Book's website

Retail $19.95

6% MD Sales Tax

for shipping in the United States
$5.00 and
$1.00 for each additional book

Georgia, Sakartvelo: the Birthplace of Wine




Paperback: 126 pages
Photos: color
Publisher: Infinity Published:
March, 2014
Language: English
ISBN - 978-1-4958-0006-1
Product Dimensions: 8.8 x 6 x 0.5 inches

Book's website

Retail $14.95

Sale
$14.00

6% MD Sales Tax

for shipping in the United States
$5.00 and
$1.00 for each additional book

A Wine Journey



Paperback: 170 pages
Photos: black & white
Publisher: Infinity Published: 2012
Language: English
ISBN-10: 074148045X
ISBN-13: 978-0741480453
Product Dimensions: 0.4 x 5.9 x 8.9 inches

Book's website

Retail
$12.95


Sale
$12.00

6% MD Sales Tax
for shipping in the United States
$5.00 and
$1.00 for each additional book

A Wine Tourist's Guide:
Visiting Tasting Rooms



Paperback: 90 pages
Photos: black & white
Publisher: Infinity Published: 2013
Language: English
ISBN-10: 0741498014
ISBN-13: 978-0741498014
Product Dimensions: 8.8 x 6 x 0.5 inches

Book's website

Retail
$10.95


Sale
$10.00

6% MD Sales Tax
for shipping in the United States
$5.00 and
$1.00 for each additional book

Special
3 books: A Wine Journey, A Wine Tourist's Guide and Georgia, Sakartvelo: the Birthplace of Wine

Retail: $38.85

Sale
$35.00

6% MD Sales Tax

for shipping in the United States
$7.00 for shipping in the United States


Embroidered
Kitchen Towels

Choose:
Wine & Chocolate
Wine & Cheese

Price per towel
$8.00
6% MD Sales Tax
for shipping in the United States
$7.00 and
$1.00 for each additional towel