Colterris Wines
by
Kathy Sullivan
Photos by
Colterris Wines
Note: This article is based on an online interview with Theresa High, proprietor of Colterris Wines. Wine notes are not included as we did not have an opportunity to taste Colterris wines.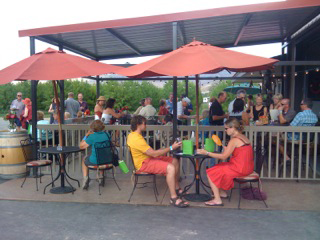 Summary: Visitors to Colterris Wines will discover estate Cabernet Sauvignon and Cabernet Franc wines. Other wines include Malbec wines and reserve blends. Seasonally fresh produce including peaches, cherries and vegetables are also available in the Colterris tasting room. The Colterris name was formed from "Col" for Colorado and "terris" that is Latin for "from the land."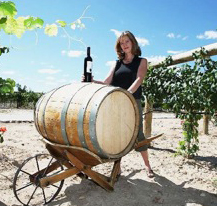 Theresa High is the proprietor of Colterris Wines located in Palisade, Colorado since 2010. She and her husband Scott met in the 1980s while involved in the wine industry. Theresa noted, "When Scott proposed marriage to me he said that he would not promise me a rose garden but he would promise me a vineyard!" Many years passed before they actually created High Country Orchards & Vineyards together and began growing their own vitas vinifera wine grapes.
Since Colorado was home for Scott and Michigan home for Theresa, they began to search for vineyard property in the Colorado Grand Valley AVA. Eventually they purchased a peach orchard in Palisade, Colorado with the intention of converting it to a vineyard. Upon their first peach harvest the peaches were so delicious they decided to keep the peach orchard and search for more property for a vineyard.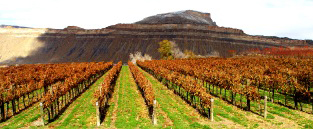 Today they have 35 acres of vines. Vineyards are maintained with sustainable and organic methods. They purchased their first property for vines in 2006, naming it "Katie's Vineyard" for their daughter. Three more vineyard properties were added and named for family members: "Two Brothers Vineyard", "Theresa's Vineyard" and "Scott's Vineyard." Grape varieties in the vineyards include Cabernet Franc, Malbec, Cabernet Sauvignon, Merlot and Petit Verdot.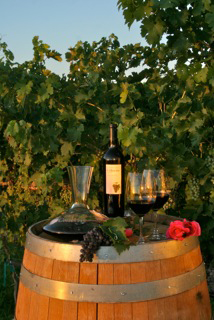 Current Colterris Wines

The first vintage, a Cabernet Sauvignon, was in 2008. Colterris Cabernet Sauvignon Grand Valley 2008 was aged in French and American oak. Colterris uses RGW Associates to produce their wines at Two Rivers Winery in nearby Grand Junction, Colorado. Colterris Cabernet Sauvignon Grand Valley 2009 and Colterris Cabernet Franc Grand Valley 2010 are also available.
Tasting Room
The tasting room offers visitors fresh cherries, peaches and vegetables in season. Other items available include their High Country Orchards fruit preserves and salsas. In response to what can visitors expect at the tasting room, Theresa writes, "It is a winery, a tasting room, a vineyard, a peach and cherry orchard, a sorting and packing facility and a country store. It also includes agri-tours with a panoramic view of the Grand Valley and Colorado River, a pavilion and event center, a lavender garden, a corkscrew museum, a sculpture garden, etc."
We asked Theresa what she would like the public to know about Colterris wine. Her response, "Colterris came about because of our dream of having a vineyard and our passion for producing premium quality wines that we would be proud to bear our family's names. Colterris is and always will be 'from the Colorado land' grown on our family estate vineyards. Our winery goal is to create a reserve wine label which will be a Bordeaux styled blend of all of our family's vineyards in the next 5 years or so when all of our vines reach full maturity. We intend to continue making Cabernet Sauvignon, Cabernet Franc and Malbec varietals as well as the reserve blend."
We look forward to more news about Colterris Wines and when time allows a visit to Colterris in Palisade, Colorado.
Colterris Wines
3548 E 1/2 Road
Palisade, Colorado 81526
GPS: 39.08627, -108.394214
---
Visit this Colorado lodging facility that partners with Wine Trail Traveler.
| | | | |
| --- | --- | --- | --- |
| | | | |
| | Spero Winery | Wine Country Inn | |
| | | | |