Esporão
by
Terry & Kathy Sullivan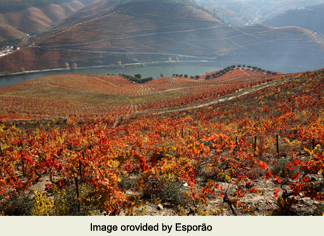 Note: We did not visit Esporão in Portugal; however, we did attend a dinner featuring several of their wines, and met and interviewed the head winemaker. We experienced our most intensives tasting of wines from two regions of Portugal at the Washington D.C. restaurant G by Mike Isabella. The foods paired with the Esporão were from a new Mike Isabella restaurant Arroz, opening in early 2017.
Esporão Vineyards
The vineyards of Esporão consist of two large vineyard properties in two different wine regions in Portugal.
One large vineyard is Quinta Dos Murças in the Northern Portugal Douro DOC region; which is a mountainous area. The other vineyard in Southern Portugal, Herdade do Esporão with 450 hectares, is in Alentejo. This vineyard has 194 grape varieties. Vineyards in Alentejo are especially known for Touriga Nacional, Verdelho and Semillon.
These vineyards are maintained with advanced technologies including weather stations, probes to measure soil humidity, automated irrigation and special biotech ways to monitor pests.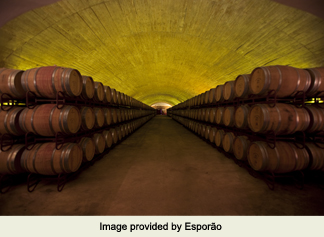 Esporão Barrel Tunnel
Esporão has a large barrel tunnel that has 1,500 oak barrels. The winery uses both American and French oak barrels. The tunnel is 12 meters below ground and thus helps to control the temperature and humidity naturally. When visiting Esporão, be sure to ask about touring the barrel tunnel.
Restaurant at Herdade do Esporão
To experience the restaurant at Esporão, reservations are recommended. The menus at the restaurant are focused on local ingredients and therefore the menus change frequently. The restaurant also has two kitchen gardens which they use to supplement their dishes. Menus are also available for children and vegetarians. A few of the items mentioned on the menus include Mackerel, Turbot, Black Alentejo Pork, Aged Beef Entrecôte, Squid and Artichokes.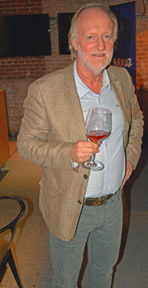 David Baverstock, Head Winemaker
David grew up in the Barossa Valley in Australia. This famous wine region was his home. David said with a smile that he, "Fell into winemaking." At the time in the 1970s, one was considered a hippy if they were making wine. This free spirited profession was a draw for David, and he decided to study oenology. Being in Australia, David learned New World style winemaking. This knowledge was blended with stints in France and Germany where he learned Old World wine knowledge.
While in Europe, David visited Portugal while on holiday. There he met a girl, that he married back in his native Barossa Valley. While in Australia, David became involved in the wine industry. His wife Maria Antoinette longed to return to Portugal. They returned to Portugal in 1982. David began making port and wine while in Portugal and has continued. One can tell by his enthusiasm that he enjoys winemaking.
We asked David about the challenges faced by winemakers. He spoke about the fruit, that is different from one year to the next. David sees winemaking as a combination of art and science. Depending on what the fruit is like, each vintage offers challenges. David likes his ability to fuse new world winemaking with old world winemaking. He learned a lot about winemaking in Australia, and he also learned a lot about crafting wines in Portugal.
Wines and Dinner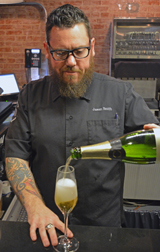 Prior to dinner, we sampled two wines. The 2012 Herdade Do Esporão Brut was a sparkling wine made in the traditional method. The gold colored wine was a blend of Antáo Vaz and Arinto grapes. The wine had columns of bubbles forming a small mousse on the surface. The sparkling wine offered citrus and freshly baked bread notes. The taste also had hints of peaches and apples, while the finish was dry and had some minerality. We next tasted the 2015 Defesa Do Esporão, a rosé made from Aragonez and Syrah. The wine had a light red color with a pink hue. It offered red berry fruits and a bit of minerality. The finish was crisp.
Dinner was at the Washington DC restaurant  G by Mike Isabella; however, the foods were a showcase of a future Mike Isabella restaurant called Arroz. This restaurant will open early in 2017. The four-course dinner was paired with Esporão wines.
The first course featured two white wines, one from the Alentejo wine region and one from the Douro wine region. The 2015 Monte Velho White was a light yellow color. The wine was a blend of Antão Vaz, Perrum (Pedro Ximénez) and Roupeiro (Síria) grapes. The wine had citrus and peaches on the aroma and taste. The mouthfeel was creamy. There was some minerality on the aftertaste for this wine from the Alentejo wine region.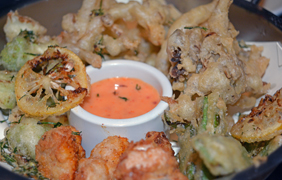 The second white wine was a 2015 Assobio White. Arinto, Verdelho, Gouveio and Viosinho grapes made up the blend of this yellow-colored wine. The wine offered citrus, peach, apple and mineral. The finish was very crisp, making this a lovely wine for the foods in this course.

• Atun Tartare ( foie gras, membrillo, almond)
• Warm Cod Salad (clementine, olive, almond, mojama)
• Sweet Bread Tempero (maitake, harissa aioli) pictured right
The second course included two red wines. The 2015 Trincadeira Herdade do Esporão was crafted with Trincadeira grapes from Alentejo The wine was a ruby color. The silky wine offered black raspberries. It was very crisp. Although paired with food, this wine is also an easy wine to drink on a rocking chair on the front porch. The second wine was a 2014 Defesa do Esporão, a blend of Touriga Nacional and Syrah from Alentejo,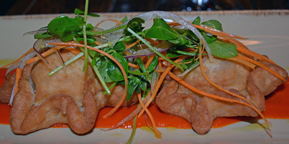 This opaque dark ruby colored wine offered black fruits. The wine had a silky mouthfeel, had tannins and was full-bodied. The wine had good acidity that matched well with the foods in this course.
• Tortilla de Padron (san simon cheese, piquillo pepper, chili threads)
• Prawns Alhinho (pimento, preserved lemon, cilantro)
• Pastéis (braised pork, watercress)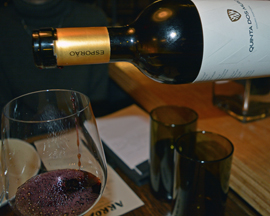 The full-bodied, robust reds were matched with the third course. The 2015 Quinta dos Murças Reserve was a blend of Touriga Nacional, Touriga Franca, Sousão, Tinta Amarela, Tinta Barroca and Tinta Roriz (Tempranillo) from the Douro region. The wine was an opaque dark ruby color that had a bit of perfume on the aroma. The taste had black fruits especially blackberries and black raspberries. The full-bodied wine had bold tannins and a touch of leather on the fruity finish. The second red wine was a 2014 Esporão Reserve, a blend of Alicante Bouschet, Aragonez (Tempranillo), Trincadeira and Cabernet Sauvignon from Alentejo. The dark ruby, opaque colored wine had an aroma of black fruits. The taste was reminiscent of blackberries with a hint of cassis. The full-bodied, bold tannin wine also had an earthy character with leather and fruit on the finish. The first wine in this course matched well with the Arroz Caldosa while the second wine paired well with the lamb especially with the coriander.
• Arroz Caldoso (chicken, sepia, mussels, chorizo, shrimp)
• Chermoula lamb ribs (apple, radish, cracked coriander honey)
• Burnt Broccolini (aged manchego, almond, romesco)
The final course was dessert. The wine chosen for this course was a Quinta dos Murças, 10 year tawny port. Grapes in the blend were Tinta Amarela, Tinta Barroca, Tinta Roriz, and Tinto Cão. This 19.5% alcohol wine was a translucent ruby color with a red hue. The port had dried fruit characteristics and was very silky with no alcohol heat on the finish. The port would have made a good dessert by itself; however, it paired wonderfully with the dessert offerings.
• Olive Oil Cake (sangria gellee)
• Coconut Flan (vanilla espuma, caramel)
• Pastéis de nata
The port's acidity played well with the sugar in the desserts.
The Esporão wines were wonderful and showcased many native grapes to the Douro and Alentejo regions. The food and wine pairings were great, playing very well with each other. We hope our wine journey will take us to Portugal.
Article written November 2016
---