Fenwick Wine Cellars
by
Kathy Sullivan
Note: The location in West Fenwick closed. The owners have acquired a new location in Frankford, Delaware about 15 minutes north of this closed location. Ground-breaking took place on June 2, 2016. Look for a future update when the new facility is open.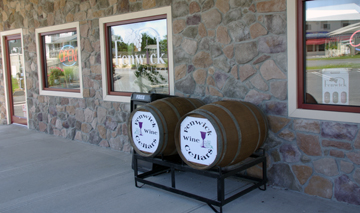 Summary: Fenwick Wine Cellars is an urban farm winery in West Fenwick, Delaware. The tasting room is open daily. Currently the wine available is produced at Arrowhead Wine Cellars in Pennsylvania. Watch for new wines to be produced behind the tasting room in the facility.
Fenwick Wine Cellars in West Fenwick, Delaware, a recently opened boutique winery is one of few wineries in Delaware. The facility is the only urban winery in Delaware. Just outside the tasting room door two wine barrels have been added and provide an easy way to identify the tasting room location. The tasting room has a winery space behind it.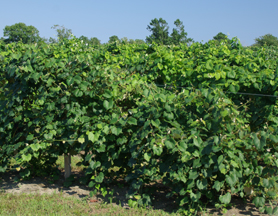 The owners, Adrian and Shannon Mobilia opened the winery. Adrian's father owns Arrowhead Wine Cellars in Northeast, Pennsylvania. Currently the wines offered at Fenwick Wine Cellars are produced at the Arrowhead facility. Eventually Fenwick Wine Cellars will have the winemaking equipment installed behind the tasting room and be producing its own wines. In the future, the owners expect to carry their own wines as well as some of Arrowhead Cellars wines. About an acre of vines are planted across Fenwick Shoals Blvd. These include Concord, Reliance and Niagara grapes.
Adrian was inspired to open a winery and tasting room because of his background. He grew up on his family's large Pennsylvania farm which grew a variety of fruits and grapes.
The location of the Fenwick Wine Cellars is ideal for travelers and tourists traveling to the East Coast beaches near Bethany Beach and Ocean City.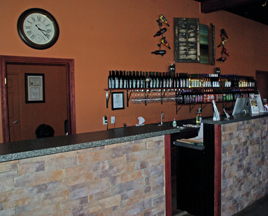 The tasting room is comfortable with a leather sofa and two glass topped tables with stools. Numerous wine related gifts are available to browse. Items include painted wine glasses, Corian specially-designed cutting boards, candles, and decorated wine bottle lamps.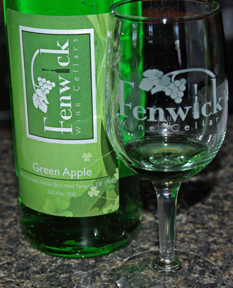 Tasting Wines at Fenwick Wine Cellars
The motto for Fenwick Wine Cellars is "try before you buy." The owners want to be sure that people purchasing Fenwick wines will enjoy the wines. Wines available include white, red, blush and fruit wines.
Reflections of Fenwick was a straw color. The taste was sweet with grapefruit notes. The wine dried on the finish. This is a good wine for pairing with cheese and other foods. It should also be considered a 3-P wine, good for patio, pool and picnic. Green Apple wine was a bright green. The wine offered apple nuances. The sweetness tended to overpower the apple notes. This is a great wine to have on hand for Christmas or St. Patrick's Day due to its unusual bright green color. Cherry wine had a tart cherry aroma with prominent cherry and cherry pit notes. There was a bit of sweetness.
Chambourcin was a dark pink to purple color. The wine offered dark fruit notes with hints of baking spices. Very mild tannins were on the fruity finish. At room temperature, Ambrosia was produced from New York 13, a Cornell and Penn State grape. The purple wine offered an aroma of cedar and dark fruit. The taste with dark fruit notes finished fruity with mild tannins. The chilled Ambrosia aroma was less pronounced but cedar comes through. There were also notes of dark fruit and the wine was a bit sweeter than the room temperature Ambrosia. Fredonia was a red wine that had grapey notes. The wine was crisp and dried on the finish.
Delaware Wine & Ale Trail
Fenwick Wine Cellars participates with wineries and breweries on the Delaware Wine & Ale Trail. In addition, Fenwick offers individual events including a recent event with an Elvis impersonator.
Fenwick Wine Cellars is the place to stop to discover what type of wines you enjoy. The owners want you to taste wines before you buy. The location is also good for travelers on the way to the beach or back home.
Fenwick Wine Cellars

New location
32512 Blackwater Rd.
Frankford, Delaware 19945
Old location
38016 Fenwick Shoals Blvd. 

West Fenwick, Delaware 19975
N38º 27.992' W75º 05.330'
---
Visit these businesses that advertise on Wine Trail Traveler.