Nassau Valley Vineyards
by
K. L. Sullivan
Summary: Visit the first winery in Delaware, Nassau Valley Vineyards, taste their wines, visit the museum and learn firsthand how Peg Raley had to lobby legislators to pass legislation before they were able to open as a farm winery. Besides traditional red and white wines, the winery also offers a peach and a blueberry wine. Weather permitting, bring a picnic lunch, purchase a bottle of wine and enjoy the location of the winery close to the vineyards.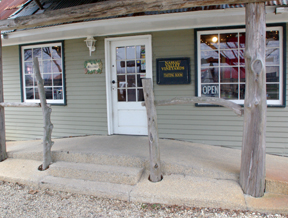 As you approach, the winery the land is flat, typical of the Eastern Shore and unlike many wineries in other areas of the East Coast. Sandy soil is one of the elements in this area of Delaware. Grapes in sand will develop a deep taproot. Nassau Valley Vineyards does not irrigate their vineyards although recently planted vines are supplied with water when needed.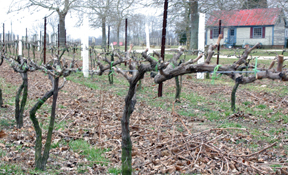 As the first licensed farm winery in Delaware, Nassau Valley Vineyards has been involved in politics in order to change state law to allow for a farm winery. Peg Raley, part owner with her father, Bob Raley, lobbied the Delaware General Assembly to allow legislation permitting farm wineries in Delaware. Two years after the legislation passed in 1991, Nassau Valley Vineyards opened its doors. The original vines were planted in 1987. Now the vineyard has 6 acres of vines consisting of Chardonnay, Cabernet Sauvignon, Cabernet Franc and Merlot. The winery purchases grapes from vineyards on the East Coast and produces about 2500 cases of wine. Today the winery works to encourage local farmers to grow grapes. Peg points out, "Wine is liquid geography." Rather than thinking of wine grapes as alcohol farmers should see grapes as a "purveyor of sunlight and rain."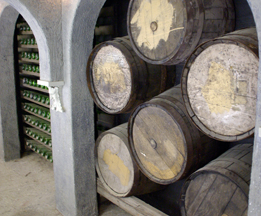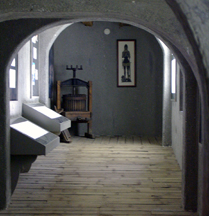 A detailed self-guided tour is available for visitors to take either before or after a wine tasting. Peg created this tour to remind people of the historical nature of wine. For thousands of years, wine was the agricultural beverage for the common people. In the museum galleries, backlit pictures and text tell the story of grapes and wine. The first gallery describes the vineyard and its maintenance. Opposite the displays, you can view the winery through large windows. The second gallery presents the history of winemaking. Artifacts in addition to displays make up the third gallery. You'll learn of barrel making, wine bottles, closures and cork screws. Peg would like the people who visit Nassau Valley Vineyards to enjoy the wine and especially its connection to food.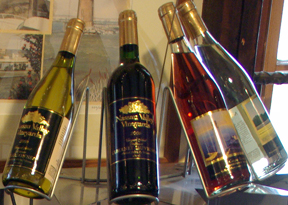 After touring the historical gallery, we tasted several wines. The number one seller is Laurel's Red (semi-dry red) from 100% Chambourcin with 3.5% residual sugar. Meadow's Edge White, the number two seller, is a semi-sweet blend of Seyval Blanc and Vidal Blanc. Chardonnay 2006 had pear and vanilla on the nose and taste. It had a crisp finish with an oak aftertaste. Cabernet Sauvignon 2006 had a slight red cherry nose, with a red cherry taste and aftertaste. The wine had a crisp finish. Merlot 2006 had a red fruit nose and taste. It had a smooth mouth feel with a hint of earthiness. Two fruit wines were tasted. The Peach Ambrosia was a semi-sweet white from 100% peach juice. The True Blue Blueberry was a red wine produced from 100% locally grown organic blueberries.
Large events are in a room adjacent to the tasting room. The outside designed with brick arches and double doors create a lovely sense that one is about to experience something special upon entering. The winery has about 50 wedding receptions a year. Other smaller events are held in the gallery. Visitors can also schedule events to take place outside of the winery.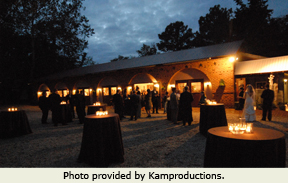 In the near future, a new events room will open just a few yards away from the winery. Plans are to increase the size of the tasting room. In the meantime when you visit, if the tasting room is a bit crowded, take advantage of the self-guided tour and then return to the wine tasting room. Bring a picnic lunch, purchase a bottle of Nassau Valley Vineyards wine and use one of several picnic tables available for visitors.
Nassau Valley Vineyards
32165 Winery Way
Lewes, Delaware 19958
GPS 38° 44.818' W 075° 11.390'
---
Visit these businesses that advertise on Wine Trail Traveler.