2012 IFWTWA Conference Overview Day 1
by
Kathy and Terry Sullivan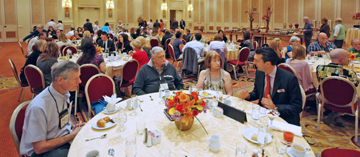 Monday, the first full day of the IFWTWA Conference in Las Vegas, was off to an early start with breakfast in one of the many meeting rooms at the Venetian/Palazzo. Numerous colorful breakfast items were available in a buffet style. Guests could choose between various styles of quiche, beverages, omlettes made on the spot and an array of fresh fruits and pastries.
While everyone enjoyed satisfying their tastebuds with so much delicious food available, writers also had the opportunity to talk with chefs and other members of the Venetian/Palazzo staff. Sitting at tables for ten did prove a hindrance for conversations to be easily heard by all. We noted that the staff for the breakfast was always on hand to help where needed and were very solicitious to guests.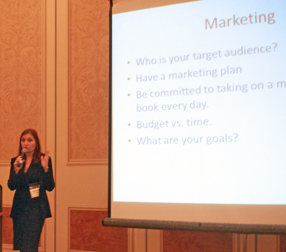 At 9:30 we were off to cover different sessions with the first two sessions about SEO and ebooks,POD and small publishers. Sherrie A. Wilkolaski presented "Ebooks-POD-Small Publishers." Her session included: Publishing Overview, Production/Prepublishing, Printing, Distribution, and Marketing. Your choice of a printing company depends on what you want. Sherrie was inspirational in her delivery. She was quite interested in Wine Trail Traveler and our story. She encouraged us to write a book.

Jennifer Thompson presented "Search Engine Optimization SEO." Although most of what she presented are things that we are aware of, she did have an idea that we implemented by the end of the day. Jennifer suggested that we place a top ten list of the most read articles and blog entries on our homepage. We always look at this data at the end of the month, but this was the first time we actually wrote it down and placed it on the homepage.
The second sessions we attended were "Sutro Apps" and "Draw in Your Audience with Captivating Video." Kay Grant presented "Sutro Apps." According to Kay, many apps are on the market and to be successful yours must be top quality. Currently Sutro Media has more than 300 apps available. If you have excellent writing skills and an iPod, iPad or iPhone then Sutro Media will work with you. Kay noted there are no upfront costs for working with Sutro. If you are looking for another way to publish your work, Sutro Media may be for you.
Chad Thompson presented the session "Draw in Your Audience with Captivating Video." There were some camera pointers I found interesting. One was to use a rope tied to an eye-hook that could screw into the bottom of your camera. You can stand on the rope and use it as a tripod. Chad demonstrated a simple LED light that he carries with him. He suggested using it for food shots.
Third sessions attended included information about Linked-in, and press trips. Fran Severn presented "Press Trip 101: Essential Information for Travel Writing Professionals." Fran's presentation was good for those new to press trips and a nice refresher for those who have been part of organized press trips. Fran began the session with a look at the organizations that may offer press trips. She also noted that press trips are subject to the whims of public servants who are subject to the use of taxes and must show the benefits of press trips. Several key points including common sense tips and there were reminders about: politeness, thank yous, tipping, research and organization.
JoAnna Haugen presented "LinkedIn for Writers." Jo Anna discussed how to make your profile SEO friendly. She also encouraged writers to become members of groups that were not specifically writing groups. They offer a good place for story leads and potential travel ideas.
The fourth session attended was TravMedia/Food4Media by Susan Wilson. "TravMedia/Food4Media" are websites that can help journalists. TravMedia and Food4Media are related sites that are beneficial to journalists and publishers. For journalists registration is free. Travel writers and food writers can receive email alerts available only to those registered with TravMedia.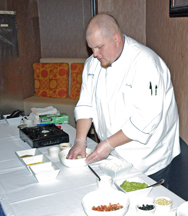 During the afternoon, conference attendees were placed in groups. Each group met at a restaurant in The Palazzo or Venetian. At the restaurant, the chef demonstrated how to prepare a particular dish or conducted a seminar. It was fun to see a chef prepare a dish. When it was finished, writers were able to indulge in the flavors. During the course of the afternoon we met at three different restaurants.
For the evening, attendees were split again. Some attended the performance of the Blue Man Group. Others took place in a Dine Around. Those who were not scheduled for either of those activities for that evening were free to become acquainted with The Palazzo, Venetian and Las Vegas.