Restaurant Tastings
b y
K.L. Sullivan
Occasionally, restaurants will offer the opportunity to entertain and inform those interested in wine. We had the opportunity to participate in a restaurant wine tasting at Elkridge Furnace Inn (Elkridge, Maryland) early in February.
A difference between tastings at a winery and a restaurant is tastings at wineries involve wines from one winery and tastings at a restaurant may include wines from several wineries. Another difference may be the amount of wine for tasting. Before you start tasting notice how much wine is poured into your wine glass. At most wineries a limited amount is poured into a small wine glass. However, restaurants may charge considerably more for tastings and provide a larger wine glass for better swirling of the wine and while not filling the glass, provide a larger portion of each wine to taste.
Elkridge Furnace Inn
The Elkridge Furnace Inn has a long history dating from the 1740's when it was a tavern. The current owners have created an elegant and outstanding restaurant. Occasionally Elkridge Furnace Inn will hold wine tastings. We attended our first restaurant wine tasting here. We enjoyed the experience of tasting wines and meeting other wine enthusiasts. The setting, the people, the chef and the wines when added all together created an extraordinary evening.
The Elkridge Furnace Inn has been restored and well maintained. The main room, the tasting was held in, featured a fireplace and was tastefully decorated. A few chairs were available but participants were comfortable standing at small discussion tables.
The event began with an offer of wine, Doña Paula "Los Cardos" Malbec-Rosé, Argentina and a vegetable tart, as we entered the room. Executive Chef Daniel Wecker began the evening discussing the wines we were about to taste and answering questions. The group of 25 plus asked several questions including is Merlot a type of grape. After this short period of time, Chef Wecker poured a Merlot for us and then we were free to wander and talk to everyone. As we tasted wines, appetizers were passed and included spring rolls, shrimp wrapped in bacon and more. All were delicious and paired nicely with the red wines. During this hour, Chef Wecker moved around the room talking to everyone. When he met us at the table that we were at with two other couples, the topic of discussion was cork versus screw on caps. There were some strong opinions from the group including an admission by one individual that he took the screw on cap off a bottle and replaced it with a cork so as not to upset his partner. Chef Wecker doesn't have a problem with any of the wines with screw on caps he serves. The people we met at this tasting were very interested in wine and willing to share information about wine and other interesting wine places to visit.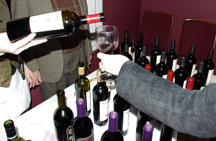 The focus of the wine tasting this night was red wine. At first I was slightly disappointed, as my previous experience had shown me that I enjoy white wines best. However, by the end of the evening after I had tried five of the six offered red wines, I realized that I had enjoyed these red wines. What was the difference I wondered? First, there was the quality of the wine. Elkridge Furnace Inn has a reputation to uphold and the wines they served were excellent. The five wines I tried were very smooth and delicious.
The following is a list of the red wines available for tasting and the order in which they were suggested to taste.
Alexander Valley Merlot, Alexander Valley
Murph-Goode Petit Verdot, Alexander Valley
Hanenhof Cabernet Franc, Barossa Valley
Summers "Andreiana's Cuvee" Cabernt Sauvignon, Napa Valley
Doña Paula Malbec, Argentina
Cliff Lede Claret, Napa Valley
If you have been to restaurant tastings, let us know about your experience on www.winetrailtraveler.com. Click community and then Forums.
To find tasting events in your area check out the events at Local Wine Events.