Wine Century Club
Terry Sullivan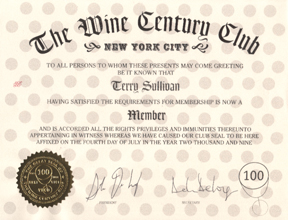 The Wine Century Club was the creation of Deborah and Steve De Long in 2005. They created a website and application to join the club. The application, a chart where you check off the different grape varieties in a wine, is an ongoing educational activity. Consider downloading the application provided as a .pdf or Excel document. As you visit wineries and taste different wines, simple check off the wines listed on the chart. Sounds easy enough, after all there may be over 10,000 grape varieties on the planet.
After submitting the application, which can be done online, you will receive a membership certificate and a welcoming letter. I received my membership during the summer of 2009. The letter mentioned that there are only 623 members worldwide in the group. It went on to state that only 3.5% of those who download the application return it. Checking off 100 different grape varieties that you taste may be more difficult than it sounds. It took Terry and Kathy Sullivan, owners of Wine Trail Traveler, 2½ year with visits to 350 wineries and a WSET class to taste over 100 different grape varieties.
Travel to winery tasting rooms and tasting wines is an enjoyable activity that is rather economical. Taking on a challenge enhances the tasting activity. See if you can check off a least 100 grape varieties that you tasted. You may discover new grape varieties that you like as well as some you may not.
A few years ago in Virginia, I discovered wines made from the Tannat grape. This black grape that also grows in Southern France is often used to blend wines. It offers a dark color and very bold tannins. I actually like the grape as a stand-alone varietal wine. Another discovery was in San Gimignano, Italy. A white grape, Vernaccia, grows so well in this area that the area is classified as a DOCG for the Vernaccia de San Gimignano. Wine travel should take you places and while tasting wines in different tasting rooms look for opportunities to taste wines made from grapes you haven't tasted before.