Pleasant Valley Wine Museum
by
Terry Sullivan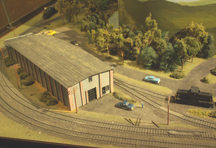 The Great Western Winery Visitor Center part of Pleasant Valley Winery is located one mile southwest of Hammondsport, New York. The spacious visitor center houses a retail store, wine tasting area and wine museum. The entire family will enjoy the museum. Center of the museum is a large display of the 'Champagne Trail" model train set. The model represents the railroad between Bath and Hammondsport with 168 feet of track and scale buildings.
Near the model train is a display of a cooper's shop. Artifacts that coopers use abound in the shop. The information plaque mentions Walter Taylor and his work as a cooper. A description of a cooper's tools and pictures of those tools can help the visitor locate those tools in the cooper's shop display.
Many artifacts surround the displays in the museum. A giant cork is in a display case as well as bark from a cork tree. A visitor learns that cork can be harvested after the cork tree reaches 25 years old and harvested in the future every ten years. A cask from the German town of Bingen rests in the museum. It is thought that the cask was filled with wine from Germany. The cask was found at Gold Seal Winery in 1930. Older winemaking equipment is located on the museum floors including a 100 year-old basket type press and a horse-drawn sprayer.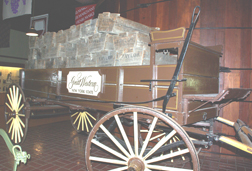 A large red oak barrel houses a theater. On the backside of this barrel is a horse drawn carriage filled with grape containers. These carriages would go out to the vineyard during harvest. Pickers would handpick the grapes and place them in the wood containers. The containers would be stacked in the carriage and carried off to the winery.
Stacked wine barrels offer a visual display of grape information. The heads of the barrels were replaced with a picture and text. On one side of the display, visitors can learn about grape types such as vinifera, native grapes to the New York region and French –American hybrids. Grape growing vocabulary and a description of the noble mold are presented. On the other side of the stacked barrels, wine types are presented including sparkling wines, red wines, white wines, rosé wines, fortified wines, brandy, fruit wines and mead.
The side wall of the museum has a display of documents, pictures and drawings about the history of wine, wine in the new world, grape growing, winemaking, opening a bottle, wine tasting and wine serving. This long display provides a crash course in wine education.
Children will enjoy many of the displays in the museum. First time visitors to a winery will gain a comfort level by visiting the displays, reading the information and looking at the many images. Plan to spend one to two hours at the museum.