Vinopolis
by
Terry Sullivan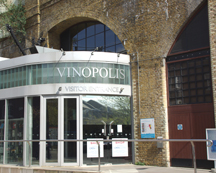 Nestled under brick arches that support the Victorian railroad, lies Vinopolis just yards away from the newly constructed Shakespeare's Globe Theatre in the London area of Southwark. Latin aptly names Vinopolis. The Romans once settled this area of London south of the Thames River. Vinopolis means vine city. Now it has come to mean wine center. The center opened in 1999 in what use to be a warehouse. The South-eastern Railroad Company built the original structure in 1866.
As you wander the rooms of Vinopolis, you see the graceful arches and brick vaulted ceilings. Extensive work transformed the long tunnels into a series of rooms that house the displays. Other rooms are available for special events.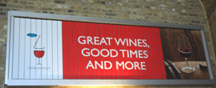 We spent some time talking to Tom Forrest, the Tour Development Manager. When asked if the mission of Vinopolis was to educate the public about wine, Tom responded that the mission is to educate with a small "e." Education occurs through a very relaxed atmosphere. Tom stated that the public learns through enjoyment. As a result, Vinopolis employees do not use sophisticated wine vocabulary. They are very knowledgeable about the wine they have to offer for tasting and answer all your questions.
A visitor to Vinopolis can choose among a series of tours. Each tour includes a walk through rooms that center on wines from different parts of the world. These rooms have displays of artifacts, videos and images. Each tour also comes with a number of tickets to use for tasting wines. The Original Tour offers five regular wine tastings and a Bombay Sapphire Cocktail. Other wine tours include a "How to Taste Wine" session and additional wine, beer, whisky, champagne, or absinthe tastings. A visitor can also use an audio guide. At different locations along the tour, a number signifies a number to type onto the playback device and you can hear a narrative about what is on display. The tour is self-paced. One can read as many of the display descriptions as they choose.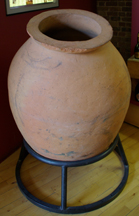 The tour began with displays that show that Georgia, an area surrounded by Russia, the Black Sea, Turkey, Armenia, and Azerbaijan was the cradle of wine. Archeological evidence points out that viniculture took place in Georgia about 6000 BC with more than 500 grape varietals. An antique kvevri, once used to ferment wines, is on display. These 300-500 decalitre jugs would have been buried in the ground up to near the top in order to control temperature. Next, one travels through displays of the importance of Bordeaux and Rhone areas of France.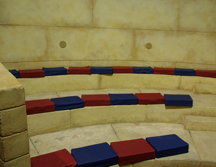 We stopped for a twenty-minute session on how to taste wine. The instructor offered each participant a glass of white wine. We sat in a comfortable small amphitheatre. Our instructor demonstrated how not to taste wine. He looked at the wine for a second took a quick smell and drank all of it at once. We noted that he spat out the wine each time he demonstrated how to taste it. He then proceeded to demonstrate how to look, smell and taste a wine. He gave us plenty of time to follow his directions and asked us what we thought after each step. This session was very low keyed and entertaining.
The tour continued self-paced through displays on Burgundy, France and Germany. You then approach the first tasting table where you can choose wines from different countries to taste. The wine consultants are very knowledgeable and helpful. If you do not know what to taste, they will ask several questions to determine what you may like to try. We decided to pick a country and try a wine they suggested from that country. The tour then continued through displays on Australia, New Zealand, United States, Chile, Argentina, and South Africa. You then come to the second wine tasting table.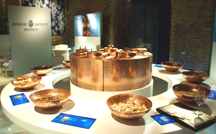 We took a slight detour between the Argentina and South Africa displays to enter a series of rooms devoted to Bombay Sapphire. Bombay Sapphire is a distilled London dry gin. A large round table holds copper bowls filled with different spices. All the spices were fresh enough for one to smell. A hallway lined with different gin glasses led to the tasting bar. Three different Bombay Sapphire cocktails were available. We tasted the Summer Sapphire which consisted of 25 ml of Bombay Sapphire, 15 ml of vanilla syrup and some pineapple juice and the Bombay Berry cocktail which consisted of 25 ml of Bombay Sapphire, 15 ml of blackberry liqueur and topped with cranberry juice. Both of the cocktails were delicious.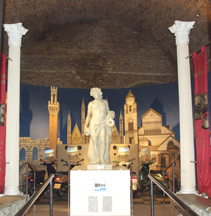 The tour led us on to the Italy room, another tasting table and then on to displays about the health benefits of wine. Those who wish may have an absinthe tasting and a whisky tasting. The tour of Vinopolis was very educational and Vinopolis employees are very helpful and informative. As we left Vinopolis, we met a couple that we talked with earlier on the tour. They wished they had allotted more time for the tour. If visiting London in the future, consider making Vinopolis a destination and plan for plenty of time.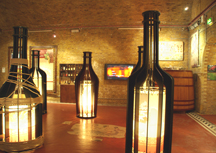 Vinopolis
No. 1 Bank End, London SE1 9BU
0870 241 4040
Website: www.vinopolis.co.uk