Pahrump Valley Winery
by
Kathy Sullivan
Update for Pahrump Valley Winery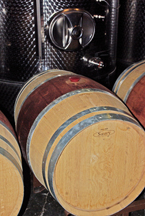 We returned to Pahrump Valley Winery in February 2012 to rediscover the delightful winery in the Mojave Desert. The owners, Gretchen and Bill Loken, expanded the wine selection available and are working with a half dozen Nevada grape growers. Cabernet Sauvignon, Merlot and Port are all produced from Nevada grapes. Symphony's Restaurant is as delightful as ever and our lunches were delicious. The winery receives 100,000 visitors each year. Gretchen noted, "We are a tourist based destination." Pahrump Valley Winery continues to be a "snob free zone" and the Lokens believe there is a wine for everyone and the wine you like best is a good wine for you. Tours and tastings are complimentary.
Summary: Located only an hour's drive from Las Vegas, Pahrump Valley Winery and their adjacent Symphony's Restaurant are definitely a destination you will want to visit time and again. Whether you are living in the Las Vegas area or are visiting, find time to visit Pahrump Valley Winery. Symphony's Restaurant offers an ideal restaurant ambience, delightful interior and cooked to perfection foods. According to the owners, the winery is a "snob free zone." The Lokens are proud that they bottled Nevada's first commercial red wine with the 2005 vintage.

After traveling from the Las Vegas airport through the arid Mojave Desert in Nevada, we arrived in Pahrump. The winery was easy to locate, as it was the tallest building in the area. The area around the building is landscaped with vineyards, gardens and gazebos. Inside we met Bill and Gretchen Loken, owners and winemaker. The couple quickly greeted us and made us feel at home. They are a delightful couple who through a chance incident discovered their passion in growing grapes and producing wine.
Originally, Pahrump Valley Winery was established in 1990. Bill Loken discovered the winery while visiting the area with his brother. According to the Lokens, the winery business found them they didn't find it. Originally, Bill was involved in real estate and Gretchen was a teacher. The property was available for sale and Bill and Gretchen decided to purchase the winery property.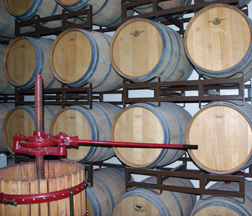 When the Lokens first arrived at the winery, it was in a rundown condition. According to Bill, this was a business opportunity to "turn around" the winery. The previous owners had not maintained the small vineyard. The two existing oak barrels were being used as trashcans. At first, Bill and Gretchen were going to renovate the property and then sell it. They traveled to Temecula, California to observe different wineries. They became deeply involved with the winery and Gretchen completed the UC Davis winemaking long distance program. Bill commented, "My wife and I were bitten by the bug." Bill and Gretchen have put in a tremendous amount of work and time into the winery and vineyard. The first year they had five days off. More recently, they are able to take six or seven days off each year.
The winery has been enlarged and now many oak barrels are aging wine. The tasting room has an adjacent gift shop where numerous gifts are displayed. Consider supporting the local artists and artisans who provide some of the items.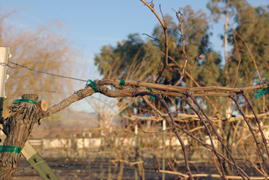 The Lokens added three helicopter pads behind the winery. On occasion, a Las Vegas casino will fly visitors to the Symphony Restaurant for lunch or dinner. Visitors include people visiting from all over the country including Hawaii. In a testament to the quality of the restaurant, people return again and again.
The vineyards consist of 250 Zinfandel vines. Early this year ground will be broken and 1,000 more vines will be planted. Today the winery produces 10,000 cases of wine.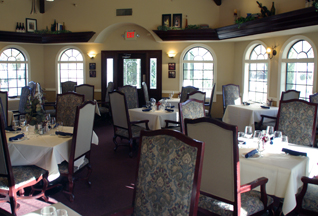 On our first visit, we enjoyed several wines with lunch in the winery's Symphony Restaurant. It was a delightful experience. The arched restaurant windows provide lovely views of the vineyard. Upholstered high back chairs and white cloth tablecloths with dark blue napkins add to the enjoyment of the ambience, food and wine. I ordered a filet mignon and it arrived with a strip of bacon around it. It was juicy and melted in the mouth. This main dish was served with beans that were cooked to perfection.
Wines (Updated February 2012)
At Pahrump Valley Winery, visitors discover that wines are divided into four selections: Pahrump Valley Winery, Villa Bianca, LOKEN, and Nevada Ridge. Pahrump Valley Winery wines are everyday wines; Villa Bianca wines are premium wines of distinction, LOKEN wines are small lot reserve wines and Nevada Ridge wines are handcrafted Nevada wines made with grapes sourced from Nevada.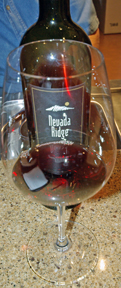 Zinfandel 2009 Villa Bianca was produced with 50 percent Lodi and 50 percent Napa old vine fruit. Notes included dark fruit with earthiness and vanilla. Mild tannins were on the finish. Zinfandel Nevada Ridge 2008 had nuances of smoke, dark fruit and a hint of perfume. The wine had a complexity of layers of fruits and spices with tannins on the finish. LOKEN Syrah Paso Robles 2006 with a ruby color had dark berry fruit nuances with a fruity finish and bold tannins. LOKEN Syrah Mendocino Ridge 2008 from Mariah Vineyards offered notes of perfume, spices, leather and dark berry fruit. Bold tannins were on the finish. LOKEN Cabernet Sauvignon 2009 Suisun Valley, with a ruby color was aged in French and American oak. The wine offered dark fruit and spice notes with bold tannins.
Be sure to consider visiting Pahrump Valley Winery and consider a stop for lunch or dinner in the elegantly styled restaurant. A short one hour drive from Las Vegas makes this a wonderful side trip.
Pahrump Valley Winery
3810 Winery Road
Pahrump, Nevada 89048
GPS N36° 11.463' W115° 56.699'
---
Visit this Nevada winery that partners with Wine Trail Traveler.