Sanders Family Winery
by
Kathy Sullivan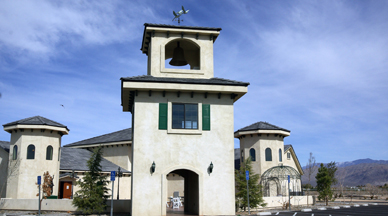 Summary: Sanders Family Winery is a winery where visitors are likely to meet and talk with the owner and winemaker. The friendly ambiance of the winery both inside and out makes this a winery that many will want to return to again.
Jack Sanders, owner, is behind the Sanders Family Winery tasting counter when we arrive and quickly welcomes us despite being busy. Sanders is expecting a big group coming the next day to use the winery's event room. Jack's interest in wines and winemaking has expanded over the years. He had enjoyed wine, and from the Discovery Institute knew people from the wine industry. One of the turning points for Jack was helping a Russian Valley winery and vineyard harvest grapes. Jack discovered the fun and romance of the wine culture.
After living in various locations in the United States, Jack chose to settle in Pahrump, Nevada which happens to be in the Mojave Desert and only receives four to five inches of rain each year. Jack discovered there had been a winery nearby and some farmers in the area were growing table grapes. Oral history pointed to wild grapes growing in the area. After doing research, Jack began the Pahrump Winery in 1988 and opened to the public in 1990. Not long after, he suffered a devastating loss of the vineyard due to wild horses that had discovered the vines. Discouraged he now looks back and comments that the infamous publicity by major news networks brought attention to the winery. He continued working to create a successful winery and vineyard.
Today, Jack has become a successful winemaker and winery owner through perseverance. He sold Pahrump Valley Winery several years ago, and with the help of vineyard experts Jack began a new vineyard and winery. Today he has established the Sanders Family Winery. His son also works with him at the winery, where he has produced his first wine. On the day of our visit he was labeling his wine bottles.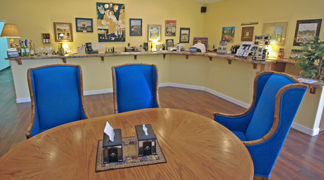 Opening in June 2011, the Sanders Family Winery tasting room is an invitation to taste and enjoy wines as well as browse the gifts available. Sanders Family Winery is located about an hour west of Las Vegas. The winery site is picturesque with towers and a Renaissance Italian Tuscan Villa style. Inside the tasting room with bright yellow walls, an oak table with six high back cushioned chairs from Bugsy Siegel is a focal point.
According to Jack, meeting spaces in this area of Nevada is limited; therefore Sanders Family Winery was built to be multifunctional. An event room is available for rental. The room can be used for meetings, shows and concerts. In front of the facility a large courtyard with an amphitheater has lights and sound equipment available to enhance performances. Broadway shows, concerts and more take place here. The site is also ideal for weddings.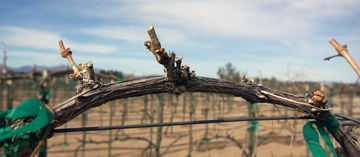 Vineyards at the Winery
The vineyards are comprised of 3.5 acres planted with Petite Sirah and Zinfandel. The vineyards were planted in 2004. Sanders uses organic methods in the vineyard whenever possible. Recently the vines were sprayed with Neem oil, a spray developed from the neem tree. At harvest time, all grapes are hand harvested. At the time of our late February visit, the vines were prunned and buds were just beginning to show some swelling.
Sanders Family Wines
Currently seven wines including Cream Sherry and a Ruby Port are available for tasting. Jack likes to follow a certain procedure for wine tastings so that visitors can taste the whole profile of wines. Serenity is a blend of Riesling and French Colombard (Colombard). The straw color wine offered an aroma of floral notes and hints of apricots. The smooth taste had apricot notes. The finish was crisp, sweet and fruity. This is a good daily patio wine. Harmony, a light pink wine with a slight orange hue was produced with Zinfandel from onsite vineyards and Pinot Noir. The resulting wine offered an aroma of red berry fruit. The taste of red berries was smooth. The finish was crisp and sweet with hints of strawberries.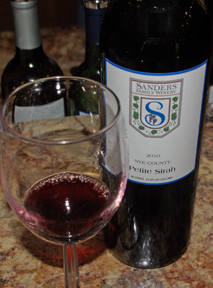 Merlot 2010 was a light ruby with dark pink hues. The aroma and taste offered dark fruit and earth notes. The finish had tannins and fruit yielding to earthy flavors. Zinfandel 2010, a ruby wine, was produced with grapes grown on the property. The aroma and taste offered dark fruit and floral notes. The finish was crisp with mild tannins and fruit yielding to spices. The wine was paired with 70 percent pure chocolate.
Cream Sherry was a light orange. Aroma notes were of walnuts and alcohol. The taste was very smooth. The finish was balanced with walnut nuances. The very long aftertaste had walnut hints. Port Ruby was a dark ruby color. Notes included dark fruits including to plum. This Port was well balanced.
Tastings at Sanders Family Winery ends with a special treat. In a wine glass a bit of cream cherry, ice, ginger ale and a slight squeeze of lime are combined. The ginger in the ginger ale works with the Cream Sherry. The result is a cool refreshing drink before leaving the winery.
Jack Sanders has created a delightful winery but he is not stopping with his success. Future plans include adding additional grapevines, units for bed and breakfast facilities and a restaurant.
Sanders Family Winery
3780 East Kellogg Road
Pahrump, Nevada
GPS: N36º 07.090' W115º 56.648'
---
Visit this Nevada winery that partners with Wine Trail Traveler.