The Wine Cellar
by
Kathy & Terry Sullivan
Summary: A visit to The Wine Cellar allows visitors to Las Vegas to step aside for a few minutes or several hours from the hubbub of casinos and shopping activities. The Wine Cellar offers wine and cheese tastings from an international portfolio, wine purchases and a wine collection dating from 1858.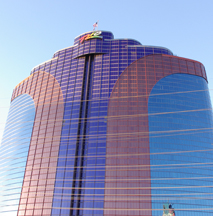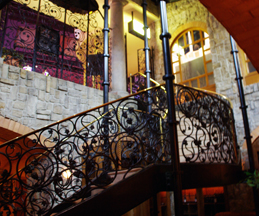 After staying at a casino on the strip for two days, we walked to The Wine Cellar located in the Rio All Suite Hotel & Casino. The entrance to The Wine Cellar is inside the casino, where visitors step past a glass door and walk down a long spiral staircase enhanced with grape accented wrought iron railings. The glass doors and spiral staircase offer an elegant approach into the cellar.
We discovered The Wine Cellar to be a one of a kind wine venue. Similar to a high-end winery/vineyard tasting room, the ambience of the cellar is delightfully warm and friendly. High arches of brick and stone add to the atmosphere. Visitors to the cellar can view a large collection of wines housed in temperature-controlled cabinets lining walls of the cellar. The Wine Cellar emphasizes international and domestic wines, although most domestic wines are from California.
We met Hung Nguyen, Wine Cellar Manager, who gave an excellent tour of The Wine Cellar and provided us with two wine tasting flights. Hung enthusiastically began the tour with the wine collections. A collection of wines, Chateau d'Yquem, Sauternes, dating back to 1858 through the 1900's are not only displayed but is available for sale. It was intriguing to note that individual wines had a small tag with a year and major event including one for 1929 labeled Wall Street crash.
Not far from this large collection, we saw a bottle from Thomas Jefferson's wine collection. The label has deteriorated and the writing on the label is difficult to read. It was amazing to see a bottle of wine (Madeira) with Thomas Jefferson's name and know that at one time he most likely had touched this wine bottle.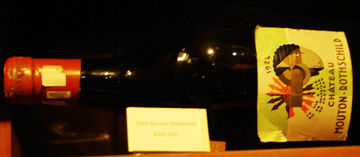 Nearby the Thomas Jefferson bottle, a large bottle of wine is the most expensive bottle of wine in the cellar. A 1924 Mouton Rothschild, it is available for $200,000. This wine is historically significant. It was the practice in France, up until this 1924 vintage, to sell the wine in casks to negotiants. These merchants would be responsible for aging, bottling and labeling the wine. With the 1924 vintage, Baron Philippe de Rothschild broke with tradition and aged, bottled and labeled the wine before it left the estate. The artist, Jean Carlu was commissioned to design the label.
The Wine Cellar provides several small areas for visitors to sit and relax with a glass of wine and a choice of cheese selections and bread. Hung noted that other alcoholic drinks are available.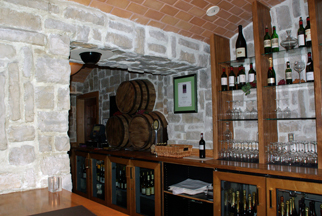 Wine tastings are at a long wood-finished countertop. Large stone supports provide a sense of privacy between small groups. We enjoyed our tasting experience at The Wine Cellars while Hung continued answering our questions. The Wine Cellar offers wine flights with twenty-five flights available. Prices for the flights ranged from $12 to $99 per flight. International cheese flights are also available with a choice of four different flights. All the wines in a flight are offered at the same time allowing one to taste and re-taste the wines in the flight while comparing them. It is important to note that the wines are both domestic and international. Tastings are reminiscent of the tasting at Vinopolis in London and Copia (now closed) in Napa.
Wine Flights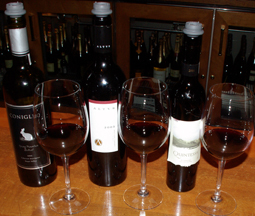 Flight 17 is titled "Let's Talk About Your Big Cabs." This flight consisted of Coniglio 2002, Altus 2005 and Quintessa 2005. The Coniglio 2002 had an alcohol level of 14.8 and was a dark purple, opaque color. The aroma and taste were of black fruit. The wine offered a smooth mouthfeel. The finish had a bit of heat with a crisp taste and long fruit aftertaste. Altus 2005 had a dark, purple opaque color and an alcohol level of 14.7. The wine was very fruity and offered black fruit nuances. The wine had a smooth mouthfeel with heat on the finish and a big fruit aftertaste. Quintessa 2005 was produced with 14.9 percent alcohol. The color was a dark purple and opaque. The aroma and taste were very fruity and had blackberry nuances. This wine was well balanced with a long fruit aftertaste.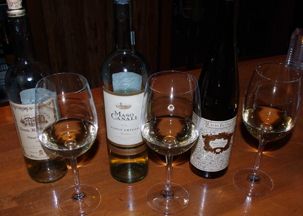 Our second flight was Pinot Grigio. This flight consisted of Santa Margherita Pinot Grigio 2006, Trentino's Maso Canali Pinot Grigio 2007 and Friuli – Livio Felluga Pinot Grigio 2006. The aroma of the Santa Margherita Pinot Grigio was fruity and crisp with a refreshing and dry taste. Consider pairing this wine with seafood. Livio Felluga Pinot Grigio 2006 offered an aroma and taste of grapefruit and floral nuances. It was warm on the finish. Maso Canali offered a less intense aroma compared to the first two Pinot Grigios. However, this wine offered a velvety mouthfeel.
Separately we tasted several other wines including Fattoria de Sorenti 'Sciries.' This wine was a ruby color that was almost opaque. The aroma and taste were very fruity with red cherry nuances. The taste was also spicy and silky. The finish was long with a fruit aftertaste. Emilio Moro Ribera Del Duero 2004 was almost an opaque purple. This Spanish Tempranillo had a blackberry aroma and taste with a smooth mouthfeel. The finish offered a bit of heat and tannins.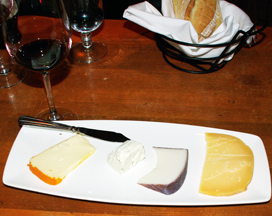 As we tasted wine, Hung prepared a white porcelain rectangular tray with four international cheeses. These included Port Salut made from cow's milk from England, Roulé made from cow's milk from France, Drunken made from goat's milk from Spain and Gouda made from cow's milk from Holland. Hung included a small basket of sliced fresh bread. We enjoyed tasting the different cheeses and pairing them with the wines.
At first, The Wine Cellar appears small and perhaps that is due to the nooks and crannies available for enjoying a glass of wine and cheese. This adds to the ambience of each section. Adjacent to the tasting area a large event room is available for special events. The large room will accomodate several hundred people. Hung mentioned the last event was a wine and chocolate pairing event, which was successful.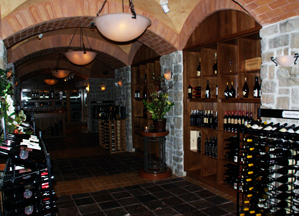 When you visit Las Vegas, be sure to visit The Wine Cellar located in the Rio. The Wine Cellar offers a quiet and relaxing wine experience.
The Wine Cellar
Rio All-Suite Hotel and Casino
3700 West Flamingo Road
Las Vegas, Nevada 89103
---
Visit this Nevada winery that partners with Wine Trail Traveler.