Wine and Food Book Reviews
Vineyard Cuisine: Meals & Memories from Messina Hof 

Tasting Club: Gathering Together to Share and Savor Your Favorite Tastes
---
Vineyard Cuisine: Meals & Memories from Messina Hof 

Authors: Merrill & Paul Bonarrigo

Publisher: Bright Sky Press
USA
Price: $24.95/hardcover
Copyright: 2007
ISBN: 978-1933979021

Pages: 168
Reviewed by Kathy Sullivan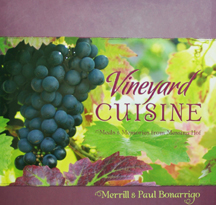 The authors, Merrill and Paul Bonarrigo, are the founders of Messina Hof Winery & Resort. By beginning with a one-acre experimental vineyard and persisting despite naysayers, they now have achieved success in the vineyards, winery and as a destination site. The winery is located in Bryan, Texas.
Vineyard Cuisine: Meals & Memories from Messina Hof is a combination cookbook, and love story. Interlaced between many (more than 90) recipes is the story behind Merrill and Paul, including how they met and chose to spend their lives together. Many of the recipes contain wine as an ingredient. The many photos, wine related, family and foods add to the readers' enjoyment of the book. This delightful book will help readers to learn the close association between wine and food.
The book is divided into five chapters that encompass recipes and stories. Chapter titles include "Recipes from Our Roots – A German-Italian Love Story." Chapter 3 offers five different menus with recipes for each course. Chapter 5 is titled "Recipes From the Heart of the Home… Togetherness Begins in the Kitchen." Discover why one particular recipe, Paulo's Salad, became known "as a wedding proposal salad." Food aficionados can select from more than 90 recipes. Some of the recipes to look forward to include Zwiebelkuchen, Crab Pancakes, Macadamia-Crusted Halibut, Port and Cream Freeze and Tawny Port Latte. An index is available to easily find a particular recipe.
The book also includes wine and sauce pairing information. Vineyard Cuisine is an enjoyable book to read about food, wine, love and happiness. If you enjoy cooking, this book offers a double treat with its wonderful story and recipes.
---
Tasting Club: Gathering Together to Share and Savor Your Favorite Tastes
Author: Dina Cheney
Publisher: DK Publishing, Inc. 2006
Pages 256
Reviewed by Kathy Sullivan
Dina Cheney, with extensive cooking and writing experience approaches the concept of tasting through planned events. While many people think of tastings concerning wines, Cheney refers to tastings of wine, olive oil, tea, chocolate and more.
Doing a tasting is a marvelous way to entertain a small group of guests. Tastings require only a minimal amount of work. As Cheney writes, "At-home tastings are a new, fun, low-hassle way to entertain."