General Information Book Reviews
Magic in a Bottle: The Untold Story of Arnie Esterer and Markko Vineyard
Buy the Right Wine Every Time: The No-Fuss No-Vintage Wine Guide
The Curious World of Wine: Facts, Legends, and Lore About the Drink We Love so Much
New York Times Book of Wine
Maryland Wine: A Full-Bodied History
Been Doon So Long: A Randall Grahm Vinthology
When the Rivers Ran Red: An Amazing Story of Courage and Triumph in America's Wine Country
History of Wine Words: An Intoxicating Dictionary of Etymology and Word Histories from the Vineyard, Glass, and Bottle
Heard it Through the Grapevine
Wine Trail Traveler 2009 Wine Journal
Red, White, and Drunk All Over: A Wine-Soaked Journey from Grape to Glass
Educating Peter:How Anybody Can Become an (Almost) Instant Wine Expert
Wines & Spirits Looking Behind the Label
---
Magic in a Bottle: The Untold Story of Arnie Esterer and Markko Vineyard
Author: Clifford G. Annis, Jr.
USA List Price: $16.95/paperback
Copyright: 2019
ISBN: 978-1-9772-0772-2
Pages: 149
Foreward by: Frederick Frank at Dr. Konstantin Frank Winery
Reviewed by Kathy Sullivan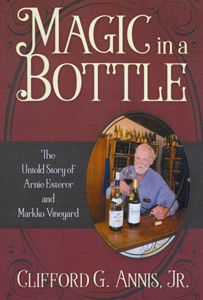 The author, Clifford G. Annis, Jr. became intrigued in the role that Arnie Esterer played in introducing vinifera wine grapes in Ohio. Annis offers an insightful view of the history of vinifera grapes growing in Ohio which had once been known for Catawba grapes. In order to explore and study the growth of vinifera grapes in Ohio, Annis visited and interviewed Arnie Esterer many times and also visited with Frederick Frank at Dr. Konstantin Frank Winery in New York State.
Annis writes, "This is the story of one remarkable man and his passion to produce only the best vinifera wines in a region where the critics said it could not be done." The author then goes on to explain why the Lake Erie Appellation is ideal for growing vinifera grape varieties.
Annis begins this history of Ohio's vinifera by introducing Markko Vineyards. Arnie Esterer and his partner, the late Tim Hubbard, started Markko Vineyards in 1968. Annis describes what must have been disappointing trials and failures while noting that there were also successes.
Chapter two begins with a look at the early childhood of Esterer which began with his birth in Germany and follows to his marriage and children, finally ending with meeting the founders of Presque Isle Winery and eventually Dr. Konstantin Frank. Annis writes about the extraordinary advice that Dr. Frank provided. Other renowned wine figures that Esterer knew included Philip M. Wagner and André Tchelistcheff. This chapter ends with a detailed look at the Markko Vineyards staff and work.
The third chapter is "Tim Hubbard and Linda Frisbie - Two Thirds of Genius." This is a detailed look at two key people involved with the success of Markko Vineyard. Chapter four continues on with a look at other people important to Esterer.
The fifth chapter states well what the following pages are about "What matters is what's in the bottle - Arnie's impact on Ohio and beyond." For Esterer what is important is the quality of the wine. A good portion of Chapter 5 relates practical and philosophical comments by Esterer. These tidbits of information include: location of vineyard is important, advice from Dr. Frank, what's fun about being a winemaker, Esterer's ideas about the Three Tier system and more.
Chapter six highlights funny stories that occurred over the years that Esterer enjoys. Chapter seven looks at "The future of vinifera in the Lake Erie Region." Esterer talks about the future of wine in Ohio's Lake Erie region and believes that Ohio needs to develop a reputation for quality wine; that wineries should not only seek tourism. Esterer also expresses the idea that Conneaut, Ohio region is great for growing vinifera.
Annis ends Magic in a Bottle quoting Dan Ross with a toast to Arnie, "I've been coming out to Markko for 30 years and I feel we have the best Ohio winemaker right here. The guy, who founded Oho State vinifera wines, puts magic in the bottle and still is the best winemaker…Arnie Esterer!"
---
Buy the Right Wine Every Time: The No-Fuss No-Vintage Wine Guide
Author: Tom Stevenson
USA Price: $14.95
Canada Price: $15.95
Publisher: Sterling Epicure
ISBN: 978-1-4027-6341-0
Copyright: 2014
Pages: 319
Reviewed by Kathy Sullivan for Wine Trail Traveler, LLC
This recently published book, of Buy the Right Wine Every Time: The No-Fuss No-Vintage Wine Guide, accurately reflects what the reader will find while using this book for information.
In this volume, Tom Stevenson an experienced wine writer and author, has attempted to simplify selecting a wine for the inexperienced wine drinker.
The author has divided the book into three parts. The first section is "Wines by Style." This is especially helpful for those who know what type of wine they enjoy. Once the reader knows what style of wine they like, they can find a list of wines to try.
The second part is by far the largest section of the book. This section includes wine descriptions and wine label images. The wines included are color coded by style. Wine styles include red, white, fortified, sparkling and rosé.
The wines selected by the author are those that can be easily found in local stores. The author selected wines that for him have proven to have quality for several years, not specifying vintages. Stevenson rates the wines as Recommended, Highly Recommended and the best wines as To Die For. For the reader who can identify the wine he or she likes, the wines are grouped in similar styles.
The approximate price of the wine is indicated with the dollar sign.
Up to $10 is $
$10-$25 is $$
Over $25 is $$$
For each wine included in the book, the reader can discover a short description and an image of the wine label or wine bottle. For each wine, Stevenson includes:
What is it?
What does it taste like?
If you like this, then try with confidence (possible wines to try)
Try something completely different (other wines to try)
For those who want to know a little more about wine, the final pages include 20 tips that Stevenson believes are good to know. This part includes: "How to Decant Wine," "How to Wash Wine Glasses," "How to Let a Wine Breathe" and many more.
Pros: Buy the Right Wine Every Time is a handy guide that helps to alleviate the quandary that many people have when visiting a wine shop or upon looking at a restaurant's long wine list.
Cons: In attempting to reach the novice, the author has chosen to leave out vintage dates. This lack of information may be a deterrent to more experienced wine enthusiasts.
About the Author
Tom Stevenson has been writing about wine for years. He is the author of The Sotheby's Wine Encyclopedia. Tom was awarded the Wine Writer of the Year and the Wine Literary Award.
---
The Curious World of Wine: Facts, Legends, and Lore About the Drink We Love so Much
Author: Richard Vine, PhD
Publisher: Perigee Trade
Copyright: 2012
ISBN: 978-0-399-53763-9
Pages: 224
Reviewed by Kathy Sullivan, Wine Trail Traveler, LLC
The title, The Curious World of Wine, is enticing for anyone who enjoys wine and is interested in the development of wine. The author, Richard Vine, PhD has created a fun and entertaining book of wine facts and stories. The Curious World of Wine is a fascinating combination of ancient wine history, the growth of the wine industry, wine personalities and vineyards. With ten chapters, the book offers a wealth of fun wine related information.
The numerous bite-size notes about the wine industry makes for an interesting read and undoubtedly provides many unusual wine facts. Richard Vine begins The Curious World of Wine with a look at wine in the ancient world. Numerous anecdotes portray that wine was a popular beverage. Wine was important in the culture of the Ancient World. In the first chapter, "Wining with the Ancients", the author looks at the beginnings of quill during the Stone Age. He admits that this beverage was probably not like la dolce vita but notes that it would have had some alcohol. The earliest vineyard ever discovered was in Armenia. The book features information about the ancient world of wine all the way through to current winemakers in the New World.
Richard Vine adds numerous notes about people involved in the wine industry. Among some of these characters, readers will find: Baron Phlippe de Rothschild, Thomas Jefferson, Georges de Latour, Thomas V. Munson, and Randall Grahm. Many more wine personalities are included.
The chapter "Legends and Lore" includes numerous interesting small stories that wine lovers will enjoy reading and retelling. Another chapter has stories of wine in the New World particularly the United States.
Wine is also frequently connected with romance and love. The final chapter is appropriately entitled, "Wine and Love." In this last chapter, the author provides a list by Tamara Belgard, a blogger. The list includes ten reasons why a wine and food experience is better than sex. The author must have a sense of humor.
The author has packed much information into this small easy to read book. There is no need to begin with page one but just pick it up and flip through it. Readers will quickly find tidbits of intriguing information.
Pros: The book has much information that is not always easy to find including the history of wine as well as specifics about vineyards and winemakers. The book is appropriate to add to your home library wine collection. It is a great read to accompany your favorite glass of wine.
Cons: Perhaps some readers will not care for the formatting of the book as each page is divided into two columns. However, the formatting is logical as the focus is on small bits of information.
About the Author
Richard Vine, PhD has been a part of the wine industry for many years beginning in 1958 at Pleasant Valley Wine Company in Hammondsport, New York. By 1965, he was the winemaker. Eventually he became vice president at Warner Vineyards in Michigan. A few years later he had a research position in Mississippi. In 1991 Dr. Vine went to Purdue University as a Professor of Enology. Along his way he has collected tidbits of unusual wine related information. In The Curious World of Wine, Dr. Vine has compiled many of these little known facts in this 2012 book.
---
The New York Times Book of Wine
Edited by Howard G. Goldberg
Foreword: Eric Asimov
USA Price: $24.95; Canada: $29.95
Publisher: Sterling Epicure
ISBN: 978-1-4027-8184-1
Copyright: 2012
Pages: 592
Review by Kathy Sullivan
The New York Times Book of Wine is a comprehensive collection of The New York Times wine articles published over 30 years. In addition to writing the Foreword, Eric Asimov has many articles in this vast collection. Other authors include Frank J. Prial, Terry Robards and R. W. Apple Jr.
Pick this book up to read on a cold snowy day while sitting next to a roaring fireplace and sipping a mulled wine or perhaps on a warm day while sitting by the pool and enjoying a Sangria.
The Book of Wine is divided into 15 chapters with some chapters having more than 20 articles. Chapter titles include:
Wine Writing and Writers
What You Drink With What You Eat
Made in the U.S. of A.
You're Feeling Continental? This Is For You
They Don't Make 'Em Like That Anymore
The length of articles is generally three or four pages long. The style of writing is both entertaining and informative. The individual articles are filled with nuggets of wine related information that one can ponder after reading. Certainly humor is a part of the book especially with regard to "winespeak."
Other wine related topics include tidbits on winemaking, wine history, wine and food, and wine in the United States, Europe and other areas of the world.
In his article "Pop Goes the Critic", Eric Asimov writes about Gary Vaynerchuk's video blog episode for Wine Library TV with an appearance of Jancis Robinson. In "Talk Dirt to Me," about terroir, Harold McGee and Daniel Patterson, write, "When terroir was first associated with wine, in the 17th-century phrase 'gout de terroir' (literally, 'taste of the earth'), it was not intended as a compliment." The authors say that the meaning of terroir started to change in 1831 when it was noted Burgundy wines were produced in the same manner.
Frank Prial makes a suggestion on how to send a bottle of wine back. "Once you've made your fateful decision call him over and say 'I think this wine is off.' Don't use the word 'bad.'" It's an angry word and gets people angry On the other hand, 'off' sounds slightly technical, so he might think you know something. Then quickly add: 'What do you think?'" Prial relates a restaurant experience he had with a terrible wine. "The young woman took it away. Ten minutes later she returned to say, 'The manager is a wine expert and he says the bottle is good. You don't have to drink it but you have to pay for it.' I allowed as how I had yet another choice: to walk out. Which I did."
The New York Time Book of Wine ends with short biographies of the authors of the articles and an index.
A non-fiction book, The New York Times Book of Wine, is a delightful collection of short articles that may well delight anyone who enjoys a glass of wine. The history, information, humor and anecdotes all combine smoothly together. This book should be considered as a possible gift for a wine enthusiast.
---
Maryland Wine: A Full-Bodied History
Author: Regina Mc Carthy
Publisher: The History Press
Price: $19.99
Copyright: 2012
Pages: 144
Reviewed by: Kathy Sullivan at Wine Trail Traveler, LLC
The author, Regina Mc Carthy, has written an informative book about Maryland's history of wine. Mc Carthy divided Maryland Wine: A Full-Bodied History into eight chapters. Some of the topics include Maryland's beginnings in wine and grapes, the organizing of the Maryland winery industry, the role of the Maryland legislature and the future of the wine industry in Maryland. Certainly in the past the Maryland wine industry has had its ups and downs.
In her research, Mc Carthy discovered winemaking in Maryland as early as 1648. She found references to Lord Baltimore who had a goal of planting a vineyard and producing wine in 1662. In the early 1800's John Adlum of Maryland had a major influence on viticulture. Adlum is known as the "Father of American Viticulture."
Fast forward to 1933 when Philip Wagner, published American Wines and How to Make Them. Wagner played an important role in the development of Maryland's wine industry. Toward the latter part of the 20th century, more vineyards and wineries were entering the industry. The author includes descriptions of Linganore Winecellars at Berrywine Plantation, Boordy's Vineyards, Woodhall Wine Cellars, Elk Run Vineyards, Lowe Vineyards, Fiore Winery & Vineyards and Basignani Winery. The beginning of the new millennium brought about the opportunity for more wineries to become established in the state.
Mc Carthy delves carefully into the politics of Maryland wine. Over the years, politics has had a major influence on the growth of the Maryland wine industry. Amazingly Mc Carthy notes, "For quite some time, the state laws were so archaic that they stated a winery could only sell one quart of wine to any one person per year." According to Mc Carthy, "Maryland's alcohol statutes were built on the concept that it is the state's role to promote temperance." After describing temperance, she continues, "In other words, Maryland's alcohol law was designed to keep alcohol from freely reaching the market." The author provides a good description of the three-tier distribution system. She continues on discussing the laws and their affect on Maryland wineries, and ends with the recent success of the passage of direct wine shipping legislation.
As its title suggests, the final chapter, entitled "The Future of the Industry," looks to the future of the wine industry in Maryland. Mc Carthy notes that it is now recognized that vineyards are agriculture. Tobacco farms have been encouraged to turn to vineyards and the Maryland Grape Growers Association expects that Maryland will have 75 wineries and 19 commercial vineyards by 2015.
Pros
In addition to researching books and articles for this book, Mc Carthy visited most if not all of the Maryland wineries open at the time of her writing. She learned much about the history of Maryland wine from owners and winemakers who are intensely proud of the advances Maryland winemakers and winegrowers have made in recent years.
Recommendation
This is book is suggested for anyone interested in Maryland history, wine and politics. For wine enthusiasts who enjoy visiting Maryland wineries, this may be just the perfect book to add to your wine cellar book collection. I look forward to reading Mc Carthy's next book.
About the Author
Regina Mc Carthy graduated from Towson University. Her degree in mass communication included a concentration on public relations. Mc Carthy has been published in Reader's Digest: North American Wine Routes: A Travel Guide of Wines and Vines from Napa to Nova Scotia. In 2012 she attended the Drink Local Wine Conference in Denver, Colorado.
---
Been Doon So Long: A Randall Grahm Vinthology
Author: Randall Grahm
Publisher: University of California Press
ISBN: : 978-0-520-25956-0
Price: $34.95/hardcover
Copyright: 2009
Pages: 336
Forward By: Hugh Johnson
Reviewed by Kathy Sullivan at Wine Trail Traveler, LLC

The author, Randall Grahm, presents a most unique wine book. Several sections are devoted to parody. As one reads Been Doon So Long, it will be noticed that Grahm has a well developed vocabulary and extensive literature knowledge. Combining these attributes with Grahm's wine knowledge and experience one is on a ride reminiscent of a roller coaster ride.
Been Doon So Long begins with the description of the wine labels that have been used at Bonny Doon Vineyard. The history of the winery is incorporated into this section.
Next follows sections that Grahm devotes to parody using wine. Ficciones/Viterature, Poesy Galore, and Taking it Doon-Tune. In the section, Ficciones/Viterature, "The Rimeshot of the Ancient Marsanner" portrays an old sailor in a tasting room. Taking Doon-Tune has two operas that Grahm uses for parodies, "Born to Rhone, Selections from a Rock (and Gravel) Opera" and "Don Viovese in Bakersfield, An Opera Giacosa."
For many years Grahm has been creatively writing the newsletters for Bonny Doon Vineyard. One section of the book is devoted to a selection of these newsletters.
In the final section of the book, Earnest Speeches and Sober Essays, Grahm approaches wine a bit more seriously but still with humor. Take a look at some of these titles, "Bungle in the Jungle: How Does a Wine 'Mean'? or A Season in Vine Hell," "How I Overcame My UC Davis Education," "Six Feet Under: A Meditation on Roots, Minerals and Vinous Immortality."
Recommendation: Been Doon So Long is a book that will be enjoyed by those who enjoy humor and wine. The parodies linked to wine add a unique to the current wine literature available. If you are looking for a book to learn about tasting wine or wineries, this may not be the particular book you need.
Author, Randall Grahm is a prolific writer, owner and winemaker of Bonny Doon Winery.
---
When the Rivers Ran Red: An Amazing Story of Courage and Triumph in America's Wine Country
Author: Vivienne Sosnowski
Publisher: Palgrave Macmillan
Price: $26.95/hardcover
Copyright: 2009
Pages: 248
Reviewed by Kathy Sullivan at Wine Trail Traveler, LLC
The author, Vivienne Sosnowski, shows readers in detail the affects of Prohibition in the United States on winemakers and vineyard owners. This is an unusual viewpoint and deserves to be recognized. Winemakers and vineyard owners suffered during those awful almost 14 years of Prohibition.
Much of the book is based on interviews that Sosnowski had with those who remember what was like during those trying Prohibition years. Another frequently mentioned resource for Sosnowski was news articles. The author used innumerable resources to validate the information she provides to the reader. Resources Sosnowski used included Sonoma County Wine Library, Archives of the Archdiocese of San Francisco, Special Collections at UC Davis and the Library of Congress in Washington.
Reading the dramatic Prologue is necessary as it immediately shocks the reader. The intense prologue for When the Rivers Ran Red is presented so dramatically that the reader can't wait to get started, quickly turning to the first page. The final sentence of the Prologue, "And now Healdsburg's citizens headed to bed as they always did in recent times: uneasy, and still struggling to comprehend how Prohibition was changing their town, their economy, and their lives."
When the Rivers Ran Red is a portrayal of Prohibition from the eyes of the families who were forced to abandon their way of life due to the 18th Amendment. How were these families, who depended upon their wineries and vineyards to provide a living, able to cope? Sosnowski includes the tactics of the Drys and Wets, the political fighting and nastiness (will politicians ever change?) and the Prohibition agents, many of whom were unqualified.
Pros and Cons for Readers
Sosnowski has written a book that is detailed and colorful. Both historians and wine enthusiasts will appreciate learning about Prohibition from the side of the winemakers of Sonoma and Napa Valley. The particular approach the author uses gives readers a fascinating close-up look at winemakers shortly before Prohibition started and includes the years Prohibition was in effect.
While some readers have suggested that the book is too bogged down with details, it must be remembered that this is a nonfiction book and should have relevant details.

At the end of the book 28 pages include chapter notes, bibliography and index.
Author, Vivienne Sosnowski, a photographer has also been an editorial director for numerous newspapers including the San Francisco Examiner and the Washington Examiner.
---
History of Wine Words: An Intoxicating Dictionary of Etymology and Word Histories from the Vineyard, Glass, and Bottle
Author: Charles Hodgson
Publisher: P2Peak Press
Price: $17.95
Date: March 25, 2009
Pages: 208
Reviewed by: Kathy Sullivan
This 208-page paperback book written by Charles Hodgson explores the origins of wine-related words. Hodgson is an electrical engineer whose passion is discovering the origins of words. Since Charles Hodgson enjoys wine, it must have seemed natural for him to research and write History of Wine Words.
In his introduction, Hodgson writes, "Instead of the bouquet, the rim color or the length of finish on the palate that you might appreciate in a wine, in these wine words I'd like you to look for the personalities of the words."
With a good size print and the key words in bold, it is easy to quickly find a word and read the etymology of the word. Wine enthusiasts will note that there is a limit to the number of words in this dictionary. Hodgson chose three types of categories related to wine: locations/regions, grape varieties and wine/winemaking terms. Due to the constraints of space, Hodgson chose to include locations and grape varieties that he believes are relatively common. Among the 400 plus entry words, he includes aroma, Burgundy, château, grape, tannins and wine.
I was disappointed in the description of "toast." Hodgson describes "toast" as drinking to someone's health. No mention of oak barrel toast is made. However, one will still learn the origin of the word "toast." Despite this small detail, the book offers a wealth of information that for some may be too trivial but others will delight in.
People who will enjoy reading this book will be most likely be interested in etymology and enjoy wine. The more I perused the book, the more I wanted to discover the origins of wine words with which I am familiar. Those who are experts in the world of wine may find "wine" words missing but may still enjoy discovering the evolution of 400 plus wine words included in the book.
This is the type of book you can pick up, read one word and say, "I didn't know that."
About the author: Charles Hodgson's passion is etymology. He spends his spare time outside of electrical engineering career investigating the history of words.
Hodgson is the author of Global Wording: The Fascinating Story of the Evolution of English and Carnal Knowledge: A Navel Gazer's Dictionary of Anatomy, Etymology, and Trivia. He also is the creator of Podictionary: The Podcast for Word Lovers.
---
Heard it Through the Grapevine: The Things You Should Know to Enjoy Wine
Author: Matt Skinner
Photographs: Chris Terry
Publisher: Mitchell Beazley, an imprint of Octopus Books USA
Price: $24.99/hardcover
Date: April 15, 2009
Pages: 176
Reviewed by Kathy Sullivan
The author, Matt Skinner, takes readers on an enjoyable journey through the world of wine by using photographs and introducing concepts in an enjoyable and easy to understand format.
Matt Skinner from Melbourne, Australia is a wine consultant, educator and writer. Prior to writing Heard it Through the Grapevine, Matt wrote Thirsty Work. According to Matt, "With out spending a fortune, or years of study, there are dozens of ways you can improve your wine experience. This book is about making more of an effort: what you put into wines is largely what you can expect back."
Heard it Through the Grapevine is divided into four main sections. The first section is "Shopping." According to Matt, "But the real aim of this chapter is to make you a better shopper: to arm you with a little bit of knowledge, confidence, and enthusiasm, which should help take some of the guesswork out of buying wine." He delves into what to expect when shopping for wine including the pros and cons of shopping for wine in grocery stores, on the Internet, and at independent wine stores or vineyards. Matt easily includes discussions of wine bottles, enclosures and the cost of wine.
The next section, "Drinking", explains what to look for when tasting wines. Matt makes it easy to understand many of the common descriptors of wine. In addition, he provides information about wine faults, decanting as well how to open a bottle of sparkling wine/Champagne.
The third section is "Eating." "Food and wine matching combines a little art, a little science, and a lot of trial and error," according to Matt. Here the reader will discover the many attributes of wine and food and how they affect each other. Included in the discussion are acidity, weight, tannin, and sweetness. Matt concentrates on providing information about matching different types of food with wines and gives the reader the information he/she needs to decide for themselves what to wine to match with what wine..
"Sleeping" is the last section of the book and is about storing wine, wine cellars and investing in wine.
Readers with eye problems may have difficulty reading some of the pages that are overprinted on vibrant colors. The black font on vibrant colors is not easy to ready. Fortunately, this occurs infrequently.
Matt has written a book about wine that is delightful for anyone looking for an easy to understand entrance into the world of wine. With bright colors and a relaxing method of getting his information across, I believe that many readers will enjoy this book.
---
Wine Trail Traveler 2009 Wine Journal
by Terry Sullivan
pdf file
Price: free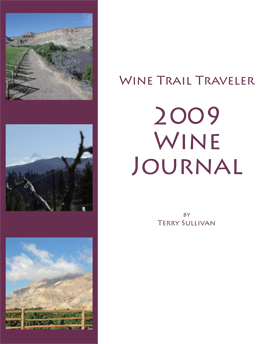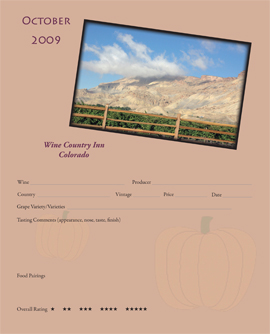 It may be a daunting task to remember the wines you drink. The 2009 Wine Journal is ideal for home use. Each month provides spaces for notes about wines you drink. Print multiple copies of the last two pages for extra entries.
This 27-page journal is a pdf file that will download to your computer. You can view it on your computer and print it. If you view it on your computer, click above a line or in a space and add the information. Note: you can then print the page. You will not be able to save the data you filled into the form. If you decide to print the 2009 Wine Journal use 8 1/2 by 11" paper.
---
Red, White, and Drunk All Over: A Wine-Soaked Journey from Grape to Glass
Author: Natalie MacLean
Publisher: Anchor Canada
Canada
Price: $22.00/paperback
Date: 2007
Pages: 320
Reviewed by Kathy Sullivan
If you haven't heard about or read Natalie MacLean's book, Red, White and Drunk All Over, it is a delightful book. This is a non-fiction book that reads as easily as fiction. Throughout the book Natalie MacLean brings her passion for tasting wine and learning about wine from the inside out. The author takes the reader from wineries in Burgundy to California, from Robert Parker to Janis Robinson, to a discussion of wine glasses and the final chapter on matching difficult foods. Each chapter is as informative as it is entertaining. MacLean definitely has a way with words. Her descriptions, quotes and passion bring the book alive. She takes the reader with her in her exploration of the world of wine. I continually felt as if I was with Natalie while she talked with winemakers and wine enthusiasts. With just over 300 pages and available in paperback, this is a great book to read on your lunch break or on the beach.
---
Educating Peter: How Anybody Can Become an (Almost) Instant Wine Expert
Author: Lettie Teague
Publisher: Scribner, 2007
Pages 256
Reviewed by Kathy Sullivan
Lettie Teague takes it upon herself to educate Peter, a film critic, about the world of wine. With frequent references to films and people in the film industry, this book is entertaining and easy to read. Teagues' entertaining style is humorous, conversational and factual.
Starting with Peter who has very limited wine experience Teague introduces Peter to wine tasting, six prominent grapes, old world wines and new world wines. Finally, the author takes Peter into the public arena including a wine auction, restaurants and wine shops. At the end of the book is a self-checking quiz to take. Consider taking the quiz before reading Educating Peter and after you read the book.
If you are looking only for factual wine information this may not be the book to choose. Educating Peter: How I Taught a Famous Movie Critic the Difference Between Cabernet and Merlot or How Anybody Can Become an (Almost) Instant Wine Expert is an entertaining wine book that informs with an informal tone.
---
Wines & Spirits Looking Behind the Label (Paperback)
Author: Wine & Spirits Education Trust (WSET)
Publisher: Wine & Spirits Education Trust   
Pages 100
Reviewed by Terry Sullivan
The 100-page book is a crash course covering classic grape varieties, wines by region, other styles of wines, spirits and liqueurs, and factors that effect style, quality and price. This book is used as a textbook for the Intermediate class for WSET.
The book is a disappointment. It seems that the publishers wanted to create a text with around 100 pages. A tremendous amount of information is presented in the text, however, there is a lack of explanation and development of this information. Some may find the text rather insulting with one page devoted to the wines of the United States. It seems that the authors were unaware of the results of the Judgment of Paris 1976 and again in 2006.The text could easily be 200 – 300 pages with detailed explanations. An alternative is The Oxford Companion to Wine. This is an in-depth encyclopedia on wine for about the same price.