Parva Farm Vineyards
by
Meghan Anne Sullivan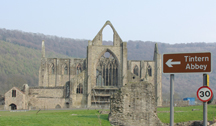 Nestled on the Welsh side of the River Wye, across from England, is the small, quaint village of Tintern. Home to old cottages adorned with flowers and small shops catering to tourists, Tintern is best known as the location of Tintern Abbey, a twelfth-century Cistercian abbey that inspired William Wordsworth's poem Lines Composed a Few Miles Above Tintern Abbey. Despite the flocks of tourists that visit Tintern Abbey each year, Tintern is home to another attraction that is just as fascinating and worth-seeing: Parva Farm Vineyard.
Parva Farm Vineyard, which translates as "little" farm vineyard in Welsh, sits on a hill at the edge of the village. The road leading through Tintern took us past cottages, shops, pubs, boats, and the beautiful River Wye. As we ascended the steep hill to the vineyard and shop, a welcome sign and a field of grazing sheep greeted us.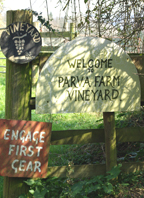 Colin and Judith Dudley purchased Parva Farm Vineyard in 1996. At the time, the vines were in need of immense repair, and the Parva Farm Vineyard wines speak volumes about the hard work Colin and Judith have put into renovating the vineyard. The vineyard is about two acres in size and contains several different grape varietals, among them Bacchus, Seyval Blanc, Regent, Pinot Noir, and Muller-Thurgau. The varietals are from Germany and thrive in the Welsh climate, which does not differ vastly from some areas of Germany. The Regent vines were recently planted and have done particularly well.

Rather than making and bottling the wine themselves, Colin and Judith send their grapes across the border to Three Choirs, where the wine is made for them. Despite the English location of Three Choirs, Parva Farm Vineyard wines are considered Welsh because the vines are rooted in Welsh soil. Colin and Judith have a say in the winemaking process, and their bottle labels boast images of the Welsh dragon and photographs of Tintern Abbey.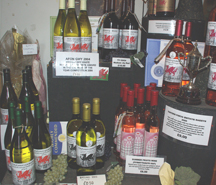 Last year witnessed an exceptional abundance of grapes and bottles of wine, with total wine production reaching over 700 cases. Parva Farm Vineyard typically produces about 375 cases per year. Among the types of wines are a medium-dry blend of Seyval Blanc, Pinot Gris, and Pinot Blanc named Tintern Parva Pen-y-cae-mawr (Edge of the Great Meadow, in Welsh), a medium-dry white called Afon Gwy (River Wye), a medium-dry red by the name of Ty Coch (Red House), and a rosé blend of Pinot Noir and Pinot Blanc called Bwthyn Rhosyn (Rose Cottage). In 2006 the rosé won a highly commended award in the UK Wine of the Year Competition, and won the Stewards Cup in the Southwest Britain Vineyard Association Competition. In addition to the medium-dry and rosé wines, Parva Farm Vineyard produces several dry wines. The grapes do not get enough sunlight to make naturally sweet wine, but Colin and Judith have made sure there is something for every palette. Besides dry and medium-dry wines, they produce mead and a sweet fruit wine made from unsprayed grapes and organically grown summer fruits.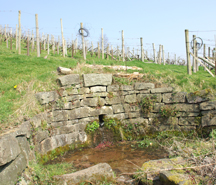 Visitors pay a pound for a self-guided tour of the vineyard and a wine tasting in the homey vineyard gift shop. The vineyard contains arrows and signs to direct and inform visitors as they trek past vines. The vineyard trail takes visitors over a wooden footbridge and culminates at a spring that may have been built and used by the Romans. The style of the spring is Roman, and there are several other similar springs on the farm. It is also possible that monks from Tintern Abbey cultivated a vineyard there. The end of the vineyard trail affords the visitor a breathtaking glimpse of the Wye Valley.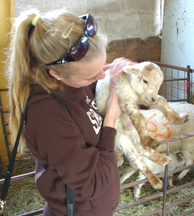 As its name suggests, Parva Farm Vineyard is a working farm, with sheep as its main livestock. Upcoming events at Parva Farm Vineyard include a chance to see spring lambs, between Saturday April 14th and Sunday April 29th, 2007. Visitors can also taste wine, buy plants, and find numerous gifts at the gift shop, such as Welsh cheese, writing paper, jewelry, mugs, and wine racks. There is also a picnic area.
Parva Farm Vineyard is open daily from 11:30am to 6:00pm. In the odd event that the shop is closed, the local post office has a few bottles of wine for sale. To arrange a group tour and tasting, contact the vineyard in advance. Parva Farm Vineyard is a gem of a find and a must-see.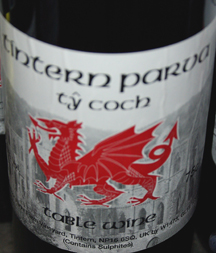 Parva Farm Vineyards
Tintern, Chepstow, Monmouthshire,
NP16 65Q
Tel: 01291 689636
---
Visit these tour operators tha partner with Wine Trail Traveler.
North America, Europe

SmoothRed
London, England, United Kingdom