Ridgeview Wine Estate
by
K.L. Sullivan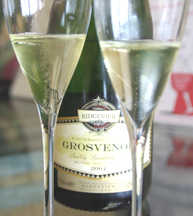 "Life is for Celebrating" is the motto for Ridgeview Wine Estate in England. We arrived at the winery midmorning and quietly enjoyed the peacefulness conveyed by the vineyard and the colorful primroses outside of the winery. We met Mike Roberts, owner and winemaker, outside of the winery and after a few minutes of conversation, he invited us into the winery. We went up an inside staircase, leading us to the tasting room. The Ridgeview Winery is a family-run winery and Mike is proud of his family's involvement.
The history of Ridgeview Winery dates from the 1970's when German hybrids were planted and produced average wines. At the time wine production in England was novel and somewhat successful. With the help of German winemakers, vineyards of German grape varietals were planted. Mike observed that this particular area has the same geology and weather as the Champagne area of France. He decided that the main grape varietals would do well in this area of England. In 1994, he planted the Champagne varietals of Chardonnay, Pinot Noir and Pinot Munier grapes. By 1996, Ridgeview Winery had won a trophy from their first vintage. This put sparkling wine in England on the map.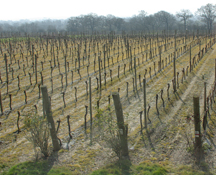 With 30 acres of grapes at the winery site, Ridgeview Wine Estate also has vineyards in east and west Sussex. With a total of about 130 acres of grapes, the winery was able to produce over 8,000 cases of sparkling wine in 2006. Grapevines are pruned by hand and the harvest is done by hand.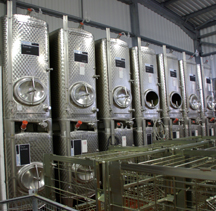 Ridgeview has state of the art equipment for producing fine wine. The equipment includes rectangular stainless steel tanks, a bottling machine, labeling machine and a machine for freezing the lees for disgorgement. There are also several gyroplattes, crates that hold several dozen bottles. The gyroplattes offer a mechanized form of riddling.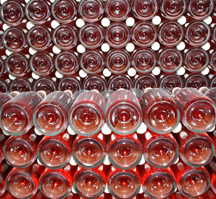 Sparkling wines take longer to make than still wines. At Ridgeview Wine Estate the bottles rest for 20 months and then another 12 months. This postpones the profit the winery makes from a year's vintage. Mike feels that this area makes great sparkling wine and would rather pursue making sparkling wines than still wines.
After our tour of the winery, Mike invited us back to the tasting room to taste two of his sparkling wines. Using the traditional method of making sparkling wine, Mike produces very good sparkling wine. I was amazed at the size of the tiny bubbles produced and that continuously made their way to the surface. What delightful sparkling wine! The Bloomsbury 2004 is a blend of 58% Chardonnay, 25% Pinot Noir and 17% Pinot Meunier. Grosvenor 2004 is a Blanc du Blanc with 100% Chardonnay. Ridgeview sells sparkling wine at the winery and online.
While we tasted sparkling wines at Ridgeview Wine Estate, we talked with Mike about English wine versus British wine. Mike confirmed that British wine is made in the United Kingdom from a juice concentrate obtained anywhere in the world. Mass production from these grape concentrates produces a vast quantity of inferior, inexpensive wines. If one tries a British wine thinking it is an English wine, and dislikes the wine, they may think all English wine is inferior. Mike urges everyone to read the label on wine bottles and seek to try English wines.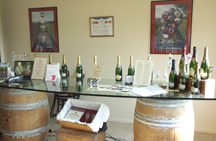 The tasting room is large with a thick glass counter set on two oak barrels. Several decanters are decorative touches to the counter. These decanters are awards won by Ridgeview Wine Estate. Along the outside wall are several large picture windows through which one can view acres of grapevines. The tasting room is used for learning opportunities, tasting events and private and corporate events.
Before we left I had one last question for Mike, "Are the rosebushes at the ends of each row of grapes placed there for a purpose?" Mike's reply, "Purely traditional, we have better means today to control grape diseases." He related a personal experience regarding rose bushes. Before he bought the vineyard and winery, guests invited to dinner would often bring a bottle of wine. Since he now owns a vineyard and winery guests no longer bring a bottle of wine, instead they bring rose bushes.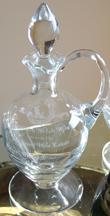 Visit Ridgeview Wine Estate and try their sparkling wines. If you want to learn more about wine tastings, check Ridgeview's events schedule.
Ridgeview Wine Estate
Fragbarrow Lane Ditchling Common Sussex BN6 8TP
Tel 01444 241441
---
Visit these tour operators tha partner with Wine Trail Traveler.
North America, Europe

SmoothRed
London, England, United Kingdom