Halter Ranch
by
Kathy Sullivan
Note: Wine Trail Traveler has not had the opportunity to visit Paso Robles AVA yet. The information below is based on a phone interview with Skylar Stuck, General Manager Halter Ranch Vineyard. We have had the privilege of tasting four Halter Ranch wines and those notes are included below.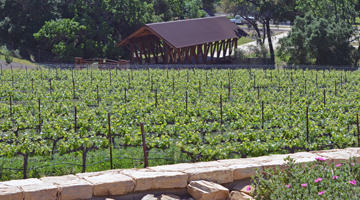 Halter Ranch Vineyard is located in California's Central Coast region. The property dates back to the late 19th century when it was a part of a larger property with 3,600 acres owned by Edwin Smith. A century later, Hansjörg Wyss purchased 900 acres with the intent of enlarging the vineyard and making wine.
Halter Ranch is owned by Hansjörg Wyss who was born in Bern, Switzerland and later attended Harvard. Wyss worked for Synthes, a producer of medical supplies, for more than 30 years. While working for Synthes, Wyss met people all over the world. One was a brother of an orthopedic surgeon. Eventually Wyss found his way to Paso Robles where he purchased the ranch property.
Wyss named the winery for his mother whose last name was Halter. In Switzerland, Halter is a common name. Today, Halter Ranch has more than 1,000 acres that includes oak woodlands, a wild life area, vineyards and a gravity flow winery.
The renovated barn was originally built in 1851. Today it is used for winery events. The tasting room is open daily. Visitors can browse food and wine books, local olive oil and deli foods. Visitors are encouraged to picnic on the grounds.
Vineyards at Halter Ranch
Halter Ranch Vineyard has SIP (Sustainability in Practice) Certification. The sustainable vineyards consist of 281 acres that are divided into 81 vineyard blocks. The largest block has 18 acres and the smallest just under one acre. Grapevines are planted at 1,800 feet elevation on limestone rich slopes. Many Bordeaux varieties are planted including Cabernet Franc, Cabernet Sauvignon, Merlot, Malbec, Petit Verdot and Sauvignon Blanc. Rhone varieties include Syrah, Morvèdre, Grenache, Marsanne, Roussane, Grenache Blanc, Counoise, Cinsault, Viognier, and Picpoul Blanc. Other grape varieties also include Zinfandel, Tannat, Tempranio and Carignane
In the beginning, the Halter wines were produced in an old airplane hangar. In 2011 a new winery was built. In 2012, Halter Ranch will have 23,000 square feet of wine caves.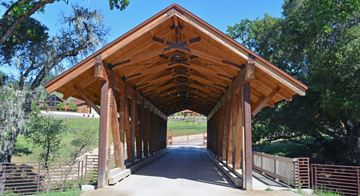 Halter Ranch Red Wines
The best selling wines are Cabernet Sauvignon and Côtes de Paso Red. Wines are available in the tasting room, direct to the consumer and by distributor.
Halter Ranch 2010 Cabernet Sauvignon was a blend of Cabernet Sauvignon, Malbec and Merlot. The wine, a very dark purple, offered an aroma of blackberries and a taste of blackberries with a hint of licorice. The finish had bold chewy tannins. Ancestor 2008 Halter Ranch was a blend of Petit Verdot, Cabernet Sauvignon, Syrah, Merlot and Malbec. The wine had aromas and tastes of dark fruit especially blackberries, black raspberries and black cherries. A hint of tobacco was on the taste. The color was opaque purple to black. The finish offered bold chewy tannins with a lot of fruit. If Wine Trail Traveler featured wine ratings, we would rate Ancestor 2008 highly.
White Wines at Halter Ranch
Halter Ranch Paso Robles 2011 Côtes De Paso Blanc was an estate bottled wine. The light yellow wine had a crisp and fruity aroma. It reminded one of grass after a fresh rainfall. The taste was dry with soft tropical fruit notes. The wine finish was crisp and fruity. Halter Ranch Rosé 2011 was a lovely light red color with fruity red berry notes. The taste reminds one of a fruit cocktail including raspberry and strawberry notes. The finish was fruit forward, dry and crisp.
Halter Ranch Wine Club
Wine enthusiasts who would like to join a wine club have three choices at Halter Ranch. Choose between having 12 bottles or 6 bottles shipped twice a year with a 20 percent discount on all purchases or the Owner's Club with 12 bottles shipped 4 times a year with free shipping and 25 percent off all purchases. A choice of wines is available including all reds, mixed white and red wines or a custom selection.
We look forward to a future visit to the Central Coast region and specifically a visit to Halter Ranch Vineyard.
Halter Ranch
8910 Adelaida Road 

Paso Robles, California 93446
---
Visit these California organizations and wineries that partner with Wine Trail Traveler.