Wine a'More Travel
by
Terry Sullivan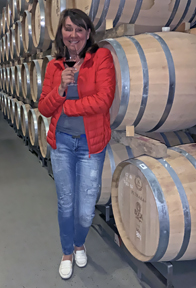 Seldom do we write about travel agencies. However, this year we were blessed to work with Wine a'More Travel in Hungary. We met Gabriella Gónusz (pictured right) and Csilla János, two of the owners of Wine a' More Travel, in April 2015 at a wine conference in France. I attended a presentation by Gabriella about Hungarian wine and wine regions. That presentation certainly put a Hungarian wine journey on our radar. In addition to the presentation, Gabriella and Csilla brought some Hungarian wine to the conference. We soon learned that taking a bottle or two of Tokaj Szamorodni or Aszú to a conference makes you rather popular.
In the autumn of 2018, Viking reached out and invited Kathy and I on a media trip on a Danube river cruise. Since the river itinerary had us ending in Budapest, I reached out to Gabriella to organize a one-week trip to three Hungarian wine regions. Unfortunately, Viking canceled our trip and we needed to cancel our trip to Hungary. During the winter we rescheduled our trip to Hungary, this time for two weeks. Wine a'More Travel took care of everything from scheduling visits to numerous wineries, hotels and numerous lunches and dinners.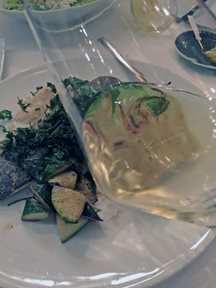 On our day of arrival, a taxi was scheduled to pick us up at the Budapest airport and transfer us to our hotel in Budapest's Castle district. As we gathered our luggage and walked a few steps, we saw our name on a sign. We were warmly welcomed to Budapest and the sign holder informed the taxi driver that we were ready. We arrived at our hotel and rested prior to a welcome dinner at Aszú Restaurant in Budapest arranged by Wine a'More Travel. The dinner was fabulous and we sampled several Hungarian wines and spirits while receiving an introduction to Hungarian gastronomy by Gabriella and Csilla. For the entrée, I had a dry Furmint from Tokaj with a fresh fillet of trout from Szilvásvárad, parsley risotto, pak choy, zucchini and gremolata (pictured left).
It is important to note that wine enthusiasts who wish to explore Hungarian wine regions that the country has a zero tolerance policy on drinking and driving. This includes wine tasting at wineries. During our two-weeks in Hungary including a couple days in Austria, we never had to drive. Wine a'More had all the drivers scheduled except for the final transfer from our hotel in Vienna to the airport in Vienna for our return flight home. The hotel handled this transfer.
On our first full day in Hungary, Wine a'More arranged for a transfer from our Budapest hotel to our first winery in the Tokaj region, a two-hour drive from the city. There, we met our guide for the next two days in Tokaj. Our guide did all the driving and we soon discovered that Mr. Gergely Somogyi was a walking encyclopedia of Tokaj wine. After two and a half days and a final winery visit in Tokaj on our third day, Gergely drove us to our first winery visit in Eger where we met our guide, Mrs. Gabriella Bálint who drove us to wineries in the Eger region for two days prior to taking us back to our hotel in Budapest.
We spent two days in Budapest and Gabriella Gónusz from Wine a'More picked us up at our hotel in Budapest for a visit to the Etyek wine region. In addition to visiting two wineries, we enjoyed a wonderful lunch outside soaking in the warm sunshine. At this lunch, we met Gabriella Gónusz's husband and Csilla János's husband and two boys. We had a wonderful family and friends gathering at lunch that was very relaxing. On the hillside next to us, vineyards were still asleep for the winter; however, we discovered during the week that vineyards were beginning to wake up. Our weather for the two weeks was fantastic for late March.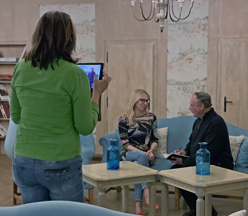 From Monday through Friday, Gabriella Gónusz drove us to wineries in several regions including Villány, Szekszárd, Balaton and Pannonhalma. During the week, we tasted wines at small and large wineries and indulged in more of Hungarian cuisine. We discovered that some of the wine cellars were soon to become our favorites in our twelve years of wine travel around the world. During the tastings, Gabriella videotaped Terry asking a question to our hosts (pictured right). At our last winery in Hungary, we said goodbye to Gabriella and met our next guide, Mrs. Ágnes Horvath who would drive us to the Wachau region of Austria where we would spend two days and visit four wineries. We then departed Vienna for our nine-hour flight home.
Wine a'More Travel organized our itinerary and everything worked like fine clockwork. For us, it was important that we did not have to drive on this wine journey. Wine A'More Travel scheduled fantastic wineries to visit and selected wonderful guides for us. Wine enthusiasts who want to experience Hungarian wine and food can reach out to Wine a'More Travel.
Wine a'More Travel Ltd.
2040-Budaörs, Ébner György köz 4 - Hungary
Tel: +36 30 205 2840
Email
Website
Article written April 2019.
---