Bodri Pincészet
by
Kathy and Terry Sullivan
Summary: Bodri Pincészet, a visitor's complex, is comprised of several large buildings that include the winery, cellars, restaurant and guest houses. All of these can be be seen from the doors of the Optimus Restaurant. Bodri is also a wedding venue.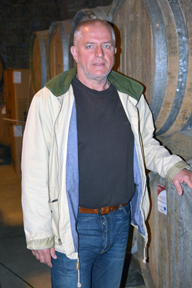 Bodri Pincészet is located in Hungary's Szekszárd wine region, namely the Faluhely valley. The name Bodri is the common name of a sheep dog. The winery encompasses a complex of large buildings. Istvan Bodri, the owner, and his family have been connected to vineyards for the last eight generations. We met Istvan(pictured left) while in the new event building. Istvan's son-in-law is the winemaker.
Vineyards
The first Bodri vineyard in this valley was bought in 1999 when Istvan purchased an old neglected vineyard. Between 1999 and 2004, Istvan bought additional vineyards. An old press house was added to the winery site. Today Bodri Pincészet has 11 hectares (27 acres) of vineyards in the valley with many more outside of the valley.
Altogether Bodri has more than 170 hectares (420 acres) of vineyards. The winery does not purchase additional grapes for their wine production. The majority of grape varieties planted include Merlot, Kékfrankos, Cabernet Sauvignon, Cabernet Franc, Portugieser, Malbec and Kadarka for the red varietal grapes. The white grape varieties include Chardonnay, Olaszrizling and Sauvignon Blanc. Grape varieties with less than one hectare include Pinot Noir, Reisling and Müller-Thurgau.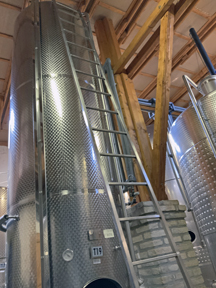 Production and Cellar
In early 2000 the center of production was built. A new building was constructed in 2014 for fermentation. Currently in 2019 another winery building, on the other side of a small bridge, is under construction.
Our tour of the old cellar and new event building was conducted by Kata Rozsa, Export Manager. When we first entered the building, we were in a tank room. Stainless steel tanks highlighted this area. A short walk away leads to a door made of slabs of wood that opens into the cellar. The old cellar is lined with aging red brick walls.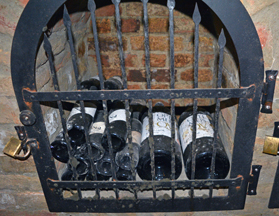 Close to the door are small alcoves that are gated with wrought iron. Many of these are locked and we learned that wine enthusiasts rent these gated alcoves for storing their personal collections of treasured wines.
The winery has several 225 and 500 liter barrels mainly French and Hungarian oak. Some American oak are used for aging Syrah. Bodri Pincészet produces 550,000 bottles of wine, but the production is increasing every year..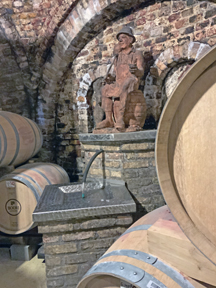 As we walked past numerous large oak barrels, we saw a carving of an aging man holding a glass of wine and sitting on a small barrel. Next to the man was carved a sheep dog. This statue was Istvan Bodri's father. The appearance gives the impression that Istvan's father is overseeing the barrels in the wine cellar aging wines. It was a very fitting carving for the wine cellar.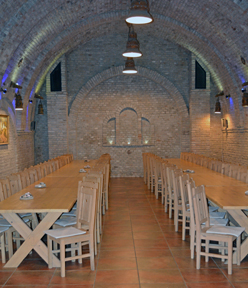 Events Building
The cellar/event building is a large brick building built with old wood and old bricks. The event hall can hold up to 400 people, and is suitable for many types of events including wedding receptions. The large building was constructed in modern times but by using old bricks, the affect is one of vintage times. The domed cellar system is considered one of Central Europe's largest recently built cupola cellars. Each section of the cellar is different. One section has long tables with chairs setup for a banquet. Another section has immense picnic-style tables. These are built with huge timbers, perhaps eight inches thick. The ambiance is delightful.
After our tour of Bodri Pincészet, we visited the onsite Optimus Restaurant to taste wines and enjoy lunch. The restaurant can serve 70 to 80 visitors.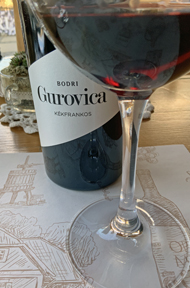 Wines of Bodri Pincészet
Bodrikutya White Cuvee was a light yellow color. The floral aroma offered taste notes of floral and citrus. The finish was crisp.
The 2015 Faluhely Bikavér with 13% alcohol was a blend of five varieties including Kékfrankos, Cabernet Franc, Cabernet Sauvignon, Kadarka and Merlot. The wine was a translucent dark ruby color. The aroma was of black fruits. The taste included black berries, blueberries and spices. The full-bodied wine had medium tannins. The fruity finish yielded to spices.
Gurovica Kékfrankos 2013 had 15% alcohol. The wine was an opaque ruby color. The aroma was of black fruits. The taste had blackberries and baking spices with some pepper. The mouthfeel was velvety and the full-bodied wine had bold tannins. The finish had fruit yielding to spices.
The 2016 Optimus QV with 14.5% alcohol was a blend of four grape varieties. The blend included Merlot, Cabernet Sauvignon, Cabernet Franc and Kékfrankos. This ruby colored wine offered an aroma of black fruits including cassis. The taste had notes of blackberries, spices and cassis. The full-bodied wine had medium/bold tannins. The fruity finish yielded to spices with a bit of alcohol burn.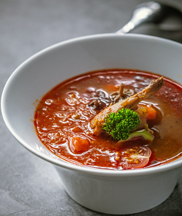 Optimus Restaurant
The Optimus Restaurant, with large windows overlooking much of the winery property, offers a relaxing, comfortable spot to enjoy a variety of Hungarian-style dishes prepared with many local ingredients. The Optimus Restaurant menu also includes a selection of gluten free dishes. From the menu Terry chose a dish of Quail Goulash with fairy ring mushrooms and peas (pictured left). Kathy enjoyed the Homemade Chicken broth à la 'Mummy'.
Outside of the restaurant, an outdoor summer kitchen provides a good location to enjoy food as well as views of the winery and vineyards. An old vintage stove reminds visitors of times long ago. The outdoor kitchen is only open during the summer.
Offering winery tours, a restaurant and guest houses makes Bodri Pincészet a good location to visit.
Bodri Pincészet
Szekszárd, 7100, Hungary
Article written April 2019.
---
Please support the following Hungarian wineries and wine tour company.