Teach & Taste May 2019
The Romantic Danube Wines: Hungary
by
Terry Sullivan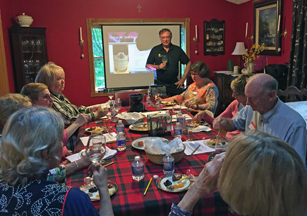 Four times a year, Kathy and I conduct a Teach & Taste for the Village in Howard, a county-wide community of 55-year old and older adults who enjoy exploring near and post retirement activities. In May of 2019, our topic was the Romantic Danube Wines: Hungary. After spending two weeks in Hungary in March, we were ready to share some of the wines, wine culture and foods that we experienced in Hungary.
Key Points
Some of the key points during our presentation about Hungarian wine included:
- Hungary has thousands of years of winemaking and wine growing experience
- Indigenous varietal grapes are often unknown to wine enthusiasts
- The Communist era had an affect on wine growing and winemaking
- Hungary has six wine regions; 22 sub-regions
- Most of the world knows about Tokaji Aszü
- Winemaking dates back to 100 BC with influences from:
Central Asia
the Caucasus
the Romans
Indigenous Hungarian Grapes Tasted
White Varieties
Furmint
Irsai Olivér
Kabar
Zéta
Red Varieties
Kékfrankos
Kadarka
Csókaszölö
Wine Selections
| | | |
| --- | --- | --- |
| Producer | Wine | Grape Varieties |
| Garamvari | Sparkling Furmint | Furmint |
| Garamvari | Irsai Olivér | Irsai Olivér |
| Vylyan | Csoka | Csókaszölö |
| St. Andrea | Hangacs Egri Bikaver | Kékfrankos, Merlot, Pinot Noir, Cabernet Franc, Kadarka |
| Takler | Kékfrankos | Kékfrankos |
| Geof Degenfeld | Tokaji Szamorodni | Furmint, Kabar, Zeta |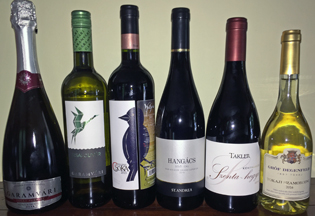 Wine and Food Pairings
| | | |
| --- | --- | --- |
| Wine | Food | Recipe |
| Sparkling Furmint | Pogacsa | recipe |
| Irsai Olivér | Melon wrapped with prosciutto | |
| Csoka | Summer Pasta Salad | recipe |
| Hangac Egri Bikaver | Hungarian Goulash | recipe |
| Kékfrankos | Chicken Tenders | recipe |
| Tokaji Szamorodni | Cheese & Fruit plate | |
Hungarian Wine Vocabulary
Bor: wine
Borászat: winery
Borbirtok: wine estate
Egészségedre: cheers
Pezsgö: sparkling wine
Pince: cellar
Szőlőbirtok: winery
Evaluation
At the end of the sessions, attendees were asked to fill out a short evaluation of the presentation and wines. Of the 23 in attendance, 20 completed the evaluation. Unanimously they selected that the Teach and Taste topic was favorable. Also unanimously they indicated that they would be willing to purchase Hungarian wines in the future.
The attendees were asked to list the wine they liked the best. The clear first place was the Sparkling Fermint with 41.8% of the attendees selecting this wine as their favorite. Coming in a distant second with 14.3% was the Irsai Olivér. The third placing wine with 13.3% of the attendees liking it the best was Tokaji Szamorodni. Fourth place with 11.8% was the Csoka, and tied for 5th place were the Hangac Egri Bikaver and the Kékfrankos with 9.3% of the attendees liking them the best.
Testimonials
The Event today was another fantastic journey through wine. You are so knowledgeable and provide fantastic information. The food you and Kathy provided was terrific. Thanks for a special day!
Kathy M.
Dear Terry and Kathy.  Thank you so much for today. It was wonderful. Went on your website. Beautiful. 
Tanis and John
Many thanks for another wonderful afternoon of "Teach and Taste."  Terry, your presentations are always so interesting and the pairing with the different foods are perfect.  I always come home with two or three favorites that I try to pick up when I make my trek to Total Wines in Laurel.  Thank you both for doing this--it makes for such a pleasant Sunday afternoon!
Sarah S.
Participating with friends in an informative wine tasting has all the elements of a fruitful afternoon.
Kim S.
Educational and entertaining presentation with wonderful food pairings was led by a true wine lover and good teacher.
Michelle B.
As usual, very informative and well done. New format is great!
Gabi W.
Article written May 2019.
---
Please support the following Hungarian wineries and wine tour company.