St.Andrea Szőlőbirtok
by
Kathy Sullivan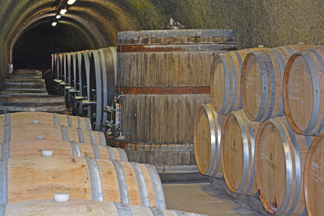 Summary: A visit to St. Andrea winery in Eger provides the intriguing detail that there is not a female saint with the name Andrea. St. Andrea winery is a winery that produces a minimum of 180,000 bottles. In addition to tasting wines, in the tasting room, visitors will see artistic paintings/icons reflecting the Byzantine Catholic church, and can take a tour of the cellars.
The outside of the building is a modern-style with variations of brown tiles. An emblem notes that St. Andrea is a member of the Pannonian Vintners Guild. Outside of the winery is a large statue of the Blessed Virgin.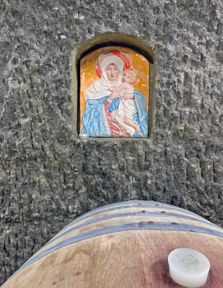 Upon reaching St. Andrea winery, we were immediately welcomed and handed a glass of wine by Mihály Vajda, who conducted our tour and tasting, to enjoy while ambling through the brick and stone-lined cellars built in 2002. Thankfully our Eger guide was with us and held our wine glasses while we took photos and wrote notes. We walked past numerous oak barrels lining the cellar walls; even stainless steel tanks are in the cellars. We noticed one small painting of the Blessed Virgin and Child in a carved out cubbyhole over an oak barrel.
The St. Andrea Name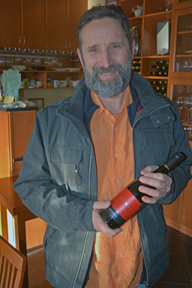 Mihály told us that there is not a female saint with the name Andrea. The winery is named for the György Lörincz's, (winemaker), wife. The remarkable story is that György (pictured right) worked for a large winery; György also made his own wine for the family. He decided to enter some of his homemade wines in a wine competition. In order to do so, he needed a name for his wine. While traveling to Italy and France, he became aware that wineries were sometimes named for saints. Upon returned home, György decided to name the his wines for his wife, the mother of his four children. Today György continues to produce the wines of St. Andrea along with his son. At the end of the conversation, Mihály commented that if a women has four children then she is a saint.
Vineyards
St. Andrea winery began with 25 hectares of vineyards and now has 45 hectares (111 acres). The soils is of volcanic ash. The sea coved this area ages ago. There were volcanoes 10 million years ago. Today the topsoil in the vineyards has some clay and forest floor. The grapevine roots penetrate deeply into the ground. There are several varietal grapes planted in the vineyard including Olaszrizling, Hárslevelű, Furmint, Sauvignon Blanc and Szürkebarát.
Historically, going back 500 years, only white wine grapes were planted in the area; red varieties were introduced 400 years ago. Mihály also noted that historically blends were made in the vineyard by planting differs grape varieties together in the vineyard. Today, at St. Andrea, vineyards plots are now planted with single varieties.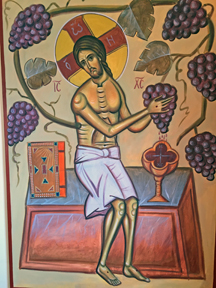 Our Wine Tasting
After learning many details about St. Andrea winery and vineyards, we were guided to an upper level where we were to taste several of the wines. However, as interested in the wines as we were, our attention was immediately brought to the religious paintings/icons and other religious items in the room. The images are representative of the Byzantine Catholic church. We learned that Mihály painted some of these icons and is a deacon in the Byzantine Catholic church.
St. Andrea is currently producing 180,000 to 200,000 bottles of wine. Our wine tasting included an array of Hungarian meat and cheese slices with bread. While tasting St. Andrea wines, György Lörincz and later his son, György Lörincz Jr. stopped in to say hello. György's son is focused on the vineyards but he is also making wines at St. Andrea. Both are very friendly and enthusiastic.
St. Andreas Wines
Our wine tasting began with the 2017 Örökké. The name means "Forever" Egri Csillag Gran Supperior. This was a blend of Chardonnay, Sauvignon Blanc, Riesling and Hárslevelü. The wine was dry and had 13.5% alcohol. The wine was a light yellow color. The aroma was of tropical fruits with peaches. The taste had peach, some pineapple and honeysuckle. The finish was very crisp, refreshing and fruity.
The 2016 Mária (Mary), Nagy-Eged Hegy Düló, Egri Cuvée Grand Superior was a blend of Formint and Chardonnay. The wine had 14% alcohol. This yellow colored wine offered an aroma of apple and citrus. The mouthfeel was velvety with an oily touch. The wine offered notes of citrus, apple, daisies and roses. The crisp finish was fruity with a faint hint of chalk on the aftertaste.
The 2016 Hangács Düló Egri Bikavér Grand Superior was a blend of Kékfrankos, Merlot, Pinot Noir, Cabernet Franc, and Kadarka. The wine was named for the Hanga flower which grows on a mountain where some grapes are grown. The translucent ruby color wine had 14.5% alcohol. The aroma was of red and black berry fruits and spices. The taste included notes of red and black raspberries, some baking spices with a hint of earthiness and chalk. This was a full-bodied wine with bold tannins. The finish was fruity and spicy with a hint of chalk.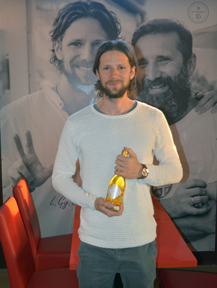 2016 Merengö Egri Bikavér Grand Superior was a blend of Kékfrankos, Merlot, Cabernet Franc, Syrah and Pinot Noir. The 14.5% alcohol was a translucent ruby color. There was an aroma of black and red berry fruits. The taste included red and black raspberries with some plum and baking spices. The full-bodied wine with bold tannins had a smooth mouthfeel. The finish was fruity with spices.
The 2016 Nagykadarka Egri Kadarka Superior was a translucent dark ruby color. The wine offered notes of raspberries with some chalk and faint spices. The wine was full-bodied with bold, chewy tannins. The fruity with spice finish had a very long aftertaste.
2015 Ajándék meaning a gift of the vintage, was crafted by György Lörincz Jr (pictured left). This dessert wine was produced with Hárslevelü grapes. The wine had 9% alcohol with a residual sugar of 235 g/L and acidity of 8 g/L. The wine was a gold color. The aroma included notes of flowers and dried fruits. The taste had dried peaches and apricots with honey. The finish was very smooth with fruit and honey.
Located in Eger, St. Andrea winery is easy to find, the wines and the ambiance encourage people to visit and stay awhile.
St. Andrea Szőlőbirtok
Egerszalók, Ady Endre út 88, 3394 Hungary
Article written April 2019.
---
Please support the following Hungarian wineries and wine tour company.