Open in new window to print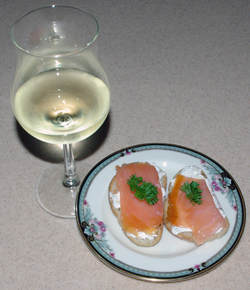 Category: Appetizer
Title: Mini Mushroom Tart
Ingredients
24 frozen or homemade pastry tart shells
1 lb mixed fresh mushrooms – button, cremini, shitake
1 c dried mixed mushrooms
2-3 shallots, finely chopped
Herbs de Provence, salt, pepper to taste
1 Glass of Pinot Noir
Parmesan cheese
Goat cheese (optional)
Directions
1. Bake pastry shells according to package or until desired crispness level
2. Rehydrate dried mushrooms with warm water for about 20 minutes.
3. In saucepan, sauté chopped shallots in olive oil until soft (medium heat.)
4. Add chopped fresh mushrooms and rehydrated dried mushrooms to the shallots. Cook until the mushrooms have softened and browned (medium heat.)
5. Deglace pan with half the glass of Pinot Noir. Try to scrape off any bits of shallots or mushrooms stuck to the bottom of the pan. Continue to sauté until mixture begins to steam. Season with herbs and spices to your liking. Let the mixture cool.
6. To assemble: Fill each pastry tart with the mushroom mixture. Place tarts into a 350F preheated oven. Let them cook for about 15 minutes.
7. Top each tart with a slice of Parmesan cheese. If you'd like to use Goat cheese – place a teaspoons worth of goat cheese in the bottom of each pastry tart and then top with the mushroom mixture. Garnish each tart with some thyme or parsley.
Renata Roman, Wrapped up in the Valley, 2011
Recipe provided by Rosewood Estates Winery, Beamsville Ontario.