Valentine's Day Recipes Suggestions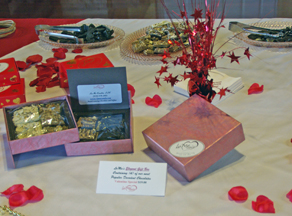 Valentine's Day is a day for everyone. We firmly believe that everyone is loved by someone somewhere in the world. Maybe it's the love of a mother, father, child, sister, brother, aunt, uncle, grandmother, grandfather or a lover. Love should be celebrated every day by everyone. However for this very important day of the year, Valentine's Day gives everyone the opportunity to show their love in a special way. What better way to show your love than to create something special in the kitchen for the ones you love. Below are several recipes that seem perfect for Valentine's Day. Serve the dish you create with a hug!

Appetizers
Cheese Fondue from Wollersheim Winery
Sherried Walnuts from Galleano Winery
Italian Stuffed Mushrooms from Contessa Wine Cellars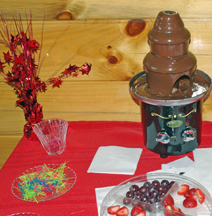 Desserts with an emphasis on chocolate
Dark Chocolate Fudge from Savoy-Lee Winery` now doing business as Seven Doors Winery
Wine Poached Pears in Chocolate Sauce from California Pears
Bittersweet Chocolate Icewine Truffle Cake from Inniskillin Wines
Chocolate Cabernet Sauvignon Tart from Round Barn Winery
Chocolate Fondue from Wollersheim Winery
A Selection of Beverages Great for Valentine's Day
Hot Peach Cobbler in a Mug from Carlson Vineyards
Icewine Royale from Reif Estate Winery
Cocktails from Van Gogh Vodka
Fun Romantic Activities for Couples and Groups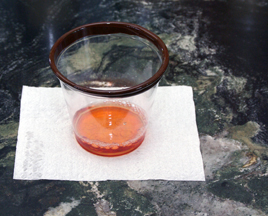 A special Valentine's Day wine and chocolate activity is to melt some chocolate. Take a wine glass and dip the rim of the glass in the melted chocolate. Pour some wine in the glass and enjoy. We tried this chocolate and wine activity while visiting Carlson Vineyards in Palisade, Colorado. The chocolate rimmed glass had a cherry wine in it. Other wines that may pair well with the chocolate on the rim of the glass include Cabernet Sauvignon, Merlot or Sangiovese.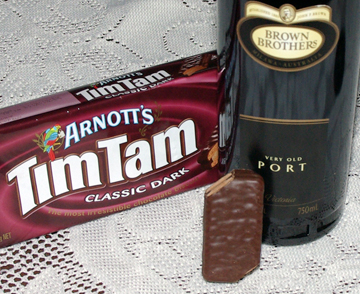 This activity is fun for a couple. The chocolate covered rim of the glass may place a bit of chocolate on your cheek. This can be humorous and fun to remove. This activity is also amusing at a party.
Another entertaining Valentine's Day activity to do as a couple or in a group is to have everyone try a port Tim Tam slam. The process involves pouring a generous amount of port in a wine glass. Take a Tim Tam and bite off a bit of diagonal corners. Place the cookie into the wine, and use the cookie like a straw sucking the port through the cookie at the diagonal corner. You have to eat the port filled Tim Tam quickly, before it dissolves in your wine glass. The port and chocolate pair well.
Here is our recipe for Port Tim Tam Slams.
Article updated February 2020.