Thanksgiving Day Recipes Suggestions
by
Kathy and Terry Sullivan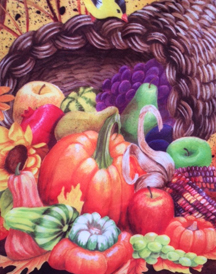 With Thanksgiving only days away, it's time to start a shopping list. Before starting your list, locate your favorite recipes or check out the Thanksgiving recipes on the Wine Trail Traveler website. Keep adding to your grocery list. I suspect most Americans will be purchasing turkeys. Other items likely to be on my list will include other traditional food items like cranberries,sweet potatoes, canned pumpkin, (In prior years we grew pie pumpkins) potatoes, cauliflower and of course marshmallows for the sweet potatoes. If you are planning to stuff the turkey you may want to purchase onions, celery and a loaf of day old bread. Some stuffing recipes use rice rather than bread.
Fortunately for some wine lovers, wines can also be purchased at your local grocery store at the same time you are purchasing grocery foods. Unfortunately for some states like Maryland, grocery stores are not allowed to sell wine. So that means extra time to find the wines you want to set on your table. Thankfully many people have wineries in their own backyard where they can purchase some great wines.
Once you have everything on hand for Thanksgiving, make a plan. When will you bake the cranberry bread, bake the rolls, make the pumpkin pie or apple pie, thaw the turkey, make the mulled wine or mulled cider. This can be a challenge with only one oven.
Below are just a few of the recipes you will find among the many recipes on the Wine Trail Traveler website that would be great for celebrating Thanksgiving. The vast majority of recipes have wine as one of the ingredients.
Wines to Pair with Thanksgiving Foods
There are some perennial favorite wines that match well with a Thanksgiving Day feast. It is hard to go wrong with a sparkling wine. Greet your guests with a sparkling wine and consider sparkling wines during the whole meal. Throughout the meal, you can vary the sweetness levels and/or the time the sparkling wine has aged. For an aperatif, start with a brut then follow with a Brut Nature (extra dry Brut) during the meal. You can use a slightly sweeter sparkling wine for an after dinner aperitif.
If you enjoy white wines try a Gewurztraminer, Pinot Grigio, Riesling or Sauvignon Blanc. For reds Pinot Noir and Sangiovesse match well with Thanksgiving fare.
One rule to follow is to pair the wine you use in a recipe with the dinner. Below is a list of recipes that are Thanksgiving related. Match the wine in the recipe with the food served.
Beverages
Mulled Wine from Wine Trail Traveler recipe /any red wine especially Cabernet Sauvignon (wine can be inexpensive)
Mulled Wine from Black Star Farms recipe /Hard Apple Cider
Hot Peach Cobbler in a Mug recipe /peach wine
Entrées
Roast Turkey with Madeira Gravy recipe /Madeira
Turkey with Wine-Simmered Fruit Stuffing recipe /any white wine
Crockpot Turkey, Sausage and Tempranillo recipe /Tempranillo
Salad
Crimson Slaw recipe /any red wine
Vegetable
Butternut Squash Risotto recipe /any dry white wine
Desserts
Golden Delicious Apple, Pumpkin and Hazelnut Strudel with Crème Anglaise recipe /Late Harvest Riesling
Sweet Wine and Honey Roasted Pears recipe /Any sweet wine such as a Late Harvest Vidal
Hawk and Horse Vineyards Latigo Sweet Potato Pie recipe /Hawk and Horse Vineyards Latigo Dessert wine (a Cabernet Sauvignon port-style wine)

Leftovers
Mini Maple Turkey Panini with Riesling Cranberry Relish recipe /Riesling
Article updated November 2015