Open in new window to print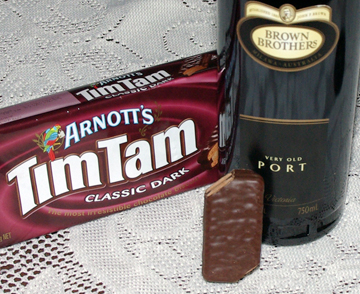 Category: Dessert
Title: Port Tim Tam Slams
Ingredients
1 box of Tim Tam (produced by Arnott's in Australia and Pepperidge Farm in the United States)
Port
experiment with different wines such as a cherry wine, raspberry wine, Cabernet Sauvignon, Merlot
Directions
1. Cut or bite off two diagonal corners of the Tim Tam.
2. Pour the Port into a shallow dish.
3. Place the Tim Tam in the Port and use as a straw sucking up the Port. As soon as the Port reaches your mouth remove the Tim Tam.
4. Immediately eat the Port filled Tim Tam. Enjoy!