Open in new window to print
Category: Beverages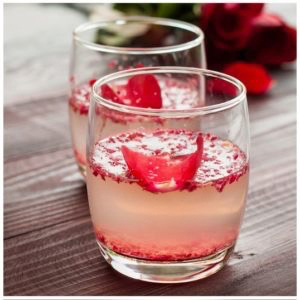 Title: Sparkling Raspberry Lemonade
Ingredients
Bottle Santa Margherita Prosecco Superiore DOCG
1/8 c sugar
1/8 c lemon sugar
1/2 T lemon rind, grated
1 c muddled raspberries
Directions
1. Combine sugar and juice in a small saucepan, bring to a boil.
2. Reduce heat and simmer for 1 minute, stirring until sugar dissolves. Remove from heat.
3. Stir in lemon rind and ½ cup of mashed raspberries.
4. Combine mixture and Santa Margherita Prosecco Superiore in pitcher.
5. Sprinkle remaining lemon rind and raspberries among the glasses.
Recipe and photo provided by Santa Margherita  and Sparkling Ice.