Mountain Dragon Mazery
by
Kathy Sullivan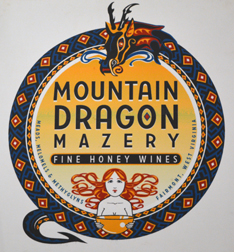 Summary: Mountain Dragon Mazery is a delightful and unique meadery in West Virginia, near Interstate 79. The meadery focuses on small batch production. The name mazery is an older word for meadery.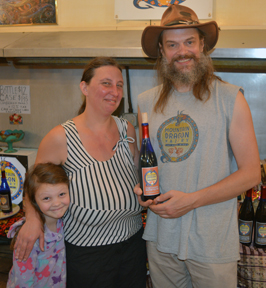 After seven years planning, the Mountain Dragon Mazery, a small batch meadery, opened in 2014. The owners Tom Maltby and Ruthann Smith opened the mead tasting room in Fairmont, West Virginia. Earlier while in other careers, including computer technology and the natural food industry, they planned what they wanted to do later in their lives. With an interest in bees and mead, they decided to produce mead commercially. Tom and Ruthann chose to use the name mazery since it is an older British word for meadery.
Today Mountain Dragon Mazery offers consumers eight different meads. The focus is to create a European peasant-style mead. Tom commented that he likes to ferment the meads dry. He noted that with a last name like Maltby, he had to get into alcohol production. The mazery features small batch production. The meads are available for shipping to 40 US states.
The colorful logo for Mountain Dragon Mazery is filled with imagery including a fierce dragon. The logo was designed by a friend of Ruthann's. They seem to have a fascination with dragons and Tom pointed out that the mountains in the area offer an appearance of dragons.
Tom and Ruth renovated the former Frankie's Supper Club location into a tasting room and a mead production facility. With a few modifications they can now use the large front room for mead tastings. Currently, visitors can enjoy mead at a long vintage red counter top with old-style round bar stools. The bar stools reminded me of old time stools at an ice cream/soda shop.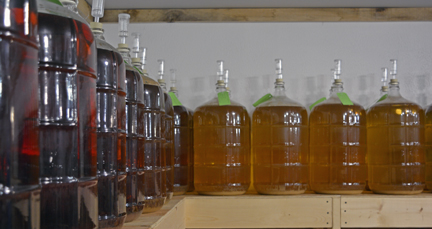 The production room behind the tasting room houses three walls of carboys filled with assorted meads aging.
While tasting meads, visitors can be entertained with stories. Tom tells about his first beekeeping experience at the age of three. His father had been a beekeeper for many years. He took Tom at age three to help with the bees. Tom recalls getting a bee under his hat.  His father's response was, "It will sting you, but only once, and I need you to hold that right now."  When it stung Tom, and he stayed calm, his father added "OK.  You are my beekeeper."
Another highlight of our visit was meeting Penelope, Tom and Ruthann's school-age daughter, who is home schooled. Penelope "helps" with small jobs including telling her dad when there is a wrinkle on a label.
Meads, Methyglyns and Melomels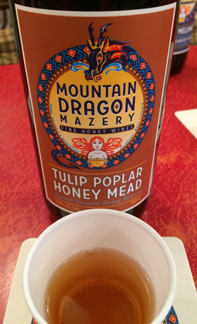 When planning to enjoy a mead, Tom and Ruthann suggest opening the mead and allowing it to breathe for a few minutes. Serving suggestions include chilling or room temperatures. Also consider serving mulled with spices.
West Virginia Wildflower Honey Mead, with 9.69% alcohol, offered a floral aroma and taste of honeysuckle, roses and daisies. There was a long floral aftertaste. Black Cherry Red mead was fermented with tea. This 11.3% alcohol mead had an aroma of honey and cherries. The taste was of honey, cherries and a hint of tea. The finish was fruity.
Tulip Poplar Honey Mead had 9.69% alcohol. The color was a translucent light brown. This mead offered an aroma and taste of honey. The finish was dry with notes of honey. West Virginia Honey Mead Basswood was a light yellow color. With 9.69% alcohol the mead offered notes of floral, honey and a hint of citrus. The aftertaste was of honey with citrus.
The Black Cherry Blush was produced with honey, cherries and a little green tea. The mead had 10.5% alcohol. This light-bodied mead offered notes of honey, cherries and green tea.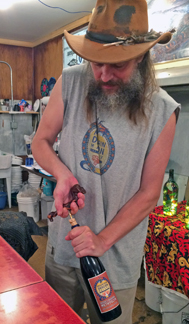 Café Monteverde Methyglyn was a translucent light brown color. The mead had 9.69% alcohol. It is a mead likely to be enjoyed by coffee lovers as this mead offered an intense taste of coffee. In addition to the taste of coffee, this mead had a long coffee finish. Ruthie's Rhodomel Methyglyn was produced with rose petals from the owners ancient tea rose. Honey wine was fermented with rose petals. According to the back label, "Tea rose has long been known as one of the most strongly scented and flavorful roses." This mead had 9.69% alcohol. The color was yellow with a gold hue. The mead offered an aroma and taste of honey and roses. The finish was light and delicious with a honey and rose aftertaste.
Morat Mulberry Melomel Wild Harvest Special Reserve was produced with honey and mulberries. The mead was a light rose color. The taste was dry with fruit. According to the back label, "Morat is the Welsh name for a melomel made from honey and mulberry-a beautifully flavored fruit that seldom comes to market due to its difficult harvest." Ruthie Rhodomel Methyglyn Wild Harvest Special Reserve is an in-house special made with dark wildflower honey. The mead had 9.69% alcohol. The mead was a sienna color with notes of honey and roses. It was reminiscent of a stout beer.
While visiting Mountain Dragon Mazery, be sure to ask Tom about the special vocabulary that involves different mead styles. He can also offer interesting tidbits of mead history. Mountain Dragon Mazery is open limited hours, so before you visit check the meadery website or contact the owners for information.

Mountain Dragon Mazery
1516 Morgantown Av
Fairmont, West Virginia 26554
GPS: N39º 28.9916' W80º 06.8871'
Article written July 2017.
---
Support this winery that advertises on the Wine Trail Traveler site.