R. Vineyards
by
Kathy and Terry Sullivan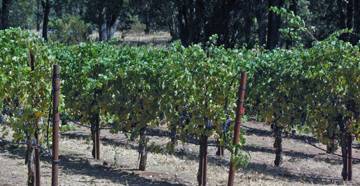 Summary: After a long history of growing wine grapes for wineries, R Vineyards began producing wine. The vineyard property, on the north slope of Mt. St. Helena, has been in the family since 1972.
We visited R Vineyards while in Lake County. The Rosenthals have been growing wine grapes for decades on the north side of Mt. St. Helena. When we visited in September, Monica and David Rosenthal were in the vineyard harvesting luscious tasting ripe Syrah and Petite Sirah grapes. Although Monica and David enjoy the vineyard work, they just recently started making commercial wine with their grapes. David has been a winemaker for years making wine at wineries.
Monica and David met when they both worked at Buena Vista Winery in Carneros where David was the assistant winemaker. Monica was in marketing and the tasting room.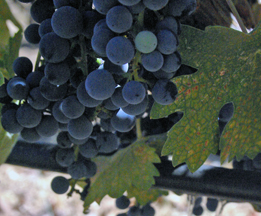 The Rosenthal Vineyards
David and Monica farm 18 acres of their own vineyards and David's mother has another 18 acres of vineyards next door. His mother can often be found in the vineyards in the early morning and later in the day, keeping an eye on the vines and making sure vineyard tasks are properly done.
The majority of the vineyards are sustainably farmed. Currently David and Monica's vineyards have plantings of Cabernet Sauvignon, Cabernet Franc, Petite Sirah, Syrah and Viognier. The vineyard next door is planted with Cabernet Sauvignon, Cabernet Franc, Zinfandel and Sauvignon Blanc. David showed us the different trellising he is using for some of the varieties. The Petite Sirah grape trellising uses the vertical shoot positioning. The Zinfandel vines are head pruned. In his mother's vineyard we viewed a divided horizontal canopy.
David's parents bought the property in 1972. The vineyards already on the property had not been tended to for several years. The soil was in poor condition and the vines had not been pruned. Pine trees and berry vines were taking over the vineyards. David remembers coming to the vineyard every weekend to work in the vineyard. It took years to restore the vineyards and replant the vines.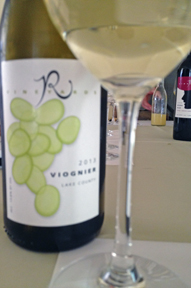 R Vineyards' Wines
We tasted some of the wines with David and Monica. The Viognier 2013 Lake County was a light yellow color with 13.8% alcohol. The wine offered floral, citrus and tropical fruit notes. The wine was medium-bodied and balanced. The aftertaste was very floral with notes of honeysuckle and roses. We enjoyed a tank tasting of Viognier 2014 that had been fermenting for only a few days and was still fermenting and sweet. The taste was wonderful and we noted the promise of a quality wine to come.
Cabernet Franc 2012 with 13.9% alcohol was an opaque, ruby color with a purple hue. The wine had notes of blackberries, plum and spice. The wine was full-bodied with bold tannins. Zinfandel 2013 was produced with grapes from Mom's Old Vine Zinfandel. This wine was still in barrel and will be in barrel for at least three more months or until it is ready to be bottled. The wine was an opaque ruby color with notes of blackberries and a hint of perfume. The wine offered medium tannins and was full-bodied. Syrah 2009 (not on the market) was an opaque, dark ruby color. The wine offered notes of blackberries and cassis. The wine with medium tannins was full-bodied and food friendly. Future vintages of this wine will be available to the public.
We look forward to hearing more about R Vineyards' wines. Wine enthusiasts can taste some of the R Vineyards wines at the Lake County Wine Studio in Upper Lake. The wine studio is a tasting room that has wine tastings for several Lake County producers that do not have their own tasting rooms.
R. Vineyards wines at the Lake County Wine Studio
9505 Main Street
Upper Lake, California 95485
GPS: N39º 09.890' W122º 54.651'
R. Vineyards
21833 Sheveland Road
Middletown, California
GPS: N38º 44.027' W122º 37.970'
Article written September 2014
---
Visit these California organizations and wineries that partner with Wine Trail Traveler.