Wineries Unlimited Trade Show 2012
by
Terry Sullivan
Wineries Unlimited Trade Show & Conference offers the largest trade show venue in the Eastern United States. Companies have an opportunity to connect with winegrowers, winemakers, winery owners and tasting room staff. There is a diverse assortment of companies that have exhibits at the trade show. Many of them showcase new products that may be helpful to eastern winegrowers and winemakers. Looking for barrels? Several vendors offer barrels along with oak products. There is also an assortment of suppliers who offer wine bottle closures. Attendees can compare and contrast simply by walking from one supplier to another.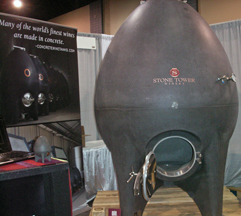 Participants will see displays of gleaming stainless steel tanks from different suppliers. Some winemakers drive pick-up trucks to Wineries Unlimited in hopes of snagging a good deal on display equipment and products including stainless steel tanks. Not only were there barrels and stainless steel tanks, oxygen permeable Flextanks were on hand. Perhaps the most unusual tank was the large egg-shaped concrete tank. Winemakers can also talk to representatives from Laffort and Scott Laboratories to discover the newest enological products on the market. Several wine bottle suppliers were also on hand.
Winegrowers can discover the latest vineyard equipment. There were several suppliers of grapevines as well as netting suppliers. Some larger equipment such as spraying systems were on display. There was even equipment that could capture stink bugs from a five-acre area.
Tasting room staff had an assortment of vendors to check out. Some offered accessories for the tasting room while others offered equipment such as a wine glass dishwasher. There were vendors with software that a winery could use for their wine clubs.
During both days of the trade show, a lunch was provided. Attendees and suppliers could approach one of the self-serve lines for lunch. On the first day of the conference lunch included various sandwiches and wraps. The second day of the conference lunch consisted of different pastas. Although drinks were also provided, one didn't need to travel far for a wine tasting.
One of the perennial displays was the Lake County Wine Grape Commission. They covered the floor with carpet that had an ariel view of Lake County. They also offered information about Lake County, just north of Napa Valley. Many attendees were interested in tasting some of the wines produced in this California wine region.
Whether one is a winegrower, winemaker, owner or tasting room staff, the Wineries Unlimited Trade Show had something to offer everyone.