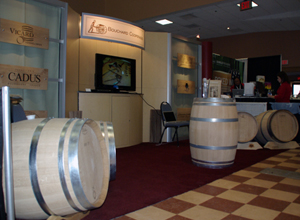 Barrels have been produced for thousands of years. The process is basically unchanged in those millennia. For years, as the children were growing up, we would observe the coopers at Colonial Williamsburg craft barrels. Similar observations were made at the Seguin Moreau Cooperage in Napa. In early America barrels were made in different sizes and used for shipping materials. Later as the Bourbon industry took flight, a barrel industry was created in Kentucky. Bourbon barrels are toasted differently than wine barrels. Some of the first barrels made in the United States for wine didn't resemble the craft in France for making wine barrels. It was of interest to talk with companies that make wine barrels during the 2010 Wineries Unlimited Trade Show in King of Prussia, Pennsylvania.
Many wine barrels are made the way the French make wine barrels. Today, sourcing the wood is important. Barrels are made from growers who have a tradition of growing trees for barrel making. The industry now regularly checks for tainted barrels. TCA, which causes a wine to be corked, can also reside in barrels. The industry has improved their inspection of not only the barrels, but also the plastic covering that is used when shipping a barrel. Even facilities that make barrels are tested for TCA.
Many barrels now have a bar code on them that provides information about the barrel. Today, there is more accountability for making the barrel and if there is a problem, it can be traced. Barrels have a higher quality today than in the past. With this better quality, there is also a higher price.
Although wine barrels are mostly made from oak, acacia barrels are beginning to be popular. Virginia wineries are beginning to use acacia barrels for their Viognier and Petit Manseng. Acacia barrels have also been used in Austria.
The barrel making process is an old craft. Even though the process is similar and unchanged, the industry is producing a better product today.