Coyote Moon Vineyards
by
Kathy Sullivan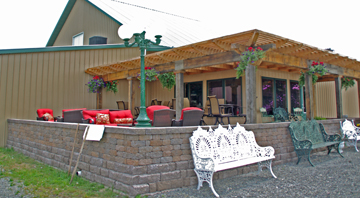 Summary: Located near the Thousands Islands resort area in New York State, Coyote Moon Vineyards offers a delightful spot to relax, taste wine, and enjoy vineyard views.
The name Coyote Moon relates back to a story of Phil Randazzo and one of his daughters. They were hunting deer and watching from a blind. As it became dark, they watched deer in a field. A harvest moon rose. The deer raced off and Phil and Kristina decided to go home. Kristina climbed down first. A coyote may have mistaken them for deer and came running toward Kristina. Phil took a shot and scared the coyote. Later as they walked home Phil and Kristina talked about the coyote and the moon.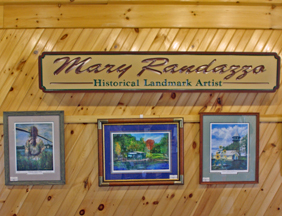 Located in the countryside of New York State's famed Thousand Islands region, Coyote Moon Vineyards provides a delightful spot to enjoy a glass of wine on the patio with a gentle breeze ruffling past. Inside the tasting room is pleasantly filled with numerous New York State products to browse. Visitors will want to note the paintings by Mary Randazzo, a historical landmark artist.
Coyote Moon Vineyards is a boutique family-run winery. The family became interested in starting a vineyard and winery as a result of researching their family roots. In 2004 they went to Sicily in search of their roots where they discovered that many of their relatives had been making wine. While in Sicily they were amazed at the number of vineyards and quality of wine. In Italy, they were hosted by families. The romantic notion of wine and vineyards began to take root. Back in New York, Phil Randazzo went to a wine industry meeting, returned home and said he wanted to grow grapes.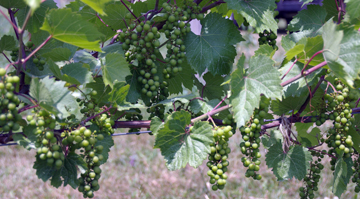 Vineyards at Coyote Moon
Phil Randazzo did a great deal of research before starting his vineyards. The soil for the vineyard was prepared in 2006 and 2007. The land was ready for planting in 2008. Grape varieties include Frontenac, Marquette (pictured), Frontenac Gris, Frontenac Blanc and Briana. In 2011, Coyote Moon's first vintage from their own vineyard harvest will include Frontenac, Marquette, Brianna and Frontenac Gris.
Coyote Moon Winery
Currently, Coyote Moon Vineyards is licensed as a New York farm winery. As a result the winery may only source grapes within New York State. Most grapes are sourced from New York's Finger Lakes region. Currently, Coyote Run produces 7,000 cases. On the day visited, the bottling line was in use.
The patio has three bistro tables and two other sitting areas. Several large hanging planters were filled with purple and red summer flowers.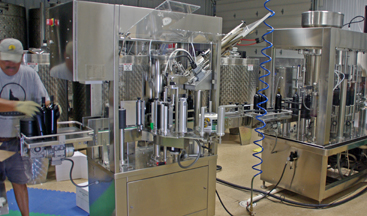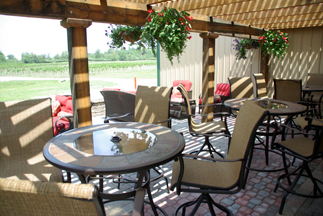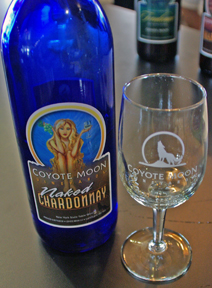 White Wines
Naked Chardonnay, a straw color, offered notes of apple and citrus. The finish was crisp and fruity. This is an easy drinking wine. LaCrescent bottled in a blue bottle offered a delicate floral aroma. The taste was semi-sweet with citrus particularly lemon notes. Suggested pairings included fish, seafood, chicken, pork and white sauce pasta.
Brianna was a pale straw color. With a delicate aroma, the taste was semi-sweet with a mild grape taste. This is a pleasant summer white wine.
Red Wines
Frontenac was a ruby color with cherry notes. The finish had mild tannins with fruit yielding to vanilla. Marquette also ruby had dark fruit notes on the aroma. The taste had an emphasis of cherries and raspberries with a hint of spice. The finish was crisp and fruity with mild tannins. Consider this a 3-P wine - perfect for patio, pool or picnic. Casa Papa Red was dark ruby with a sienna hue. The aroma was of perfume and dark fruit. The taste had cherry and black fruit notes. The sweet finish offered notes of black cherry and a hint of licorice. Twisted Sister was a purple color offering a teasingly sweet taste. The finish was sweet with nuances of purple berry fruit.
Coyote Moon recently started a wine club and already there has been an overwhelming response. This is a winery that believes new varieties are exciting for wine drinkers. At Coyote Moon Vineyards visitors will discover that they are not trying to make a wine like someone else but are reflecting the terroir and grapes that thrive there. Enjoy a visit to Coyote Moon Vineyards where you will be welcomed with a friendly smile.
Coyote Moon Vineyards LLC
17371 County Route 3
Clayton, New York 13624
GPS: N44º 14.278' W76º 01.348'
---