Thousand Islands Winery
by
Kathy. Sullivan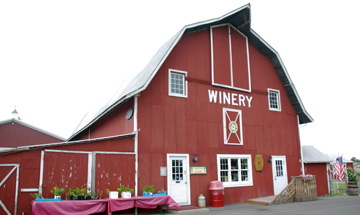 Summary: Thousand Islands Winery is located within view of the long Thousand Islands Bridge. The winery focuses on German-style wines and culture. Be sure to stop by the winery while vacationing in the Thousand Islands region.
Located close to the northern end of Interstate 81 in New York State, Thousand Islands Winery is a popular winery to visit for travelers and local residents. It is easy to find with large red barn buildings now home to the winery and tasting room. While visiting the winery, look for German influences throughout the winery including the wines. You'll notice several colorful metal statues on the grounds. These are reminisent of the statues in downtown Hamburg, Germany.
Stephen and Erika Conaway own and operate Thousand Islands Winery. Stephen, a retired military officer and awarded a Bronze Star Medal, served in Afghanistan and Germany. It was in Germany that Stephen developed an interest in wine. Stephen should be given credit for introducing a winery and vineyards to this northern area of New York State. He looked at the area and saw land as he had seen it in the vineyard regions of Germany. Despite being told that vineyards would not be successful, he has succeeded with certain varieties and continues to look for cold climate grapes to grow in his vineyards. Stephen encourages local area farmers to grow grapes and purchases those local grapes.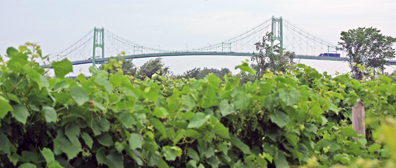 Vineyards
The grapes used at the winery are grown on the vineyards or sourced from other vineyards in New York State. Onsite vineyards include five acres of Frontenac, Marquette, La Crescent, and Frontenac Gris. One vineyard is labeled Heather's Vineyards, another is Massey Vineyard and a third is Schaefer Vineyard. Stephen enjoys working in the vineyards. Melissa Potrikus, who gave a tour of the facilities, noted that for Stephen the vineyards are a "labor of love." Stephen is preparing additional acerage for planting additional grapes. From the vineyards, one can view the traffic crossing to and from Wellesley Island on the Thousand Islands Bridge.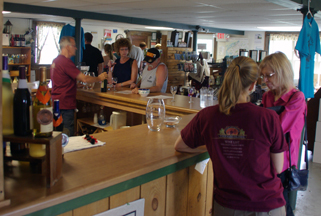 Tasting Room
The tasting room has a rectangular tasting counter in the center. Displays around the counter include wine accessories, gourmet food products including wine syrup and winemaking supplies. Wines are also displayed. The wine enthusiast can purchase wines in four convient sizes including the traditional 750ml bottles, 1.5 liter bottles, 375 ml bottles and 187 ml bottles. Steps up a wood staircase lead to a large rustic event room. The room reminds one of a hay barn complete with the rough wood and the hint of hay in the air. Simple chandeliers add to the charm of the room.
Currently Thousand Islands Winery produces 18,500 cases of wine. Stephen plans to expand his case production. Most wines are self distributed and sold in New York State although they are also distributing to Louisiana based on a label they have for wine - 10th Mountain Division Wines. Wines are also sold at the New York State farm markets.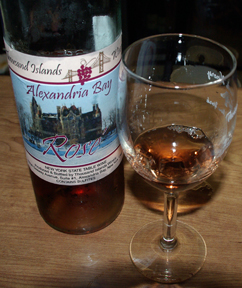 White Wines
Wellesley Island White was a blend of Diamond, Cayuga and Catawba grapes. The wine was a straw color with an aroma of floral and tropical notes. The taste was of pineapple and citrus. The finish was crisp with fruit yielding to honey. Gewürztraminer 2010 with 12 percent alcohol had a crisp and clean aroma. The wine had a hint of sweetness with notes of grapefruit and was dry on the aftertaste. The wine is a good summer wine or pair with food. La Crescent wine had a delicate aroma. The taste was sweet with delicate notes of white fruit-grapefruit. Sip this wine on a summer afternoon or evening. Riesling is the number two selling wine. The taste had notes of pear/peach. The finish was sweet, fruity, and lingered on the aftertaste.
Rosé
Alexandria Bay Rosé was a blend of Delaware, Marechal Foch, and Isabella. The label has an image of Boldt Castle. This castle is reminiscent of a European stone castle. The wine was a reddish orange.
Red Wines
Frontenac was ruby with notes of black fruits including black cherry and black caps. The sweet and crisp finish dried on the aftertaste. North Country Red, the number one selling wine was light bodied with Welch's grape juice notes.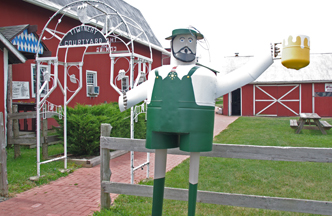 A large grass area adjacent to the tasting room is for special events. They have added a unique system for event attendees by having a special window open for purchasing wine. It appears to be an efficient way to sell wine at special events. Be sure to watch for the authentic Oktoberfest Festival each year.
Enjoy a visit to Thousand Islands Winery where you will find an emphasis on German-style wines.
Thousand Islands Winery
43298 Seaway Ave.
Alexandria Bay, New York 13607

GPS: N44º 17.496' W75º 58.896'
---