Brewery Ommegang
by
Meghan Anne Neumeier

Photos by
Andy Neumeier


Summary: Brewery Ommegang, located in Cooperstown, New York, specializes in Belgian style ale. The brewery focuses on quality over quantity. Visitors can taste beer, tour the brewhouse and lagering hall, peruse the gift shop, and sample Belgian food in the cafe. The Brewery Ommegang experience offers something for everyone.
Brewery Ommegang was founded in 1997 by Don Feinberg and Wendy Littlefield. Feinberg and Littlefield spent time in Belgium and were inspired to make beer in the Belgium tradition after falling in love with Belgium ales. Feinberg and Littlefield chose to build the brewery in Cooperstown, New York, in an area known as "New Belgium" in the early 1600's due to the large amount of hops grown there. Belgium breweries, including Duvel Moortgat, helped support the founding of Brewery Ommegang, providing a Belgian ale recipe, yeast, and financial backing. The original recipe and the same strain of yeast are still used today at Brewery Ommegang. In 2003, Duvel Moortgat U.S.A. bought out the brewery.
Brewery Ommegang sources its ingredients for beer from around the world. Hops come mostly from Germany and the Czech Republic, malted grain comes from Wisconsin, a few specialty malts come from Belgium, and clean well water comes from the property on which Brewery Ommegang sits. The ingredients reflect the brewery's desire to remain true to the style and technique of brewing Belgian ale. The brewery produces 30,000 barrels of beer a year.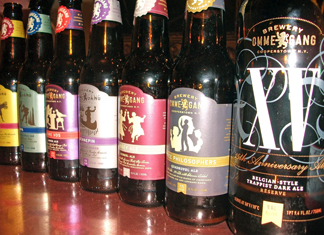 The 30,000 barrels generally include six different types of beer: Witte, BPA, Rare Vos, Hennepin, Abbey Ale, and Three Philosophers. The Witte has a white head, a light yellow-colored body, lively carbonation, a lightly bitter taste, and a short finish. It is a delicate beer that pairs well with fruit or fish. The BPA has a large, off-white head and an amber-colored body. Its aroma and flavor contain notes of grapefruit. The Rare Vos has a huge head and soft carbonation. Its aroma contains notes of pepper. It is versatile and light yet flavorful, featuring coriander, orange peel, clove, and peppercorn notes on the finish. The Hennepin has an average-sized head and a yellow-hued body. It has lively carbonation and a heavily bitter flavor. Its alcohol content is higher than the other Ommegang beers. The Abbey Ale has an average-sized head that is light brown in color; the body is orange. Its carbonation is fizzy, and it contains caramel and toffee aromas and flavors. It is heavier and more complex than the aforementioned beers. The Three Philosophers has a small head, an orange body, and soft carbonation. Its aroma and flavor contain hints of cherry. Of these beers, the Abbey Ale and the Hennepin are best sellers.
An informative tour gives visitors to Brewery Ommegang the chance to observe the brewhouse and the lagering hall. The building holding the brewhouse and lagering hall was built to look like a Belgium farmhouse. Brewing occurs 24 hours a day, five days a week, so visitors can get a first-hand lesson in Belgian style beer making. In keeping with the Belgian tradition, Brewery Ommegang uses open fermentation to help the yeast become more robust. Bottle conditioning then allows beer to continue to ferment in the bottle.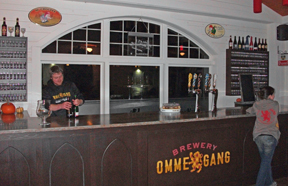 The tasting room features a long tasting bar and windows overlooking the brewery warehouse and the Upstate New York hills. A visitor center with a gift shop and a cafe opened in 2010. The gift shop sells clothing, books, local food, chocolate, bottle openers, bar towels, and tap handles. Visitors can also purchase signature glassware specially designed to bring out the best aroma and flavor of each Ommegang beer.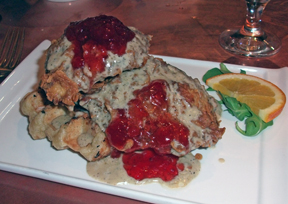 The cafe serves Belgian food, including Belgian fries, cheese, croquettes, crepes, and waffles. The beef carbonnade and the chicken and waffles dishes are popular.
Brewery Ommegang hosts several events, including a summer concert series featuring major recording artists and a beer tasting and Belgium festival called "Belgium Comes to Cooperstown." The brewery also partners with the Inn in Cooperstown for "Bed and Brew" events. Guests staying at the inn come to the brewery for a food and beer pairing dinner.
Brewery Ommegang isn't afraid to venture into unknown territory. After Hurricane Sandy decimated the Barrier Brewing Company on Long Island, Brewery Ommegang decided to collaborate with the Barrier Brewing Company to produce Barrer Relief Ale, a Belgian-style India Pale Ale. Proceeds go towards restoring the Barrier Brewing Company's brewery. Brewery Ommegang also recently teamed up with HBO to produce a series of beers based on the network's popular drama Game of Thrones.
Brewery Ommegang
656 County Highway 33
Cooperstown, NY 13326
---